Traditionally the launch of a next-generation high-end video card has been a staggered process. In the name of getting cards out as soon as possible the first cards are almost always reference cards coming preassembled straight from AMD or NVIDIA, which are then touched up in the livery of their partners before being boxed and sold. Only later on – particularly when there's a solid supply of GPUs – can partners acquire individual parts and put together their custom designs.
But as it's turning out the Radeon HD 7970 isn't going to be a traditional launch. In a rare move AMD has loosened the leash on their partners just a bit, and as a result we're seeing semi-custom cards planned for launch earlier than usual. XFX looks to be the first partner to take advantage of this more liberal policy, as alongside the reference cards being launched today they're launching their first semi-custom 7970s.
AMD GPU Specification Comparison
XFX Radeon HD 7970 Black Edition
AMD Radeon HD 7970
AMD Radeon HD 6970
AMD Radeon HD 6870
Stream Processors
2048
2048
1536
1120
Texture Units
128
128
96
56
ROPs
32
32
32
32
Core Clock
1000MHz
925MHz
880MHz
900MHz
Memory Clock
1.425GHz (5.7GHz effective) GDDR5
1.375GHz (5.5GHz effective) GDDR5
1.375GHz (5.5GHz effective) GDDR5
1.05GHz (4.2GHz effective) GDDR5
Memory Bus Width
384-bit
384-bit
256-bit
256-bit
Frame Buffer
3GB
3GB
2GB
1GB
FP64
1/4
1/4
1/4
N/A
Architecture
GCN
GCN
VLIW4
VLIW5
Transistor Count
4.31B
4.31B
2.64B
1.7B
Manufacturing Process
TSMC 28nm
TSMC 28nm
TSMC 40nm
TSMC 40nm
Price Point
$599
$549
$350
$160
XFX has 4 7970s planned; half of which are using AMD's reference cooler, and the other half using XFX's twin fan Double Dissipation cooler. As is traditional with the first wave of customized cards, all of these cards are semi-custom as XFX is using AMD's reference PCB. Fully custom cards will come farther down the line. Of these 4 cards, 2 of them will be launching today: XFX's Core Edition pure reference card, and their customized Black Edition Double Dissipation model, which features both a factory overclock and XFX's custom cooler. It's the Black Edition Double Dissipation we'll be looking at today.
XFX Radeon HD 7970 Lineup
XFX Radeon HD 7970 Black Edition Double Dissipation
XFX Radeon HD 7970 Black Edition
XFX Radeon HD 7970 Double Dissipation
XFX Radeon HD 7970 Core Edition
Product Number
FX-797A-TDBC
FX-797A-TNBC
FX-797A-TDFC
FX-797A-TNFC
Core Clock
1000MHz
1000MHz
925MHz
925MHz
Memory Clock
1.425GHz (5.7GHz effective) GDDR5
1.425GHz (5.7GHz effective) GDDR5
1.375GHz (5.5GHz effective) GDDR5
1.375GHz (5.5GHz effective) GDDR5
Cooler
Double Dissipation
Reference
Double Dissipation
Reference
Price Point
$599
N/A
N/A
$559
The 7970 Black Edition Double Dissipation is XFX's top 7970 card. XFX is binning the boards they receive from AMD to give their Black Edition lineup a moderately impressive launch day overclock. The 7970 BEDD ships at 1000MHz core (8% overclock) and 5.7GHz memory (4% overclock), on what's proving to be a rather overclockable design for AMD. Notably they're doing this without any extra voltage – both our reference and BEDD 7970s run at 1.17v – which means the BEDD's power consumption is only marginally higher than the reference 7970.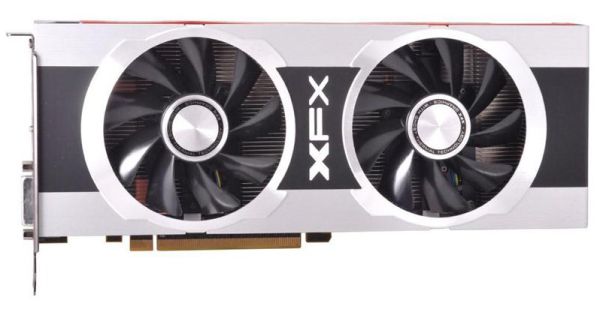 Along with the factory overclock the BEDD features XFX's Double Dissipation cooler. Like the 7970 reference cooler XFX is using a vapor chamber at the base of their heatsink to draw heat from the Tahiti GPU, which then leads to an aluminum heatsink that runs almost the entire length of the card. Airflow is provided by a pair of fans sitting on top of the heatsink, similar to a number of other double fan designs we've seen over the years. Meanwhile like the heatsink, the casing is also made out of aluminum, specifically brushed aluminum. Finally, XFX is using a custom bracket with their logo cut into it – they claim that this improves airflow, but compared to any other changes the difference would be minimal at best.
Compared to AMD's reference blower design the biggest difference here is that like other twin fan designs the Double Dissipation cooler is fundamentally an open air internal exhaust design. This allows XFX to achieve a similar level of cooling as AMD's design, but with less noise. The tradeoff of course is that with an internal exhaust case cooling becomes much more critical as the BEDD will be dissipating most of the 250W of heat a 7970 generates under load into the case rather than outside of it.
Because the card is based on an AMD PCB, the dimensions of the card are similar to the reference 7970. The PCB itself is 10.5" just like the reference card, but XFX's cooler isn't quite as long, shaving off roughly 0.3" compared to the reference card and making the entire package only 10.65" long. Meanwhile at the front of the card, since this is an AMD PCB the port layout is identical: 1 DL-DVI port, 1 HDMI port, and 2 miniDP ports, situated below XFX's logo on their custom bracket.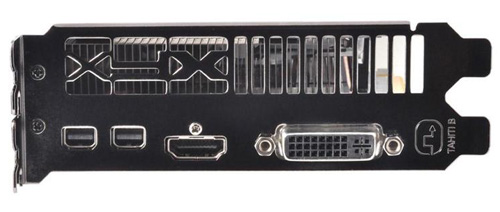 Moving on to the packaging, XFX packages only a few additional items with the BEDD, and as a result the box not much bigger than the card. Inside you'll find the usual driver CD and quick start guide, along with a metal XFX case badge, a mid-length CrossFire bridge, and a passive HDMI to SL-DVI adaptor. It's interesting to note that XFX has not included the more expensive active miniDP to SL-DVI adaptor, contrary to AMD's earlier claims that all 7970s would ship with one, so the BEDD is only good for driving 2 DVI monitors out of the box. Finally, XFX is offering a base 2 year warranty on the BEDD, which can be extended to a lifetime warranty (ed: not a double lifetime warranty) by registering the card within 30 days of purchasing it.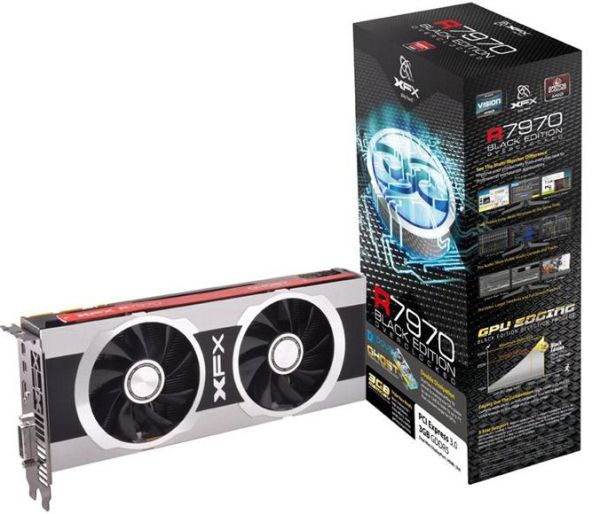 The MSRP on the BEDD is $599, $50 over the $549 MSRP for the reference cards. Even with the higher price it looks to either be popular or in short supply – we saw the card sell out at Newegg before our NDA even expired.