Hailing the Enterprise
Starting with RIM's PlayBook and followed by HP's Touchpad, much has been made about tailoring these devices to the enterprise market. Lenovo will be entering this arena with it's ThinkPad Tablet in the coming weeks; and they have been trumpeting the enterprise features of their offering, mainly device deployment and manageability offered through back-end services, as well as hardware based encryption. As it turns out, Samsung has beaten them to the punch with a product already a few months old. Samsung announced their Open For Business initiative today, a collection of software and hardware services available for the 10.1 that should make the device more appealing to corporations looking to deploy Android tablets into their workforce.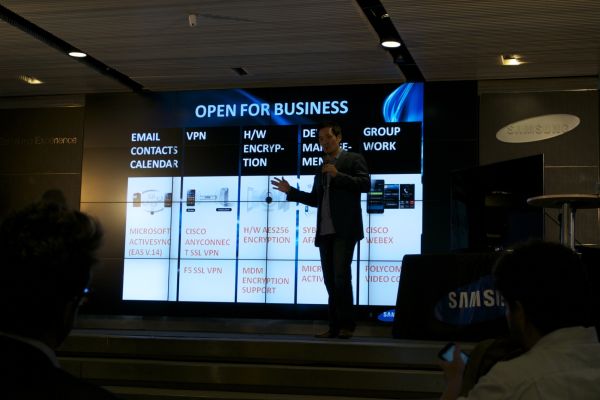 As expected, device manageability is the key feature that will appeal to IT tech, including the ability to remotely wipe and control all possible features of the device using either the Sybase Afaria or Microsoft ActiveSync protocols. Hardware based AES256 encryption is present on the device and, in what Samsung is calling a first, SSL VPN support is being offered. More front facing additions include "blown out" support for Microsoft Exchange's Contact, Calendar and E-mail services, along with optimized versions of Cisco WebEx and PolyCom Video Conferencing for video collaboration. It's unclear how many of these features are dependent on this update or whether these were just features that hadn't actually been announced, but if you're in charge of IT purchasing and everyone's banging on your door to get a tablet, this could push the 10.1 over the edge.
Conclusion
Despite their rabid devotion to them, manufacturer's haven't made a lot of friends by offering skinned Android phones. There are only a handful of top tier phones that offer a pure Android experience; and now these layered experiences are arriving on tablets. But where the redundancy and sluggishness inspired by most phone skins are layered atop an otherwise satisfying and lauded user interface, Honeycomb is not nearly so refined as Gingerbread so it's hard to mar the experience just by adding widgets and some new applications.
TouchWiz UX on the 10.1 is a relatively benign experience, it is neither offensive nor supremely satisfying. If properly built out, the MiniApps and resizable widgets framework could add a lot of utility to Samsung's tablet line-up. The enterprise features will help improve Honeycomb's penetration into the burgeoning corporate tablet market. And the media content offered by Samsung's Media Hub is a nice addition, particularly if they begin providing the content across platforms; imagine Media Hub built-in to your latest Samsung TV or BluRay player.
Where TouchWiz UX really gets me going, is in the potential evident from these additions, that developers have yet to realize. Social Hub is good, but wouldn't a resizable widget for TweetDeck be incredible? Tablets are here to stay, whether their utility is fully realized yet or not. And for better or worse, the two biggest tablet OS competitors will be iOS and Android; let's hope that developers start to push through inspiring applications that ensure that Apple doesn't let iOS rest on its laurels, but continue to advance how we compute on the go.