Software
The Charge as of this writing runs Android 2.2.1, which seems to be par for carrier-backed phones launching now, though comparatively old and a bit indicative of how long the device has been either been going through Verizon's own testing or Samsung's development cycle. The sad reality is that all the 4G LTE Verizon handsets are running either Froyo 2.2.1 or 2.2.2, which is a continual frustration considering how long Gingerbread has been out, and the eventual launch of the Droid Bionic which will hopefully come with 2.3.x.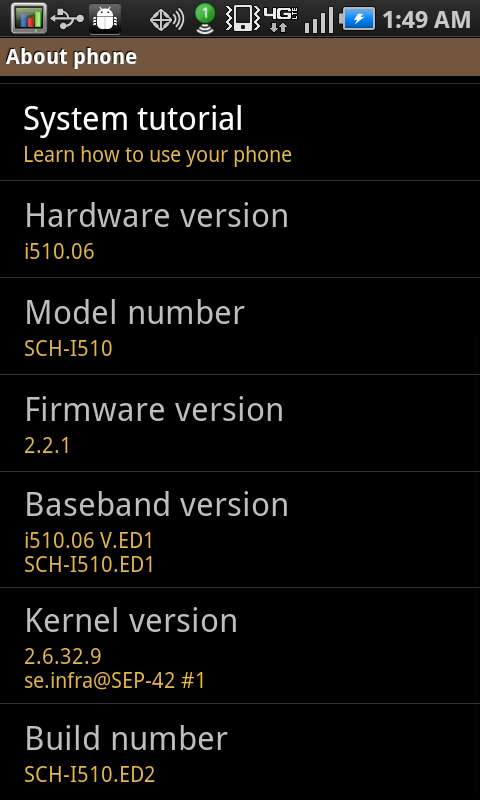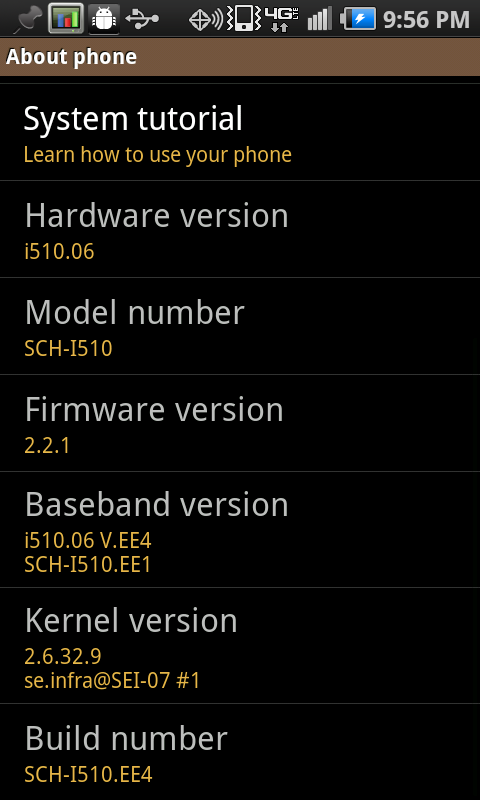 Left: Original Software Build ED2, Right: Updated to Build EE4. Notice how the signal bars are different now.
One of the things changed when the Charge was flashed with the EE4 update was those status bars at the top, which now look vaguely like Android 2.3 style. Don't let that fool you, the Charge is still very much Froyo.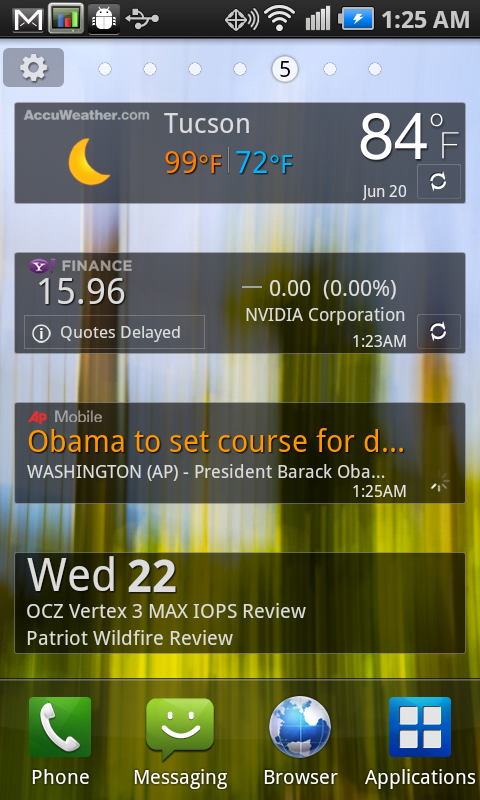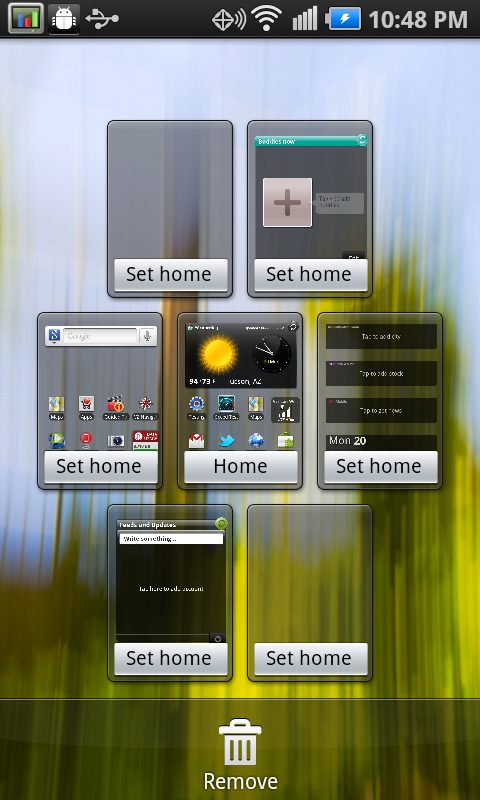 The Charge also is adorned with Samsung's TouchWiz UI, which includes a different launcher, icons, widgets, system skin, and shade. I can get behind what Samsung has done to the notifications shade, in fact, including quick-access toggles for WiFi, Bluetooth, GPS, data, and rotation seems to be the way most custom ROMs go and like something Google will eventually steal adopt in future Android releases like it has already started in Honeycomb.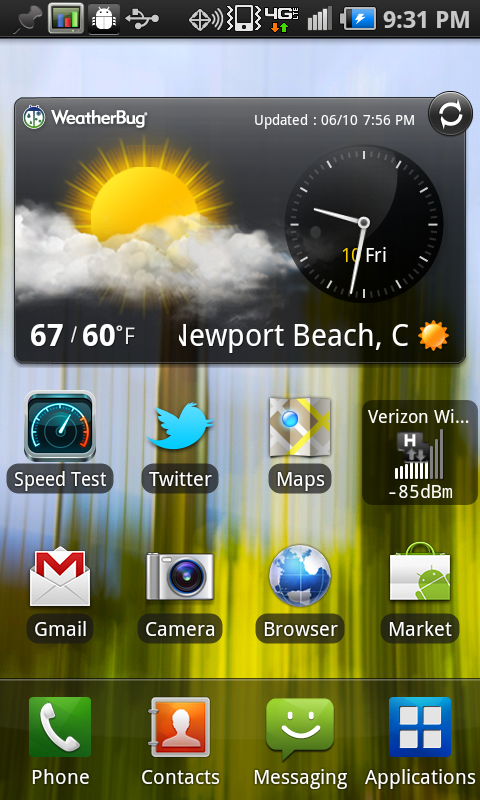 The system color for the Charge seems to be an earth brown with orange accent, which doesn't really seem like the most striking choice and doesn't really match the handset's stealth bomber grey in most places. It works though.
There's a bottom row of icons on the home screen that you can edit which persist across each home screen. It's essentially iOS' bottom dock embodied in Android style. Samsung also changes the launcher to consist of different windows that scroll left and right with icons, instead of the stock Android cube launcher.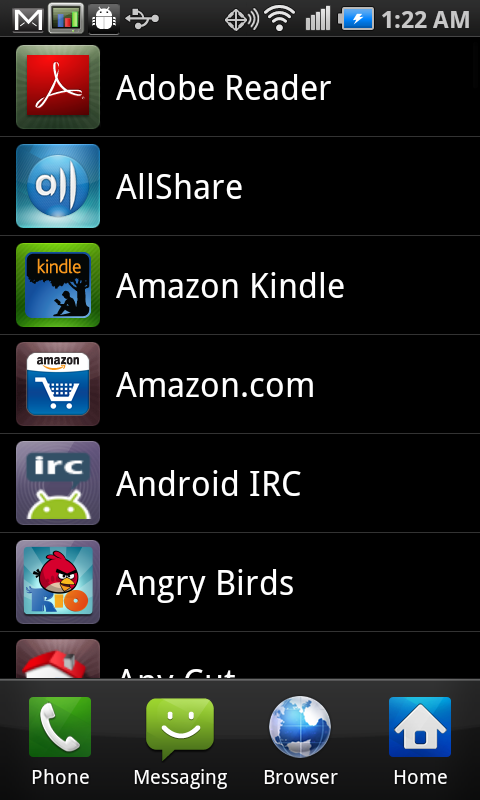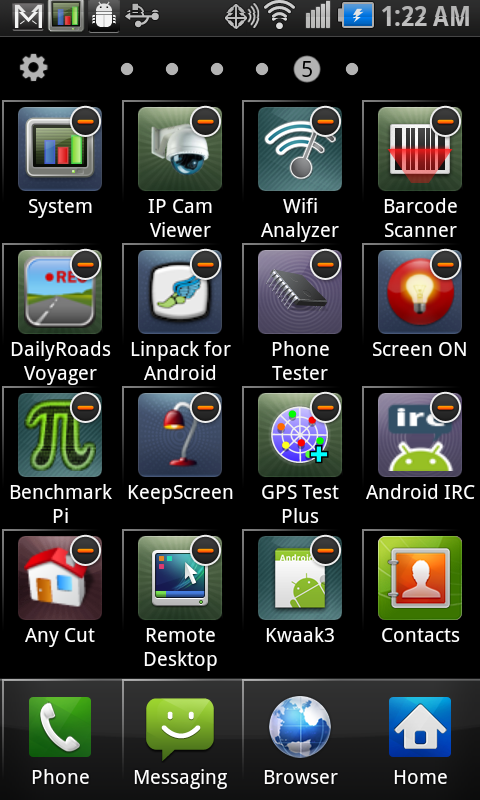 There's a grid and list view, with the former populating icons in the order things are installed, and the latter being alphabetically organized. Tap the settings gear and you can re-order applications in the grid view, delete applications from the launcher, and rearrange the dock.
Honestly the TouchWiz widgets are pretty barebones, and consist of solid transparent grey with text on top. It's a far cry from HTC's own Sense widgets. The only widget with any styling is the main clock and weather widget, which admittedly does work well and reports based on your current location.
The Charge doesn't come super overloaded with bloatware, but does include some noteworthy pieces. Among those are Lets[sic] Golf 2, Bitbop, Blockbuster, CityID, Rhapsody, Rock Band, and all the usual Verizon applications. You can see the entire assortment in the gallery below. Thankfully there isn't any Bing branding everywhere like what the Fascinate was saddled with, but it's still software that can't be removed, though thankfully none auto launch and consume RAM. Clearly Verizon does treat Droid branded devices a bit differently when it comes to selecting what bloatware to put on.
The Charge doesn't have any bootloader shenanigans, and as a result you can easily flash custom ROMs. I've seen a few pop up already for the Charge, and if you're an enthusiast and are bothered by bloatware this is clearly the way to go.