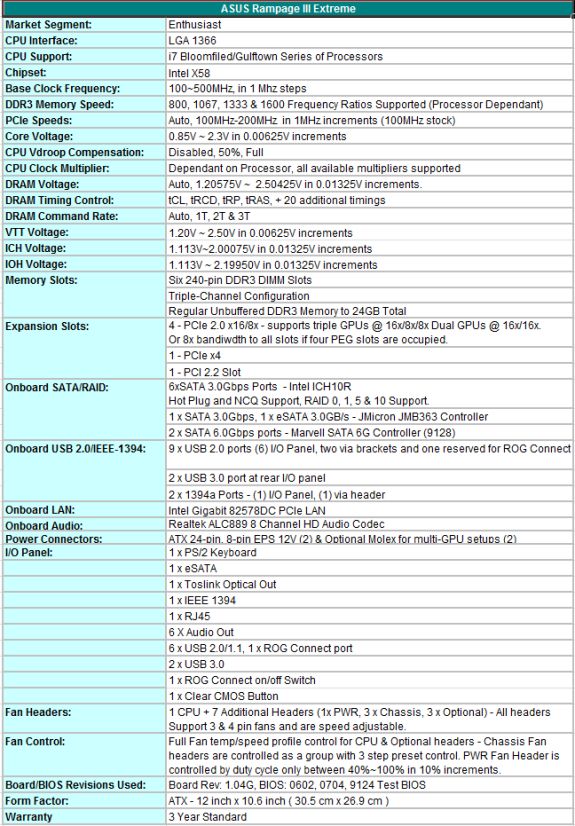 The Rampage III's component layout is nigh-on identical to the P55 based Maximus III (Marvell SATA 6G and NEC USB 3), the only real change coming in the form of the Realtek's ALC889 audio codec instead of a VIA solution. Unlike previous ROG boards, ASUS are not providing the Realtek's codec as a plug-in soundcard, instead it's back to on-board placement. This would have been okay with us provided ASUS bundled some form of Creative gaming software or Dolby package, but there's nothing of the sort on offer here, which will leave most users looking at plug-in alternatives.
A single Intel 82578DC NIC is utilized for LAN duties, which many users fancy as a better alternative to controllers from Realtek, Broadcom and Marvell. You'll want to avoid the latest Intel drivers (ASUS are using an older version which works OK), as they seem to have a bug with wake from S3 so stick with what you get on the driver disk or ASUS download site until newer drivers are qualified.
What's in the box?
The following items are shipped with the Rampage III Extreme:
1 x ROG Connect Cable
1 x ProbeIt Cable Set
1 x 3-Way SLI Bridge
1 x SLI Cable
1 x CrossFire cable
6 x SATA Cables
2 x SATA 6G Cables
1 x two Port USB 2.0 and eSATA bracket
1 x I/O Shield
1 x Thermal Sensor Pack (for fan header thermal monitoring/speed control)
1 x Cable ties pack
1 x ROG sticker and 1 x Cable label pack
1 x Optional Heatsink and fan (for IOH cooling)
1 x RC Bluetooth module
1 x Support DVD
1 x User Manual
A fairly comprehensive bundle from ASUS as you'd expect at the price. The thermal sensors are a nice touch and tie in very nicely with ASUS's fan control options – easily the most comprehensive range of control on offer from any vendor, putting more expensive boards from EVGA and Gigabyte to shame.
Board Layout
We quite like the layout of the R3E, everything is accessible in most situations: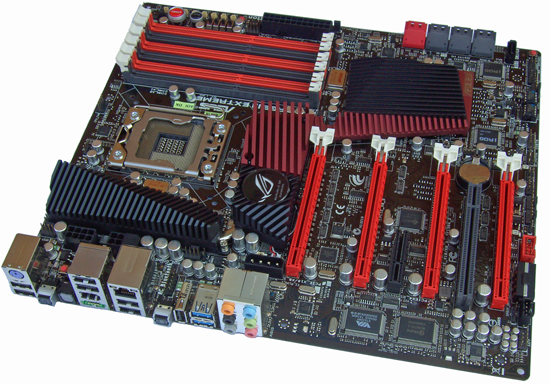 On-board cooling isn't that great in our opinion – IOH idle temps with ASUS's heatsink and fan combo are up in the 60s at stock voltages (high for a board without NF200s). Overclock higher and you will hit 70 Celsius plus quite easily in a case. Ordinarily we are not overly concerned about temps although in this instance high temperatures on the IOH can be a hindrance because the QPI bus starts to throttle when temps go too high. This also limits the board's stability at high BCLK unless you provide copious amounts of additional airflow across the heatsink assembly. The whole situation is not helped by ASUS's choice of thermal interface material; it's thick yellow bubble gum type stuff. A simple change out of TIM on the IOH to Artic Silver Ceramique lowered the IOH idle/load temps by seven Celsius and encouraged the board to POST past 215 BCLK. We've passed our findings on to ASUS and hope they update future boards from the factory.
One thing we should mention before we move on; ASUS provide socket 775 mounting holes for older CPU coolers, which some users may appreciate.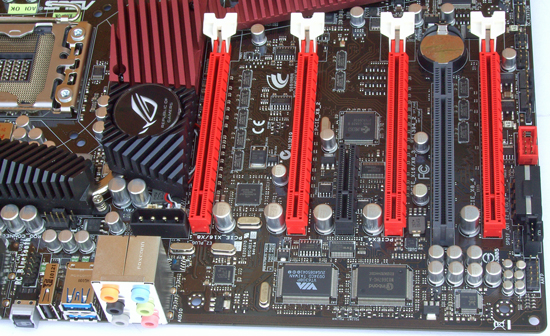 Slot layout is geared for multi-GPU setups, allowing the use of three dual slot graphics cards in tandem with a PCIe sound card or four dual slot GPUs (CrossFireX). Lane allocation is 16x/16x, 16x,8x,8x or 8x/8x/8x/8x.

On-board power and reset buttons are available near the DIMM slots, together with voltage read points and also on/off switches for the PEG slots which can be useful when using multi-card setups during benchmarking.
Software
The software side of ASUS's bundle is the same as what we covered on the Maximus III Extreme here. You'll be pleased to know we didn't find bugs, the overclocking software works fine.
BIOS & User Experience
Aside from aesthetic appeal, BIOS is probably the best reason to choose the R3E over the other boards we've got on test today. It's easy to navigate and contains options for every type of user.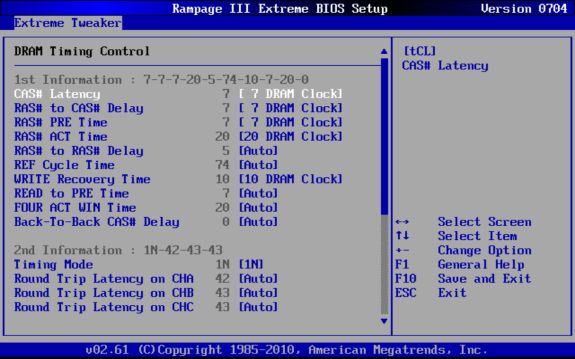 click to enlarge
Memory overclocking is made easy thanks to automated scaling routines that apply offsets as memory frequency is increased. Individual timings can be changed one at a time, away from the BIOS presets, while the BIOS displays the actual setting in a list for cross reference.
Out of all the boards we've got on test today the R3E provided us with the best overall user experience. The only "bugs" we found in the 0602 BIOS related to a couple of sub-timings failing to respond to manual changes. This has since been fixed, and right now there's nothing we can think of to complain about.
The 9124 beta BIOS is earmarked as ASUS's benchmarking centric BIOS, it adds all the fixes to date together with what ASUS call "2D Performance Booster" for Gulftown processors. ASUS love giving simple things proprietary names, all this setting really does is disable Gulftown specific microcode which gives a boost to some 2D benchmarks (circa 4~6 seconds in Super Pi 32M). This feature is not unique to ASUS; EVGA have a Turbo option in their BIOS that does the same thing, while Gigabyte have a beta BIOS in circulation that does something similar (without the option to swtich the microcode on and off). Overall, it's a nice feature for those chasing 2D records, but is of no use to anyone running these boards in a 24/7 system.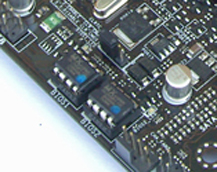 The dual BIOS system we first saw employed on the M3E gets an outing on the R3E, too. Two separate BIOS chips are used by ASUS each can be flashed to a different BIOS version for cross compare and backup. Switching between BIOSes can be done via BIOS, ROG Connect or by using an onboard switch when the board is in standby mode.
BIOS flashing can also be taken care of a variety of ways; flashing is possible via OS software, via a built in routine accessed through BIOS or ROG connect while the board is in standby state - covering just about every usage scenario.
There are no hardware incompatibility issues we have to report, everything in our test repertoire was recognized and available for use with minimal setup fuss. S3 resume worked well, we managed to wake the board at 210BCLK from USB after several hours, which we consider excellent, though not class leading. Recovery from failed overclocks works farily well in most instances, at most we needed to cycle power to encourage a safe mode POST. Not the very best rendition of automated recovery we've seen, however it is something we can live with.
General board stability under stress and benchmarking conditions is also good, the R3E consistently scored at or near the top in our tests and managed some of the highest stable frequencies we've seen on our Gulftown processors. The only exception being the need to switch over to QPI slow mode on our test sample boards once past 219 BCLK – something we don't have to do on the EVGA and Gigabyte test samples (although those boards cost more). Where this may become an issue for some users is when pushing locked core multiplier processors at high BCLK for benchmarking purposes; you need a board with a good IOH to do it. That's the only black mark we have against our R3E samples thus far; we were expecting the second generation of X58 boards to be more consistent in the BCLK department. That being said, out of the four boards we're testing today, the R3E is the best all round performer and the easiest to use.