Features
Normally, we like to see how a system is put together. In a typical case review, we'd also have to worry about the ease of assembly, but we can skip that topic this time. The M1000 comes as a pre-assembled unit from Shuttle, complete with all the accessories shown in our test unit. The
Shuttle site has a few options
that can be modified, but for the most part, you'll buy exactly what we're testing. You can add speakers, a second (external) hard drive, and some additional software. Otherwise, the M1000 is a set design. That can be a good thing, though, as it saves on support and build costs and also allows Shuttle to design within the previously mentioned constraints - upgrading the graphics card or processor could change the thermal envelope. Here's the feature list of the M1000.
Shuttle XPC M1000

Dimensions
(w)442 mm x (h)78 mm x (d)350 mm
Processor
Intel Pentium M 740 (1.73 GHz, 2MB Cache)
Memory Support
2 DDR SO-DIMM slots
2x256MB PC2700 Included
Motherboard
Shuttle Proprietary
Intel 915PM + ICH6M
400/533 FSB
Flash Reader
8-in-1 - SD Reader
MMC, SM, MS, MS Pro, CF Type I/II, Micro drive
Expansion Slots
1 x PCIe X16 - GeForce 6600 LE 256MB
1 x PCI - AverMedia AverTV M113
1 x PCI - AverMedia Grander M187 Tv/FM Tuner
Power Supply
150W SilentX
Audio
Creative SoundBlaster Live! 24-bit HD 7.1
LAN
1 x 10/100/1000 Mbps
802.11 B/G WiFi
Drive Bays
1 x 3.5 Internal (HDD) - Seagate 250GB SATA
1 x 5.25 External Slim (CD/DVD) - 4X DVD+RW
Front I/O
2 x USB 2.0
1 x IEEE1394 (4pin)
MIC, Head-phone
Power button
Front VFD (Versatile Front Display)
8-in-1 Flash Card Reader
2.5" External USB HDD Bay (Enclosure included)
Rear I/O
2 x USB 2.0
1 x IEEE1394 (6pin)
RJ-45 LAN Port (10/100/1000Mbps)
L/R Front, L/R Surround, L/R Side, Center/Sub
S/PDIF Out - Optical & Coax
S/PDIF In - Optical
IR Out, 802.11 B/G Antenna

Overclocking
None
Graphics
NVIDIA GeForce 6600 LE 256MB
Full Image Set
Shuttle XPC M1000 Pictures (3.6 MB)
Manufacturer Link
Shuttle XPC M1000
It should be immediately clear that this is a system designed to fit into an entertainment center with minimal effort. The Pentium M processor has a very low heat output, making it a far better fit than something like a Pentium D. The processor is also EIST (Enhanced Intel SpeedStep) enabled, so it can drop to even lower speeds - with the accompanying power and heat drop - when the system is idle. The Pentium M isn't necessarily the ultimate powerhouse of multimedia that you might expect in an HTPC, but there are ways around that. In fact, the CPU isn't even one of the top Pentium M models, as the 740 only runs at 1.73 GHz compared to the top 2.26 GHz of the 780.
The chief way to eliminate the need for a high-end CPU is to offload the work to separate, dedicated components. Shuttle has done this by including two hardware accelerated TV tuners/MPEG encoders. The cards used are region dependent for obvious reasons, but the unit that we received included an AverMedia AverTV M113 along with an AverMedia Grander M187. The primary difference between the two cards is that the M187 includes an FM tuner along with the video capture capabilities. Going along with the dual TV tuners is an NVIDIA GeForce 6600 LE 256MB card. This card offers
NVIDIA's PureVideo technology
, along with a couple of other critical options. VGA output is nothing special in a PC, and in fact, it can be a hindrance for a HTPC - how many of you own a TV capable of taking a VGA connection? For serious TV users, component out as well as a DVI port are going to be far more useful, and the 6600 LE provides both. Composite and S-VIDEO are also offered, though component or DVI will provide the highest quality connection and are essential if you're connecting the unit to an HDTV.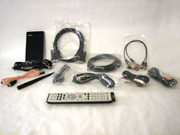 Click to enlarge.
You can see all the included cables and accessories in the above image. There are quite a few other features worth noting. Audio is HD compliant, provided by a Creative Live! 24-bit 7.1 chip integrated onto the motherboard. Gigabit Ethernet along with 802.11 B/G wireless networking are provided, which should more than handle any connectivity requirements. The chipset is Intel's 915PM with ICH6M south bridge, so performance and features will be better than the outdated 855M chipset. USB2.0 and Firewire connections are also present, which comes as little surprise. What
is
interesting is the inclusion of a 2.5" HDD enclosure that can plug into a front bay on the system; though, unfortunately, you'll need to purchase the actual HDD on your own. That external HDD connection is also the only way to increase HDD capacity, as the internals are completely full. The one area that is a little lacking is the RAM, as Shuttle only equips the M1000 with 512MB. More RAM wouldn't really help the audio/video departments, though, so unless you plan to use the system as more than an HTPC, this isn't a major shortcoming.