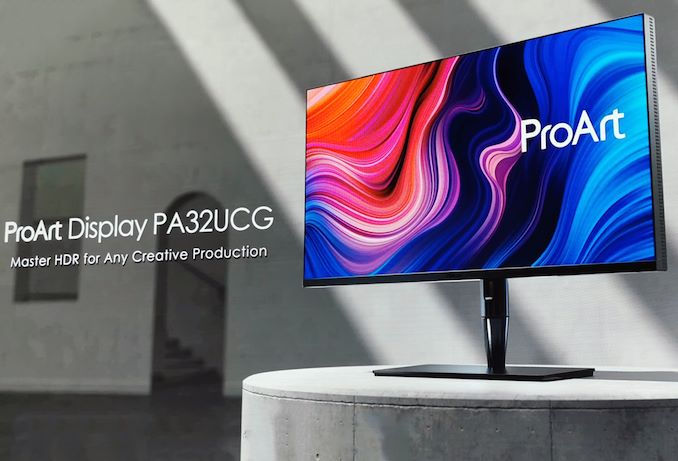 Content creation is about to change drastically in the coming years as ultra-high-definition displays with wide color gamut, superior refresh rates, and great contrasts become widely available and demand for high-quality visuals increases. Being one of the leading makers of professional monitors, ASUS cannot ignore the ongoing trends and develops professional displays for next-gen content creation workloads. At IFA today, the company announced its ProArt PA32UCG LCD, one of the most advanced professional monitors introduced to date.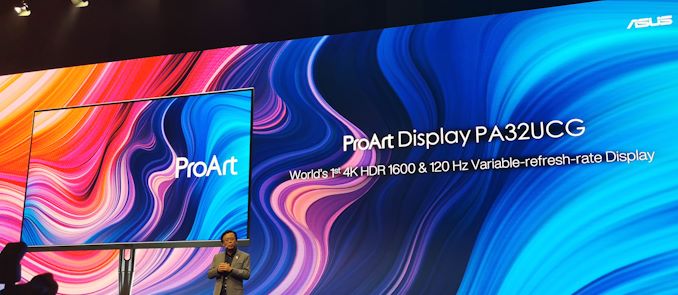 To meet above mentioned requirements for next-generation displays, ASUS (and other makers of monitors) has to use either bright OLED panels with all their pros and cons, or advanced IPS LCD panels featuring full-area local area dimming (FALD) backlighting enhanced with quantum dots (or other methods) for more accurate colors. With its 'portable' ProArt PQ22UC, the company decided to go OLED, but with the new ProArt PA32UCG (and similarly-sized LCDs for color-critical workloads), the company prefers IPS panels featuring the said treatments.

Aimed primarily at game developers, the ProArt PA32UCG features a 10-bit IPS panel of 3840×2160 resolution that offers a variable refresh rate (VRR) between 48 Hz and 120 Hz and is equipped with a Mini LED-based backlighting featuring 1,152 individual local dimming zones and quantum dots. That backlighting enables 1000 nits sustained brightness, up to 1600 nits peak brightness in HDR mode (officially, the LCD carries VESA's DisplayHDR 1400 badge though), and a very high contrast ratio.

The ASUS ProArt PA32UCG monitor can display 1.07 billion of colors and reproduce the sRGB, Adobe RGB, DCI-P3, and Rec. 2020 color spaces used for video post-production as well as graphics design nowadays, yet ASUS does not disclose anything about percentage of the coverage. Meanwhile, since the display will come factory calibrated with a Delta <1 accuracy, expect its color reproduction to be very precise. To ensure this when deployed, the display will come with a light-shielding hood.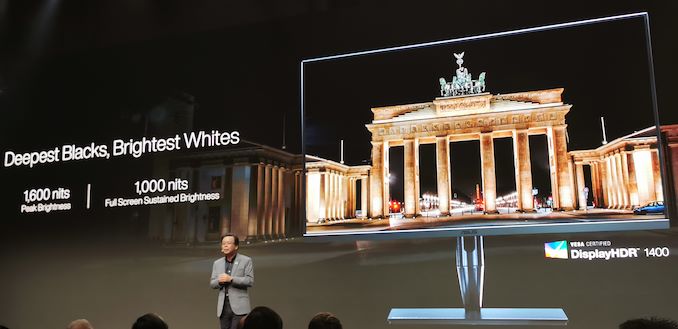 Additionally, the LCD supports HDR10, Dolby Vision as well as hybrid log gamma (HLG) HDR formats, but there is no word about HDR10+ support. ASUS also does not reveal anything about internal 3D LUTs (look up tables) for HDR gradations, but only mentions multiple PQ curves to fit users' needs. This is explainable though as the product is many months away from its commercial launch.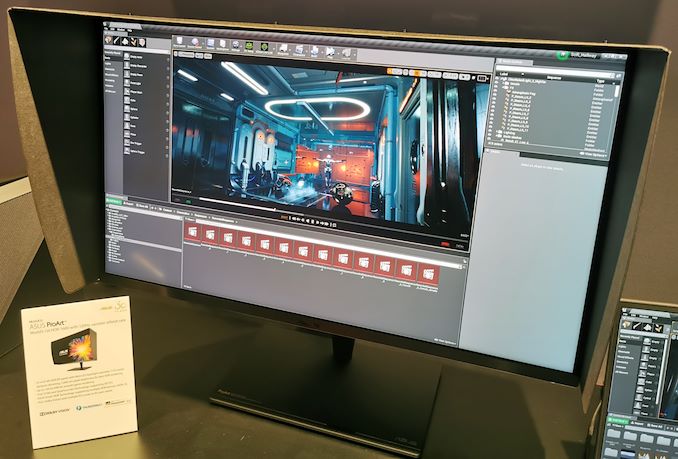 As for connectivity, ASUS so far has only confirmed Thunderbolt 3 support, but it is logical to expect DisplayPort 1.3/1.4 as well as HDMI 2.1 (since we have VRR here) connectors to be present as well.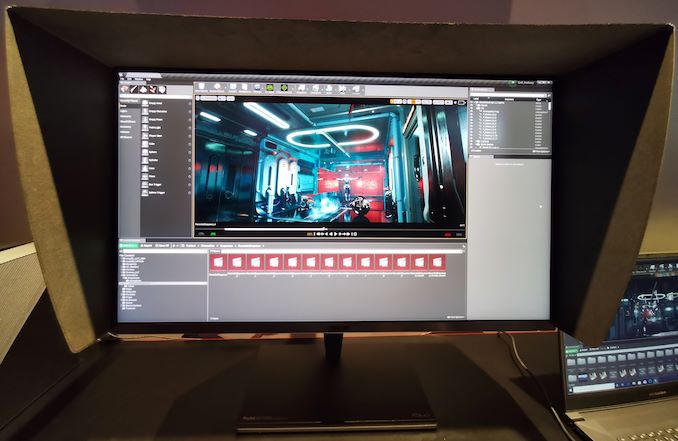 The company demonstrated the ProArt PA32UCG monitor at its IFA 2019 event, so we know that the monitor works and probably is in its final stages of development.
Specifications of the ASUS ProArt Mini LED 4K 120 Hz Display
ProArt PA32UCG
Panel
32" IPS
Native Resolution
3840 × 2160
Maximum Refresh Rate
48 - 120 Hz VRR
Response Time
unknown
Brightness
1000 cd/m² (sustained)
1600 cd/m² (peak)
Contrast
high
Viewing Angles
178°/178° horizontal/vertical
HDR
HDR10, Dolby Visin, HLG
Backlighting
Mini-LED-based 1152-zone FALD
Pixel Pitch
0.1845 mm²
Pixel Density
138 ppi
Display Colors
1.07 billion
Color Gamut Support
DCI-P3
Adobe RGB
Rec. 2020
sRGB
Aspect Ratio
16:9
Stand
Hight, Tilt, and Swivel adjustable
Inputs
Thunderbolt 3
DisplayPort (?)
HDMI 2.0 (?)
USB Hub
?
Launch Date
Q1 2020
ASUS intends to bring its ultimate ProArt PA32UCG to the market sometimes in the first quarter of 2020 if everything goes as planned. The company naturally does not talk about prices just yet.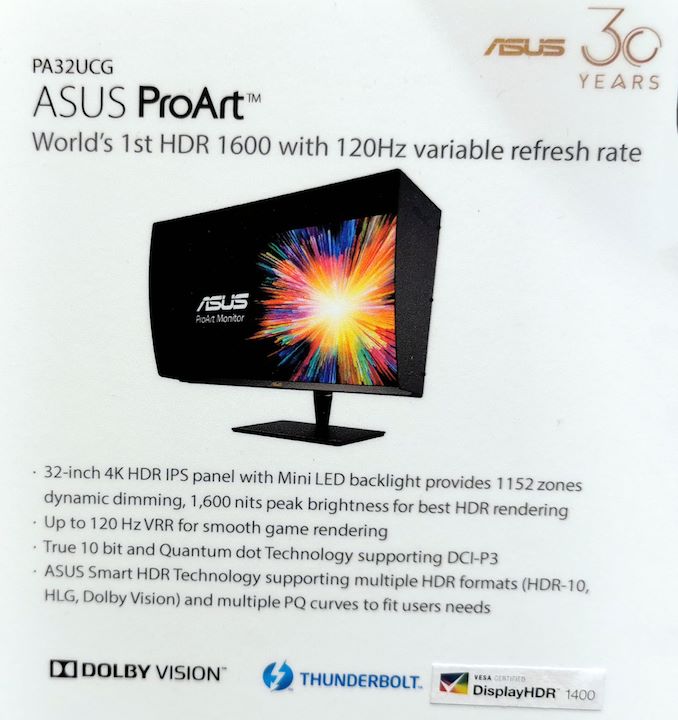 Related Reading:
Source: ASUS