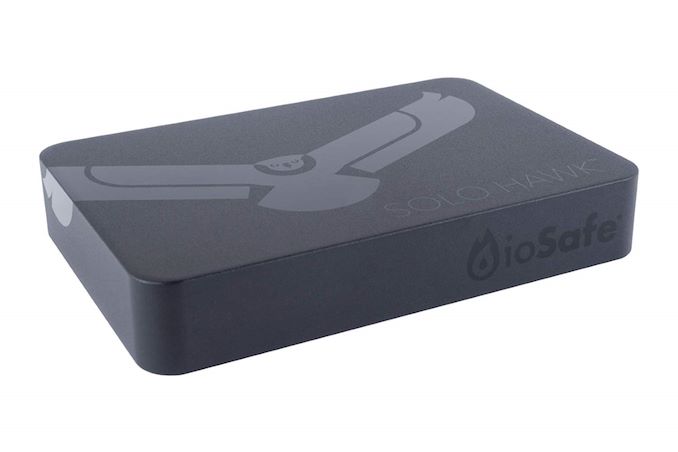 ioSafe's disaster-resistant solutions cater to an important niche in the storage market. In mid-2018, the company was acquired by CRU. The Solo Hawk Rugged SSD is one of the first ioSafe-branded products to be launched after the acquisition. The portable SSD is a 2.5" SATA drive in a waterproof and crush-resistant enclosure that can also withstand extreme weather conditions and chemical environments.
Introduction
ioSafe's products are known for their disaster-resistant nature, with the data being protected against extreme conditions (including heat). The Solo Hawk, on the other hand, is marketed as a rugged SSD. It is the second portable bus-powered product from ioSafe, a follow-up to the Rugged Portable SSD. Unlike other ioSafe-branded products, the Solo Hawk is not fireproof. As we have seen earlier, fireproofing requires a gypsum enclosure super-saturated with water. This greatly increases the weight of the end product, rendering it unsuitable for a mobile device. Therefore, ioSafe has focused on other ruggedness aspects in the design of the Solo Hawk.
The Solo Hawk is not the first rugged SSD in the market - that credit goes to the LaCie Rugged Thunderbolt from 2014 (which had a USB 3.0 interface in addition to Thunderbolt 2). LaCie has since released a newer version - the Rugged Thunderbolt USB-C SSD. G-Technology also has a play in this market segment with their G-DRIVE mobile SSD. The Solo Hawk carries a price premium over both these products, but brings in several distinct improvements in the ruggedness.
The Solo Hawk Rugged SSD is made of solid aluminum, and weighs in at 490 grams (without the cable needed for data transfer). Dimensions of 99mm x 145mm x 26mm make the unit appear as a sturdy and well-built enclosure for a 2.5" drive. It has a USB Type-C interface (USB 3.1 Gen 2 / 10 Gbps) and a Kensington lock slot.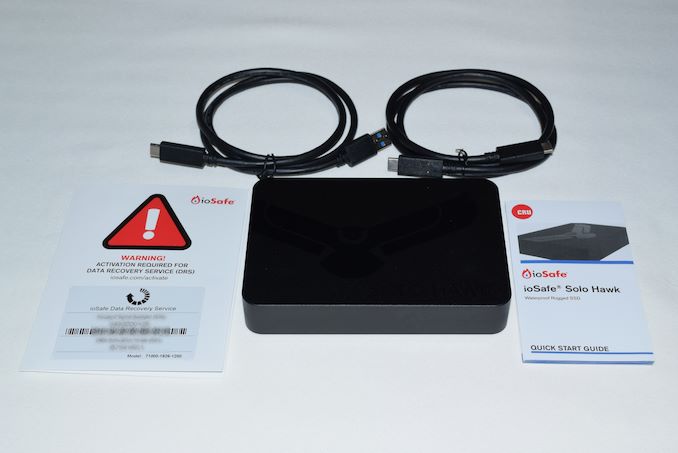 In addition to the main unit, the package includes a quick-start guide and a warranty card (including details of the data recovery service activation and directions to redeem value additions such as the Genie Timeline Professional backup software). Two 40 in. cables (1x USB 3.1 Gen 2 Type-C to Type-A Male and 1x Type-C to Type-C Male) are also included.
In the rest of the review, we take a look at the internals of the product, and find out what makes the Solo Hawk rugged. This is followed by the presentation of some performance benchmarks. Finally, we take a look at some miscellaneous aspects such as power consumption, TRIM support, and how the Solo Hawk compares against similar products in the market across various metrics.