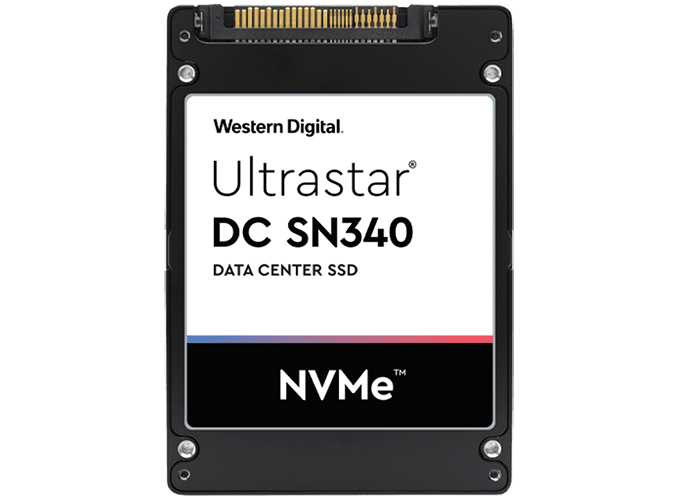 Western Digital has introduced its new accelerator drives designed for very read-intensive workloads. The key feature of the Ultrastar DC SN340 Very Read Intensive (VRI) SSDs is their low read latency which is important for write-once read many applications, such as video-on-demand services, distributed databases, and emerging AI/ML workloads.
Nowadays video streaming providers use 1 TB SATA SSDs that offer a ratio of IOPS to bandwidth that satisfies their needs in terms of numbers of parallel users/streams (RIOPS). In a bid to optimize power, costs, and the number of racks in their datacenters while still meeting their requirements, VOD services need higher-capacity drives with higher performance and specific functionality. Western Digital believes that VRI SSDs is a type of devices that will satisfy requirements of the aforementioned (and many other read-intensive) workloads.
Carrying 3.84 or 7.68 TB of usable capacity, Western Digital's Ultrastar DC SN340 U.2 drives optimized for write-once read many workloads are based on the company's proprietary controller as well as 96-layer BiCS4 3D TLC NAND. With up to 3.3 GB/s sequential read speed, up to 1.5 GB/s write speed, up to 420K random read IOPS, and a 6.5 W maximum power consumption, the Ultrastar DC SN320 are substantially faster and more power efficient than SATA SSDs used by various VOD companies today.
One key thing to note about the Ultrastar DC SN340 is that it requires all requests to be 32 KB aligned to guarantee consistent performance and appropriate endurance, so these drives are not for everyone. This is a result of the drive's Flash Translation Layer (FTL) managing data with a coarser granularity, which significantly reduces the size of the indirection tables and allows the drive to operate with less DRAM than the usual 1GB per 1TB ratio.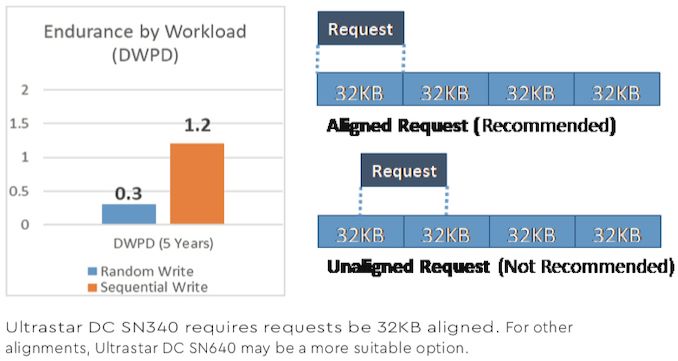 In addition to video streaming services, VRI SSDs can be used for other write-once read many applications. Distributed No-SQL Databases (Apache Cassandra, MongoDB, etc.) that sequentially write in append mode and avoid overwrites can benefit from such drives and their low read latency. Furthermore, various AI and ML applications that use training while performing loads of reads also take advantage of VRI drives.
Western Digital's Ultrastar DC SN340 SSDs
2.5-Inch
U2
Capacities
3,840 GB
7,680 GB
Interface
PCIe 3.0 x4 (NVMe)
Controller
Proprietary
NAND
96-layer BICS4 3D TLC NAND
Sequential Read
up to 3300 MB/s
Sequential Write
up to 1500 MB/s
Random Read (32 KB) IOPS
up to 420K IOPS
Random Write (32 KB) IOPS
up to 7K IOPS
Mixed Random Read/Write
(max IOPS 70%R/30%W, 32KB)
up to 139K IOPS
Power
Active
6.5 W
MTBF
2 million hours
Warranty
Five years
Note:
Performance numbers are based on 7.68 TB U.2 SSD
Western Digital does not disclose when it plans to start volume production of its Ultrastar DC SN340 VRI SSDs, but it is logical to assume that when its customers learn how to better use such drives, these products will be made available.
Related Reading:
Source: Western Digital