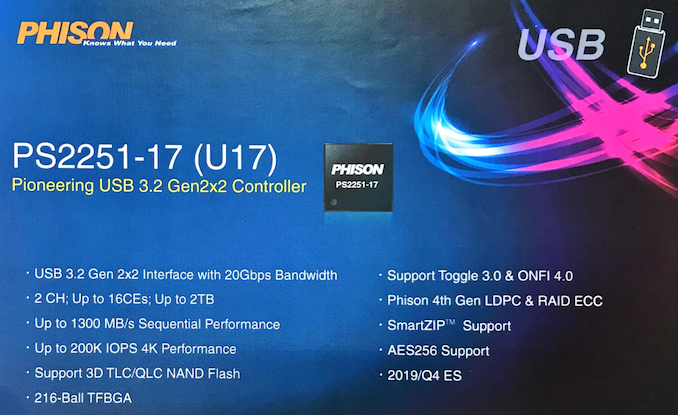 At this year's Computex trade show, Phison revealed that it is working on a USB 3.2 Gen 2x2 controller for external SSDs. Dubbed the PS2251-17 (U17), the company expects drives based on the chip to offer sequential transfer rates up to 1300 MB/s, which is notably higher than USB SSDs featuring a lower-bandwidth USB 3.2 Gen 2 interface. Retail USB drives based on this new controller, in turn, should be available sometime next year.
The Phison PS2251-17 controller features two NAND channels with 16 CEs that support modern types of flash, including 3D TLC and 3D QLC NAND, with Toggle 3.0 or ONFI 4.0 interfaces. The chip also supports Phison's 4th Gen implementation of LDPC and RAID-based ECC, SmartZIP technology, AES256, and other features found on other controllers from this company.
When it comes to performance, Phison says that SSDs based on the PS2251-17 will offer up to 1300 MB/s sequential read/write speeds as well as up to 200K IOPS. Real-world performance will, of course, depend on type of 3D NAND use as well as implementation by the manufacturer.
Phison plans to sample single-chip controller for USB 3.2 Gen 2x2 solid-state storage devices in the fourth quarter of this year. Retail drives would then follow in later quarters, hitting the market sometime in 2020.
Want to keep up to date with all of our Computex 2019 Coverage?

Laptops

Hardware

Chips
Follow AnandTech's breaking news here!