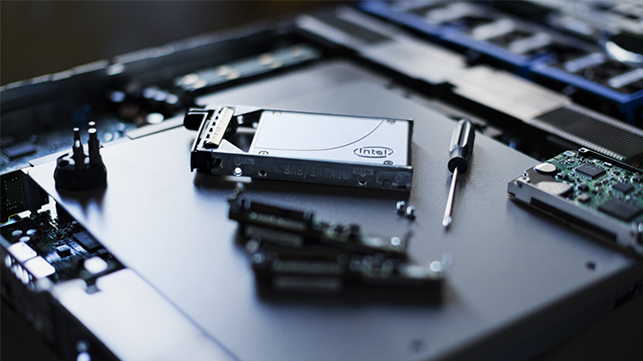 Like the rest of NAND flash industry, Intel is not particularly happy with oversupply on the market and decreasing prices. The company already said that it would reduce NAND production this year, and last week as part of Intel's invenstor announcements, CO Bob Swan confirmed that the manufacturer would also not build up any additional NAND capacity in the foreseeable future. Meanwhile, coming off the heels of its IMFT divorce with Micron, the company is making plans to move production of 3D XPoint/Optane memory to its Chinese fab.
Intel's NAND Strategy
Intel has always had a slightly different focus on its memory business when compared to other makers of NAND. Initially, Intel considered flash/SSDs as a way to increase its share in the BOM cost of devices with an Intel CPU/SoC inside, a strategy that is still pretty much in place. With the arrival of 3D XPoint and high-capacity 3D NAND, the company started to consider these products as differentiators for its client and server platforms, which perfectly serves its initial goal and makes its platforms more competitive. As a result, the company is more inclined to make high-capacity storage that it can use for SSDs in general and enterprise SSDs – in particular 3D XPoint/Optane – to generate higher profits and return on investments. Given its goals, unlike other makers of NAND flash memory, Intel is not exactly interested in selling raw NAND devices on open market and drive up volumes to maintain market share.
Over the course of the recent couple of years, Micron, Samsung, SK Hynix, and Toshiba either started to build new fabs (Korean companies have some flexibility and can adjust their production lines for DRAM or NAND), or continued to ramp up existing ones. Recently they slowed their production ramp up because of oversupply and low prices, but the construction process is still ongoing. This is not the case for Intel, which does not want to build up additional NAND capacities.
Bring Costs Down
Intel's Fab 68 in Dalian, China, started production in 2010 and is currently used exclusively for the company's 3D NAND memory. The fab's capacity has been expanded since 2010, but it does not look like the company has plans to invest any significant amounts of money in Fab 68 expansions for the foreseeable future (at least as far as NAND capacity is concerned).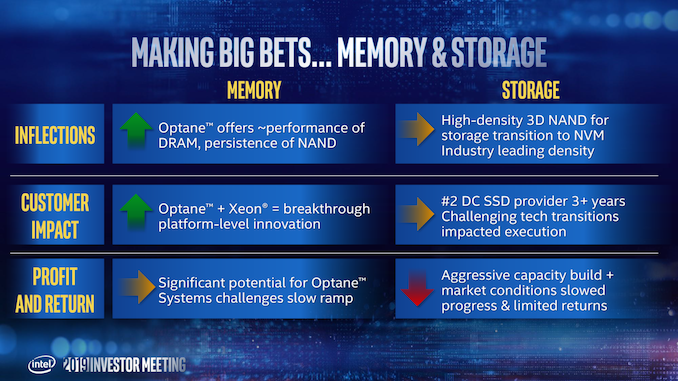 Instead, Intel's focus will be on bringing down the costs of 3D NAND featuring 64-layers, 96-layers, 'and beyond', which is an indicator that Intel is already working on its next-gen 3D NAND (with over 100 active layers) that will be produced at Fab 68. Interestingly, Intel continues to be confident of its 3D floating gate architecture and believes that it will enable it to continue lowering per-GB costs of NAND flash in the coming years.
At present, Intel does not expect its NAND memory business to be profitable this year because of the overall market tendencies. Therefore, its needs to cut down its costs to improve profitability (or reduce losses) and maintain its competitive positions on the SSD market (or at least be more flexible when it comes to pricing).
Move 3D XPoint Production to Fab 68
At present, 3D XPoint memory is exclusively manufactured at IM Flash's fab in Lehi, Utah. Since Intel is about to sell its stake in the facility to Micron, it will need to find a new plant to produce its persistent memory. Over time, Intel would like to move production of its 3D XPoint/Optane memory to its Fab 68 in Dalian, China (pictured below). Bob Swan would not say when the company expects this to happen, but only said that Intel will need to continue developing its persistent memory to do so.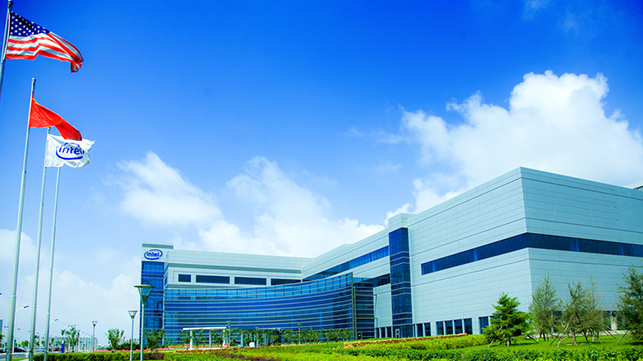 Under the terms of the existing contract between Intel and Micron, the latter will have to supply 3D XPoint memory wafers to Intel for up to a year after it acquires Intel's stake in IM Flash's Lehi fab (which is set to happen on October 31, 2019) at pre-agreed prices. After that, Micron may continue to ship 3D XPoint memory to Intel on a foundry basis. As a result, Intel will be able to get 1st and 2nd Gen 3D XPoint memory from Micron till at least late 2020, and after that they will have to ink a separate agreement.
Earlier this year Intel indicated that its 3rd Gen 3D XPoint/Optane persistent memory would be developed at its Fab 11X fab complex in Rio Rancho, New Mexico (pictured below). But's it's not yet known where Intel plans to produce these chips. Given the time it takes to develop a new technology, we can speculate that Intel's 3rd Gen 3D XPoint/Optane persistent memory might be produced at Fab 11X and/or at Fab 68 sometimes in 2021. The latter fab is seemingly more likely since this is Intel's high-volume fab for memory and the company has plans to use it for Optane.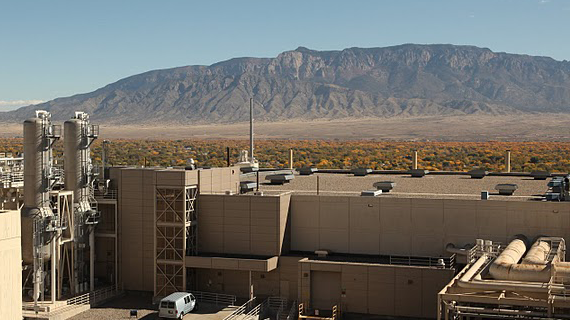 In fact, based on claims made by Intel's CEO, it looks like the company is more than inclined to ramp up 3D XPoint/Optane memory at Fab 68 at the expense of 3D NAND volumes. Given the scale of the plant, using it for Optane would certainly help to drive costs of persistent memory down. However, it is hard to predict when and if Optane volumes could have an impact of 3D NAND volumes given all the differences between the two types of memory that span from process technologies to costs to applications.
Evaluating Partnership Options
With all of that said, Intel's 3D XPoint/Optane will not be able to replace NAND any time soon, so flash memory will have its place in Intel's platforms for years to come. As a result, Intel still needs to have an access to cost-effective flash memory (and the company certainly knows how to drive per-GB costs of NAND down).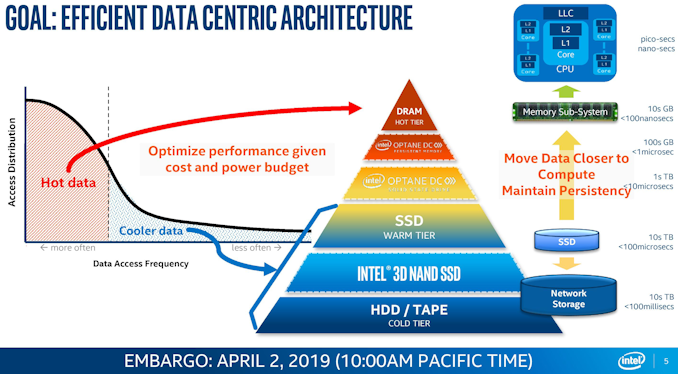 Having dissolved its NAND and 3D XPoint partnerships with Micron, Intel is leaving the door open to signing another NAND-related pact with some other manufacturer. A hypothetical partnership should help to accelerate and/or enhance improving the economics of NAND, said Bob Swan.
Related Reading:
Source: Intel