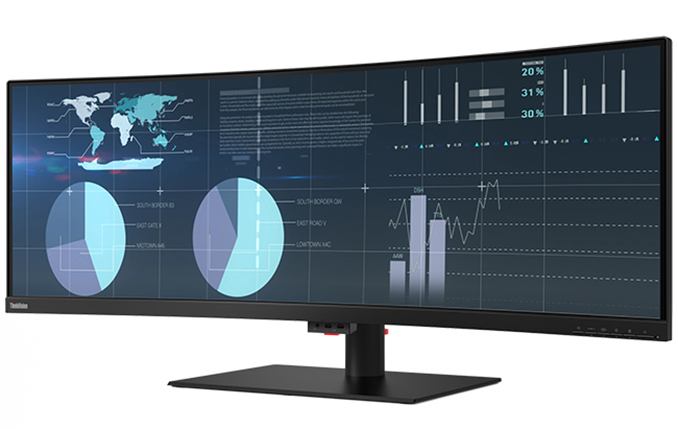 Large-sized curved displays with a 32:10 aspect ratio have been gaining traction in the recent years both among gamers and professionals. At CES Lenovo introduced its own Legion Y44w and ThinkVision P44w ultra-wide LCDs aimed at gaming and professional applications. Both monitors have a number of similarities, yet are tailored for the said market segments.
Lenovo's Legion Y44w and ThinkVision P44w displays use curved 43.4-inch panels featuring a 3840×1200 resolution as well as 450 nits brightness. The LCDs carry VESA's DisplayHDR 400 badge and therefore support HDR10 format. The two monitors come equipped with two USB 3.1 Gen 1 & Gen 2 Type-C ports with 90 W power delivery (across two ports) to connect two PCs, something that might be useful both in home and office environments, as well as a pop-down dual-port USB hub to connect to peripherals.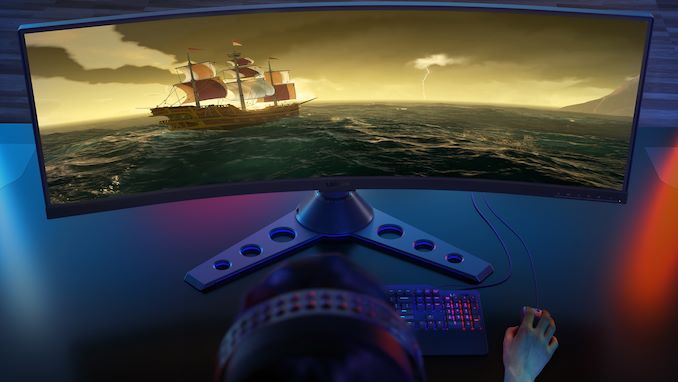 The gaming-oriented Legion Y44w supports AMD FreeSync 2 HDR-focused dynamic refresh rate technology with a maximum refresh rate of up to 144 Hz along with a 4 ms response time. Additionally, it has a detachable Harman Kardon-certified speaker and an aggressive-looking stand.

By contrast, the productivity-focused ThinkVision P44w monitor has an integrated KVM switch and supports picture-by-picture capability, essentially allowing to use two PCs seamlessly on one display. Lenovo points out that one 43.4-inch panel with a 3840×1200 resolution provides the same amount of screen real estate (as well as the number of pixels) as two 24-inch monitors with a 1920×1200 resolution. The LCD uses a rather conservatively-designed stand in a bid to match designs of office environments.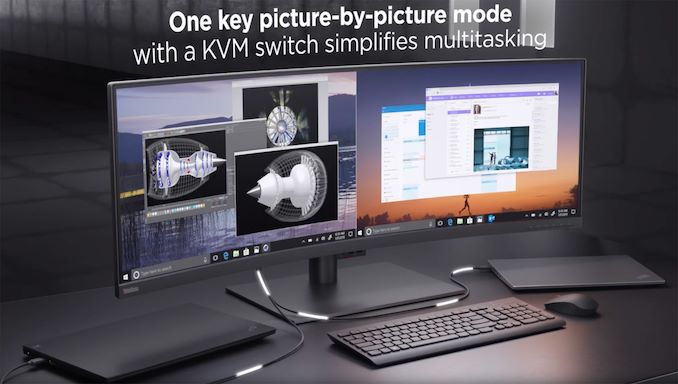 Lenovo's Legion Y44W display is set to hit the market this April at a price of $1,200. The ThinkVision P44w will be available around the same time, but will be priced higher at $1,300.
Related Reading:
Source: Lenovo