Adrenalin 2019 Improvements Part 1: WattMan and Performance
While the new Adrenalin 2019 suite puts a heavy emphasis on new streaming features as well as multi-device integration and ease-of-use, some of the existing features have seen some healthy number of tweaks and improvements. WattMan is such an existing feature that brings some larger updates, some of which are Vega-focused.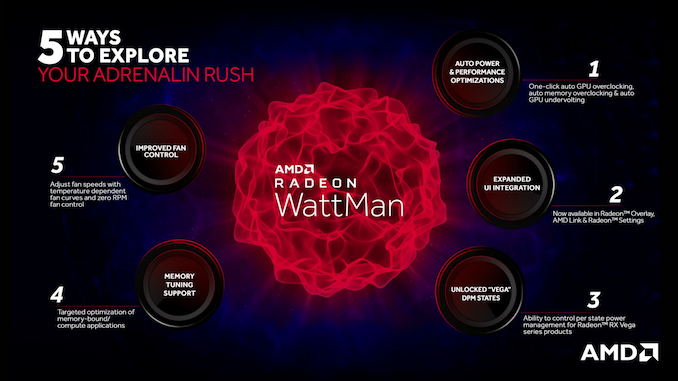 For Adrenalin 2019, WattMan now features one-click 'Tuning Control' presets for overclocking and undervolting, separate from the power-oriented 'Performance Profile'.
As WattMan is a built-in first-party OC tool, which first-time overclockers and tuners would be most likely to use, these profiles offer a straightforward option for beginners, especially with including an oft overlooked approach with undervolting.
Because WattMan is a built-in first-party OC tool, it's most likely the first tool that first-time overclockers will fall back to. As such, these new profiles provide a straightforward option for beginners, especially with also providing an option for the often overlooked approach of undervolting the GPU.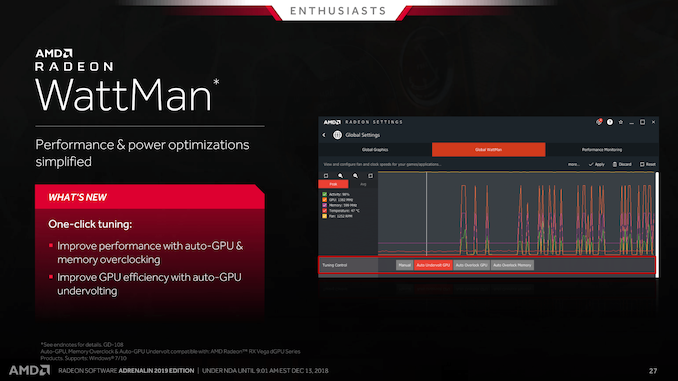 While the two overclocking presets are available to RX 400 series and higher, the undervolting profile is limited to discrete RX Vega GPUs. Otherwise, the new Adrenalin 2019 also enables control for all of RX Vega's DPM states, where as previously only the two highest states were unlocked.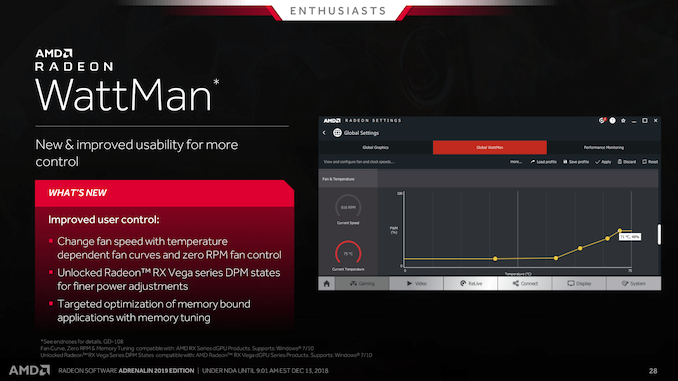 For discrete RX series GPUs, WattMan also brings better fan control by enabling temperature-dependent custom fan curves and also supporting zero RPM. Additionally, WattMan now offers a second preset of video memory timings, intended for optimizing more memory-bound workloads like cryptocurrency mining.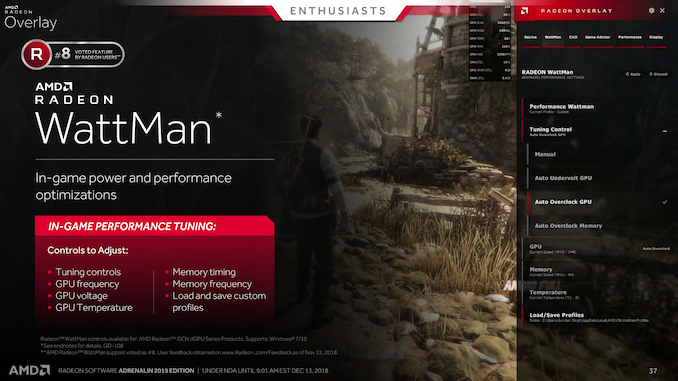 Meanwhile, WattMan has been further integrated into Overlay and AMD Link. With Overlay's new "WattMan" tab, the Tuning Control presets can be changed on-the-fly, along with loading and saving custom profiles, or even outright manual adjustments of frequencies and voltages.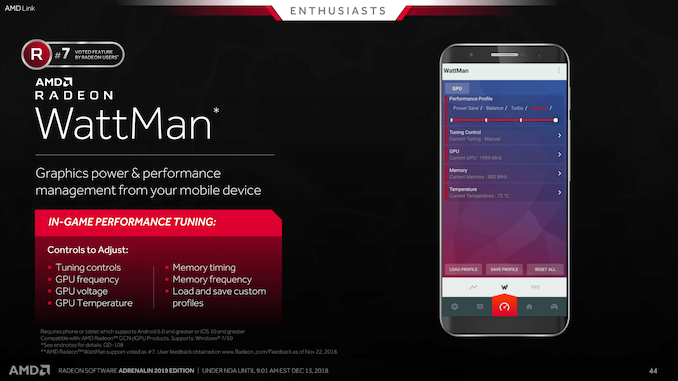 In the same vein, the aforementioned settings can now also be all adjusted through AMD Link, though by default profile loading is the only modification available. Enabling 'WattMan Advanced Control' in AMD Link's App Settings will permit all the rest of the GPU customization options. Of course, adjustments to potentially unstable settings while in-game may result in unintended consequences.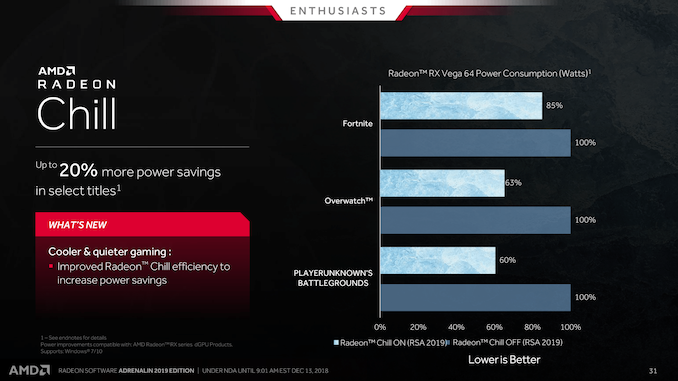 In line with the new WattMan features to customize efficiency, Radeon Chill is also bringing power-saving improvements to discrete RX GPUs. On the RX Vega, altogether with WattMan enhancements there are now more efficiency-tweaking options for both the entry-level and enthusiast user.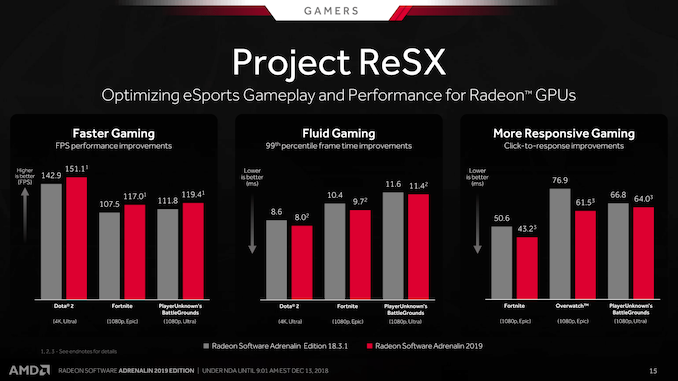 Naturally, AMD reiterates year-over-year performance improvements, though these represent an aggregate over the year rather than arriving all at once with Adrenalin 2019.
Also in this mix is AMD's ongoing Project Radeon eSports Experience (ReSX), which was first unveiled in March with Adrenalin Edition 18.3.1. Project ReSX focuses on improving performance, 99th percentile frametimes, as well as input latency on the most popular eSports titles. Compared to 18.3.1, AMD is particularly citing the latency reduction enhancements.