System Performance
Intel's Coffee Lake is a nice upgrade, offering up to six cores in the 45-Watt H series, compared to four in Kaby Lake. MSI offers either the Core i7-8750H, Core i7-8850H, or the Core i9-8950HK, with the latter installed in the review unit. The Core i9-8950HK offers six cores, 12 threads, and a 2.9-4.8 GHz operating window at stock speeds. There's 12 MB of cache, and of course the 45-Watt TDP.
The review unit also comes with 2 x 16 GB DDR4-2667, and there's two more SODIMM slots if you need more memory than that. The base models come with just a single 16 GB stick, so while you do lose out on the dual-channel memory, it's nice that if you do want to upgrade to 32 GB of memory, you don't need to buy two sticks of memory.
To test system performance, the GT75 Titan was run through our standard laptop tests. Comparisons are against similar systems and a few others, but if you want to compare it to any laptop we've tested, you can use our online Bench.
PCMark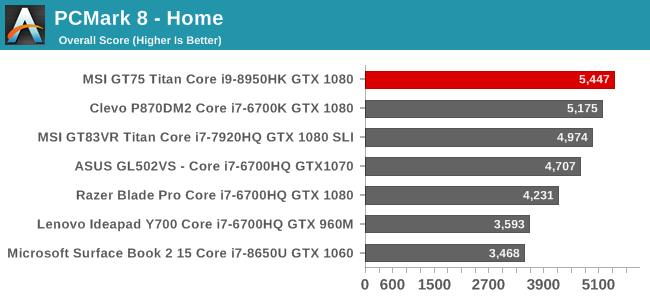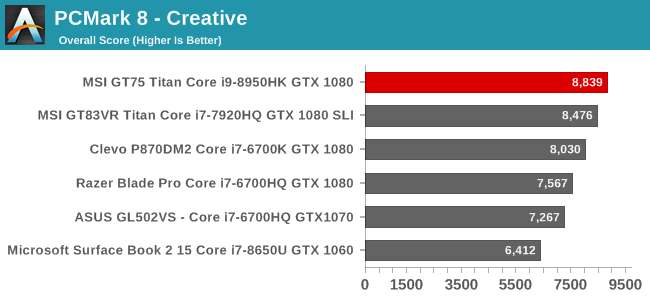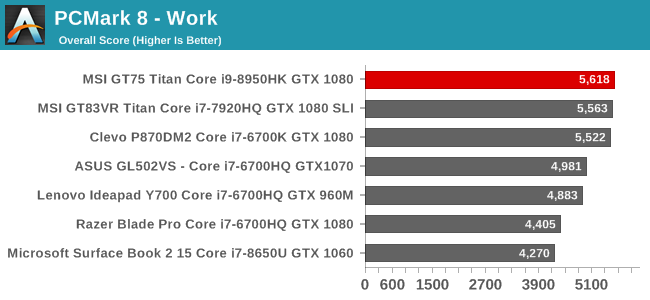 PCMark tests all aspects of a system, including the CPU, GPU, and storage. The extra cores in the GT75 Titan help propel it to the tops of these tests, even compared to the Clevo P870DM2 with it's desktop class Core i7-6700K CPU.
Cinebench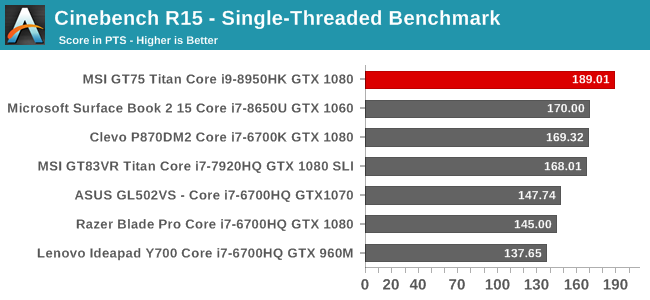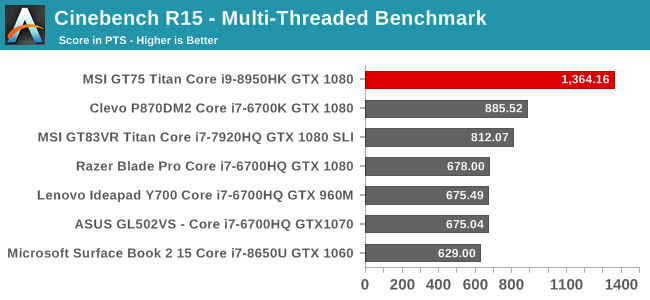 Cinebench is a pure CPU test, and with both single-threaded and multi-threaded tests, we can take a look at both the single-core performance as well as when all six cores and twelve threads are in use. With a maximum turbo frequency of 4.8 GHz, the Core i9-8950HK pulls out a nice lead on the single-threaded result, and the extra cores absolutely demolish the quad-cores in previous laptops.
x264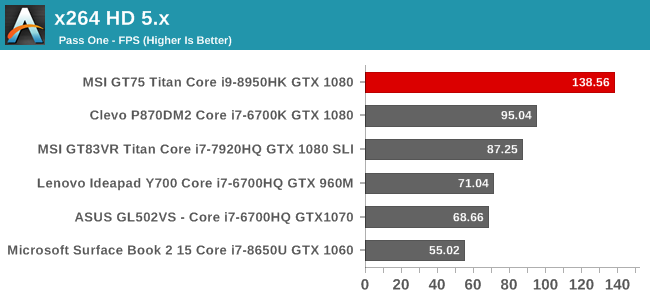 Another CPU test, x264 does a video conversion over two passes. The workload is quite long, and on Ultrabooks it can bump into the thermal limits of a device, but on these desktop replacement systems that's not an issue. The MSI GT75 Titan once again flexes its extra two cores here and wipes the floor against even the fastest quad-core models we've tested.
Web Tests
All of our web tests are done with the latest version of Microsoft Edge, and unlike our other tests, web performance is often dictated by the browser. Over time, browsers tend to get faster at certain tasks, so even the same device may show different results later in its life.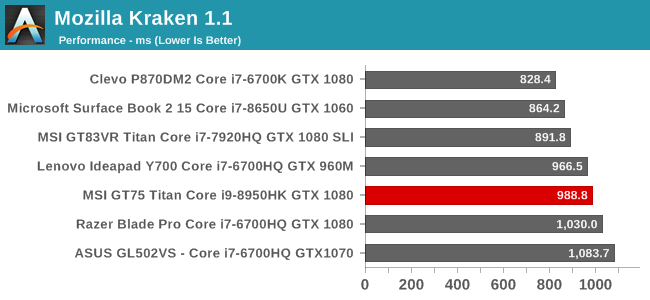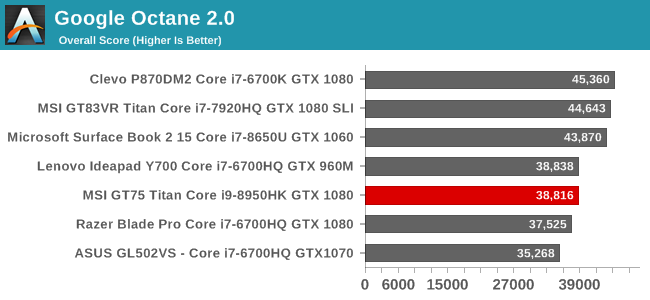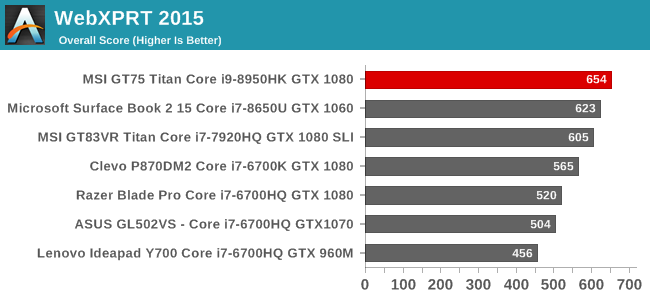 Interestingly, the Kraken 1.1 and Octane results are a bit lower for this laptop compared to some of the previous generation devices we've tested. However the WebXPRT results do show an improvement. At the end of the day, laptops with H series CPUs tend to not struggle with web workloads regardless.
Storage Performance
You can get the GT75 Titan with just a 1 TB 7200 rpm drive, or MSI offers models with 256 and 512 GB SATA SSDs, and models with either a single 512 GB NVMe, or two 512 GB NVMe in RAID. There's three total M.2 slots, so after purchase, there's room to upgrade as well. It's nice that all models come with the 1 TB spinning drive though, since the install size for games these days can be well over 100 GB per game.
As enthusiasts, it can be a bit disheartening that SSDs have become commodities for laptop manufacturers, but that is certainly the case. The review unit we received from MSI ships with the Samsung PM981 512 GB SSD. This 64-layer TLC drive is one of the best performing TLC drives around, and if you want to read more about it please check out our review.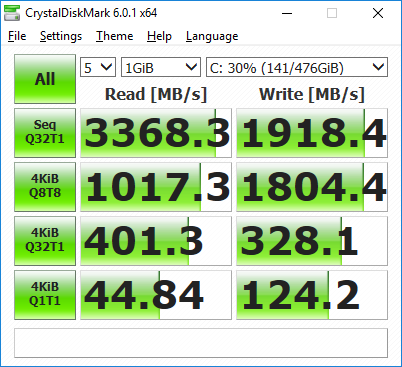 The Samsung PM981 is perhaps not quite as fast as their Pro series with MLC NAND, but for most people, the speed difference is mostly academic. The PM981 can saturate a PCI 3.0 x4 link on reads, and still does awfully well on writes.
SSDs in laptops is a bit of a lottery, but this GT75 Titan has a great SSD. They offer this in RAID 0 as well for 1 TB total, which is going to perform marginally better, but likely not enough for anyone to really notice except on synthetic tests.