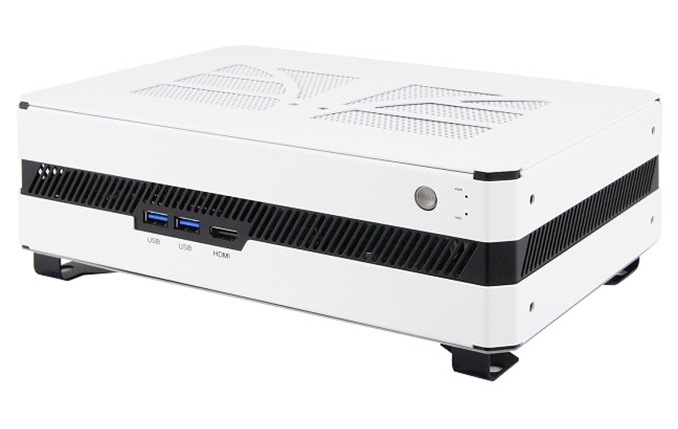 IBASE Technology, a supplier of embedded, industrial, and special-purpose PCs, this week introduced its compact desktop that uses NVIDIA GeForce graphics adapters in MXM Type-B form-factor. Officially, the SI-614 is called a digital signage player and comes with appropriate software. Meanwhile nothing can stop from using it as a gaming machine, assuming you can get one.
The IBASE SI-614 comes in a neat SFF chassis measuring 256 × 160 × 69 mm and weighing around three kilograms (6.6 lbs). The system is based on the MBD614 motherboard featuring Intel's H110 chipset and supporting Skylake and Kaby Lake processors, two DDR4-2133 SO-DIMMs (32 GB max), up to NVIDIA's GeForce GTX 1080 graphics adapter in MXM Type-B form-factor (with four DisplayPort connectors, and one HDMI 1.4 for console LCD), one M.2-2280 for an SSD, one M.2-3042 for a 4G/LTE modem, two SATA connectors for 2.5-inch SSDs/HDDs, one mini-PCIe slot for a Wi-Fi + Bluetooth card, a GbE port, four USB 3.0 Type-A headers, audio jacks, and so on.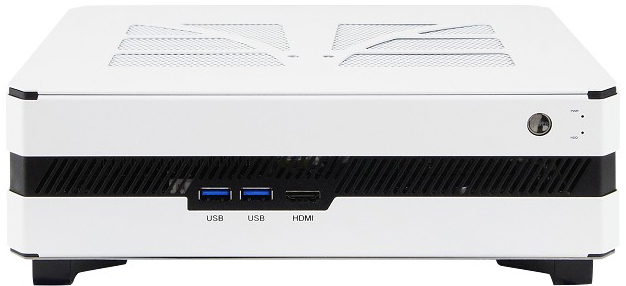 The SI-614 officially supports only GeForce GTX 10-series graphics cards starting from the low-cost GeForce GTX 1030 and all the way up to the high-end GeForce GTX 1080. One of the key reasons the company is launching a digital signage player with a discrete GPU is the system's ability to drive four 4Kp60 displays or one 8Kp60 monitor. Meanwhile it looks like the limitations are conditioned IBASE's proprietary software for remote management and the GPU cooling system.
IBASE is not the first company in the recent couple of years to use MXM cards inside desktops. ASRock has been offering its Micro-STX DeskMini systems with MXM support for well over a year now and Eurocom has been selling special MXM3-to-PCIe riser cards along with appropriate graphics adapters for SFF desktops since mid-2017.

The company will offer a standard version of its SI-610M with Intel's Core i5-7500 CPU, NVIDIA's GeForce GTX 1050 GPU with 4 GB DDR5, 16 GB of DDR4 memory, and a 128 GB SATA SSD. Besides, the company will ship the SI-610M system with a 270 W external power brick (featuring a four-pin connector), but without CPU and GPU. Therefore, actual system integrators will have to carefully configure their PCs in order not to exceed power budget of the SI-614. Meanwhile, being an OEM/ODM specialist, IBASE does not sell products to end users and does not list prices. Meanwhile, those who can buy from B2B channels will be able to get an SI-614 for their gaming needs.
IBASE Digital Signage Player with NVIDIA MXM Graphics Cards
Model
SI-614
SI-614
Standard
CPU
Skylake or Kaby Lake CPU
Intel Core i5-7500
dGPU
NVIDIA GeForce GTX 1030 2 GB
NVIDIA GeForce GTX 1050 4 GB
NVIDIA GeForce GTX 1050 Ti 4 GB
NVIDIA GeForce GTX 1060 6 GB
NVIDIA GeForce GTX 1070 8 GB
NVIDIA GeForce GTX 1080 8 GB
NVIDIA GeForce GTX 1050 4 GB
DRAM
Two DDR4 SO-DIMM slots
Up to 32 GB of DDR4-2133 in dual-channel mode
16 GB DDR4
Motherboard
MBD614 based on Intel's H110 PCH
Expansion Slots
1 × MiniPCIe
Storage
M.2
M.2-2280 (PCIe 2.0 x4 or SATA?)
2.5"
2.5"/7mm/9.5 mm SATA 6 Gbps
128 GB SSD
Wireless
Optional 802.11ac Wi-Fi + Bluetooth module (M.2-3042)
Ethernet
1 GbE port (Intel i219V)
USB
4×USB 3.0 Type-A
Display Outputs
4 × DisplayPort 1.3
1 × HDMI 1.4
Audio
1×3.5mm audio jack
Serial
1 × RJ45 for RS-232 serial port
PSU
External 220 - 270 W PSU
Warranty
Typical, varies by country
Dimensions
Length: 256 mm | 10.07 inches
Width: 160 mm | 6.29 inches
Height: 69 mm | 2.71 inches
Related Reading:
Source: IBASE