Synthetic Benchmarks
Various synthetic benchmarks are available to quickly evaluate the performance of direct-attached storage devices. Real-world performance testing often has to be a customized test. We present both varieties in this review, starting with the synthetic benchmarks in this section. Prior to covering those, we have a quick look at our testbed setup and testing methodology.
Testbed Setup and Testing Methodology
Evaluation of DAS units on Windows is done with the testbed outlined in the table below. For devices with a USB 3.1 Gen 2 Type-C interface (such as the Seagate Fast SSD and the SanDisk Extreme Portable SSD that we are considering today), we utilize the Thunderbolt 3 / USB 3.1 Type-C port enabled by the Intel Alpine Ridge controller. It connects to the Z170 PCH via a PCIe 3.0 x4 link.
AnandTech DAS Testbed Configuration
Motherboard
GIGABYTE Z170X-UD5 TH ATX
CPU
Intel Core i5-6600K
Memory
G.Skill Ripjaws 4 F4-2133C15-8GRR
32 GB ( 4x 8GB)
DDR4-2133 @ 15-15-15-35
OS Drive
Samsung SM951 MZVPV256 NVMe 256 GB
SATA Devices
Corsair Neutron XT SSD 480 GB
Intel SSD 730 Series 480 GB
Add-on Card
None
Chassis
Cooler Master HAF XB EVO
PSU
Cooler Master V750 750 W
OS
Windows 10 Pro x64
Thanks to Cooler Master, GIGABYTE, G.Skill and Intel for the build components
The full details of the reasoning behind choosing the above build components can be found here. The list of DAS units used for comparison purposes is provided below.
Seagate Fast SSD 1TB
SanDisk Extreme Portable SSD 1TB
Samsung Portable SSD T1 1TB - No Encryption
Samsung Portable SSD T3 2TB
Samsung Portable SSD T5 2TB
SanDisk Extreme 900 1.92TB
WD My Passport SSD 1TB
Synthetic Benchmarks - ATTO and Crystal DiskMark
Seagate and SanDisk both claim read and write speeds of around 540 MBps and 500 MBps respectively, and these are backed up by the ATTO benchmarks provided below. Unfortunately, these access traces are not very common in real-life scenarios.
Drive Performance Benchmarks - ATTO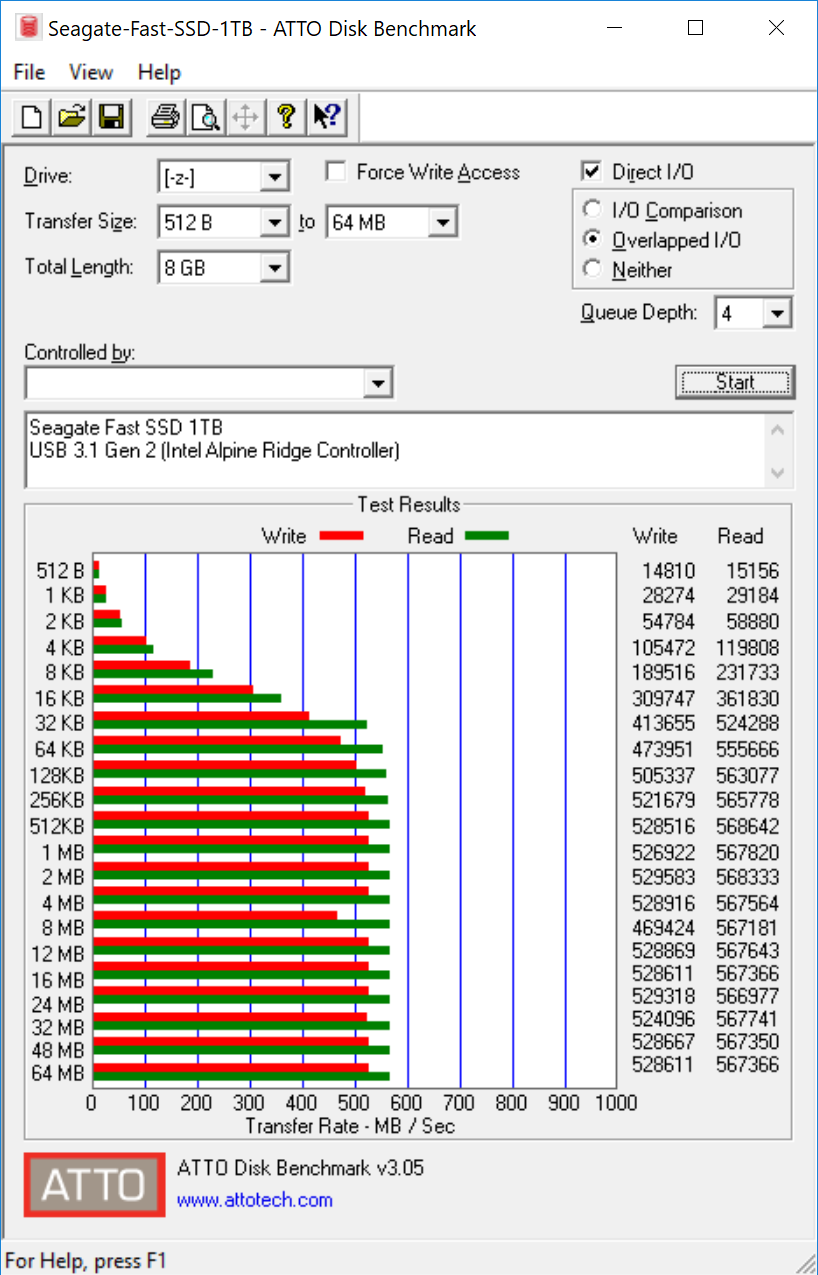 CrystalDiskMark, despite being a canned benchmark, provides a better estimate of the performance range with a selected set of numbers. As evident from the screenshot below, the performance can dip to as low as 20 MBps for 4K random reads in the Seagate Fast SSD and 25 MBps for the SanDisk Extreme Portable under similar circumstances. The key takeaway is that the Seagate Fast SSD has a slight edge ovr the SanDisk Extreme Portable for low queue depth sequential reads and writes.
Drive Performance Benchmarks - CrystalDiskMark