ASRock X399 Professional Gaming BIOS
By default, the graphical BIOS of the ASRock X399 Professional Gaming is set to the "EZ mode", a single-page interface that includes only basic configuration settings and informative dials. From this page, the user can only switch the boot device priority, change the CPU fan speed settings, configure RAID arrays, and use BIOS flashing tools.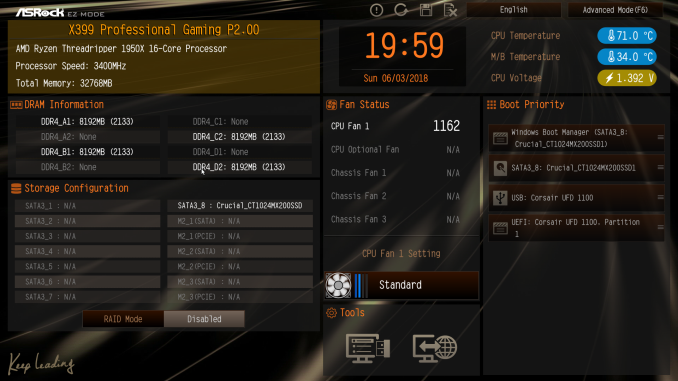 Pressing the F6 button reveals the entirely of the BIOS. The settings are divided under eight main tabs but most can be found under two of them. The first tab, the "Main" tab, is deceptively named and purely informative, without a single adjustable setting.
The "OC Tweaker" tab includes the CPU, RAM, and Voltage settings. By default the BIOS is set to the Auto CPU frequency and voltage mode, temporarily boosting the Ryzen Threadripper 1950X up to 4.0 GHz. Switching any of these settings to manual mode exposes new adjustable options. Unlike other iterations of ASRock motherboards, the BIOS menus here are messy, with all of the options stacked together. For example, the DRAM Timing Configuration submenu lists a host of timing settings all packed together, whereas other ASRock motherboards have this menu divided to "primary", "secondary", "third", "fourth" and "advanced" settings.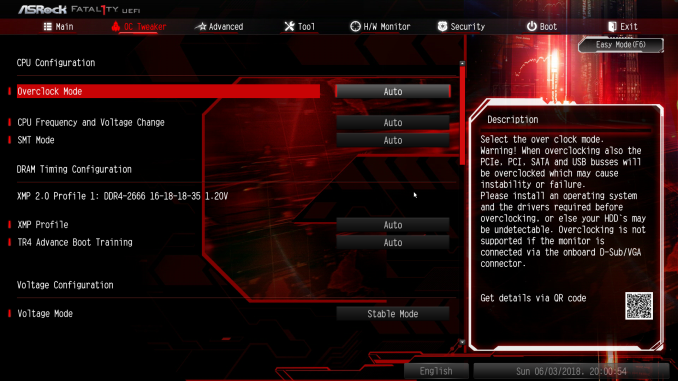 The "Advanced" tab includes all of the configuration options for the motherboard's features and onboard devices. What is of interest here is the AMD CBS submenu that hides the Zen CPU settings, which includes the thermal throttling and Core/Thread settings. A lot of advanced DRAM-related options can be found under the "UMC Common Options" submenu as well. The rest of the submenus hide advanced options that should be of no interest to most users.
The "Tool" tab is home to the RGB configuration tool, the Instant/Internet BIOS flash tools and the RAID installer tool. The RGB LED configuration is very simple but at least each of the three channels (one for the motherboard's chipset area, one for each LED strip header) can be programmed individually.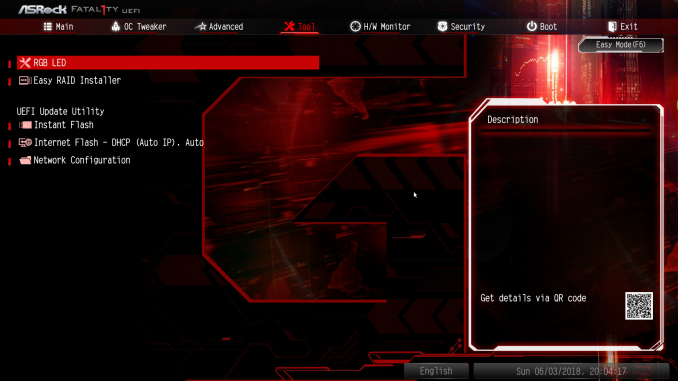 The H/W Monitor tab is also deceptively named. Most people would expect that it should be a purely informative tab, listing the voltage and temperature sensor readings. However, ASRock included all of the fan control options in here as well. Each of the five headers can be programmed individually. The fan programming interface is very basic but at least the user can tie the speed profile of each fan to any onboard temperature sensor.
The rest of the submenus are simple and without any hidden surprises. The "Security" tab contains the password and Secure Boot settings, and the "Boot" tab all boot-related options, except from the temporary boot override options that can be found under the "Exit" tab.