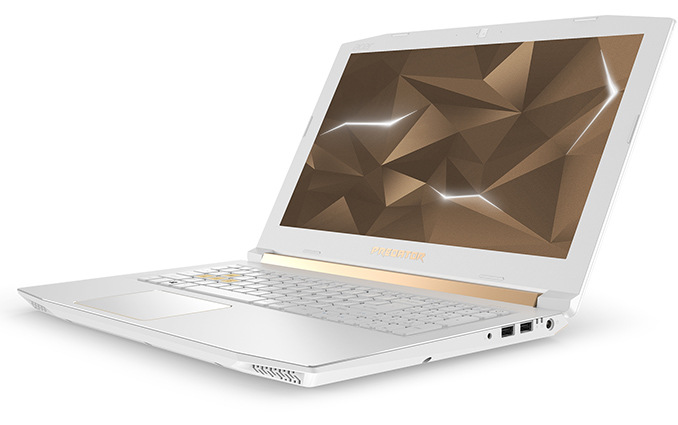 Acer has announced its new 15.6-inch gaming laptop that brings together performance and style. The Predator Helios 300 Special Edition uses Intel's latest six-core processors as well as NVIDIA's discrete graphics, yet one of the main selling points of the notebook besides performance is its white chassis with gold trim. If you want some laptop bling, Acer has you covered.
The Predator Helios 300 Special Edition (PH315-51) is based on Intel's 8th Generation Core i7 processor as well as NVIDIA's GeForce GTX 1060 GPU. The chips are cooled down using Acer's proprietary AeroBlade 3D cooling system featuring heat pipes and metallic fans that dissipates heat better than traditional coolers, according to Acer. The manufacturer stresses that the graphics processor can be overclocked, so a highly-efficient cooler is an advantage here.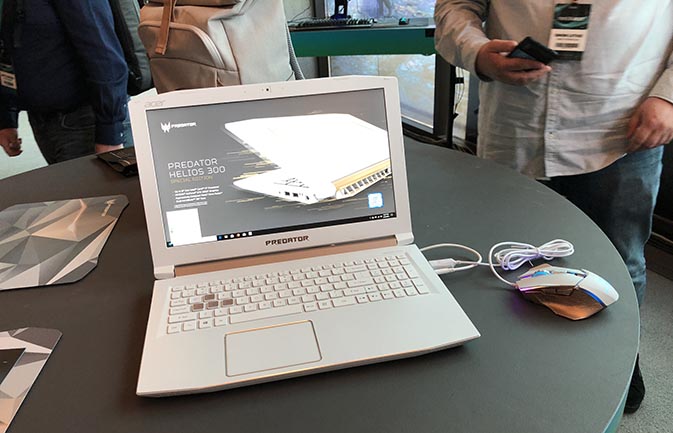 Image from LaptopMag
The new laptop will come equipped with up to 16 GB of DDR4 memory, but owners will be able to install up to 32 GB of DRAM themselves. Depending on exact SKU, Acer will install different storage sub-systems into its Predator Helios 300 SE. Some of the PCs will be equipped with Intel's Optane Memory caching drive and a 2 TB HDD, whereas others will use a 512 GB PCIe/NVMe SSD.
Just like its bigger brother with a 17.3-inch LCD, the Predator Helios 300 SE is equipped with a display panel that supports NVIDIA's G-Sync technology and a 144 Hz refresh rate, but only at 1080p and not 4K.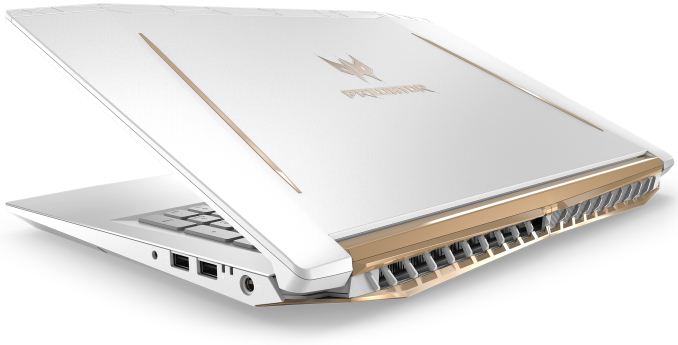 When it comes to connectivity, Acer only says that the Predator Helios 300 SE is equipped with Intel's latest Wireless-AC CNVi 802.11ac Wi-Fi solution that supports up to 1.73 Gbps throughput when using 160 MHz channels (so the 9560 CRF), a GbE connector, and two USB Type-A ports. There is no word regarding Thunderbolt 3 or display outputs, but these are typically found on modern gaming notebooks.
Moving on to design and portability of the Predator Helios 300 SE. Gaming laptops traditionally come in a black chassis. MSI has offered stunning metallic reds on some gaming laptops, and GIGABYTE offers Aero gaming notebooks in green and orange, but white laptops are traditionally very rare, so the Predator Helios 300 Special Edition will without any doubts attract attention to itself simply by its look. The system features a traditional laptop layout (there is a palm rest and the keyboard is located right under the display) and judging by its thickness compared to USB Type-A ports, this is not an ultra-thin gaming system, unlike the Predator Triton 700 launched last year. The PC does not look very thick either, so dimension-wise the Predator Helios 300 SE should be comparable to a decade-old mainstream 15.6-inch laptop. As for weight, Acer does not disclose it, though 15.6-inch gaming machines are not light in general.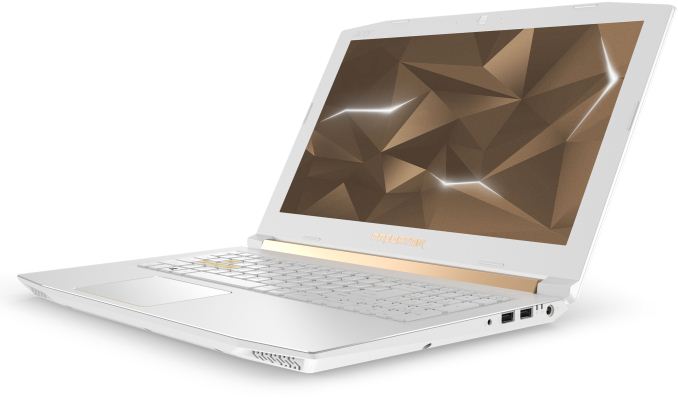 Also alongside the Helios 300 SE will be a series of Predator related white and gold accessories. There's the backpack, the Predator Cestus 510 mouse, and the Predator Galea 500 headset.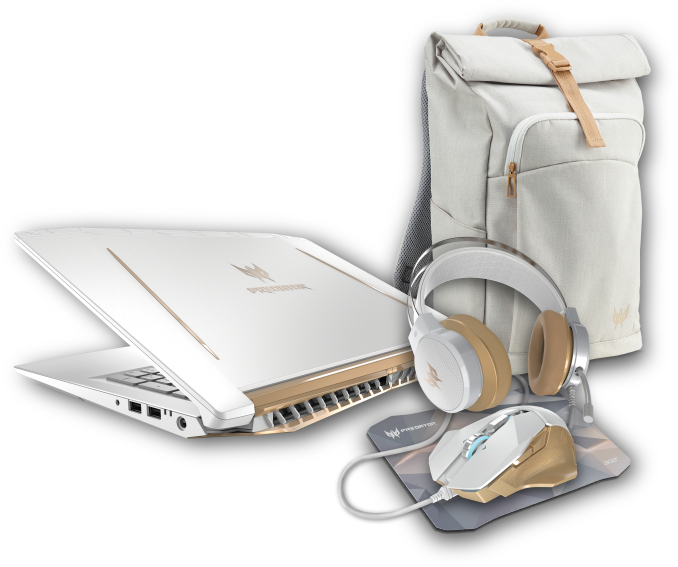 Acer's Predator Helios 300 Special Edition laptop will be available later this year. The manufacturer did not disclose its estimated pricing or how many units will be produced. It is worth noting that the WASD keys are also gold colored, making clear this is a gaming machine at heart.
Related Reading