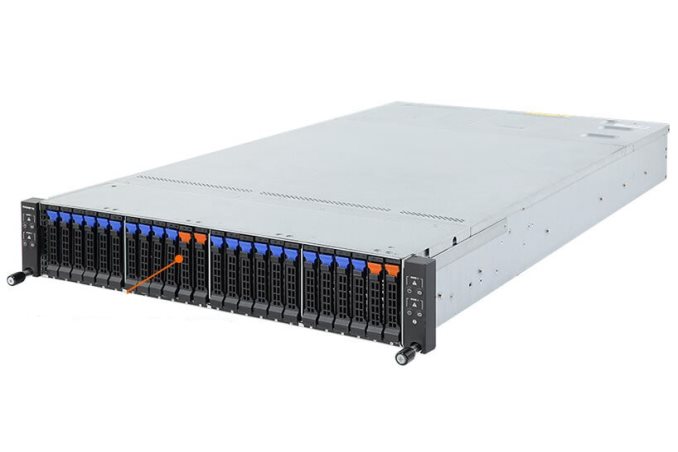 GIGABYTE server is launching three new density-focused servers in the market with their H231-H60, H261-H60, and H261-H61 machines. The new SKUs are comprised of two 2U 4-node (2U4N) systems and one 2U 2-node offering. Each node is able to support dual Intel Xeon Scalable processors, so each U works with two or four Xeon Scalable CPUs. GIGABYTE says the three additions emulate the previous architecture and performance released last year but offer lower cost and additional flexibility by removing the 10GB/s BASE-T LAN which was standard previously. This change allows the clients to customize the network solution for their needs.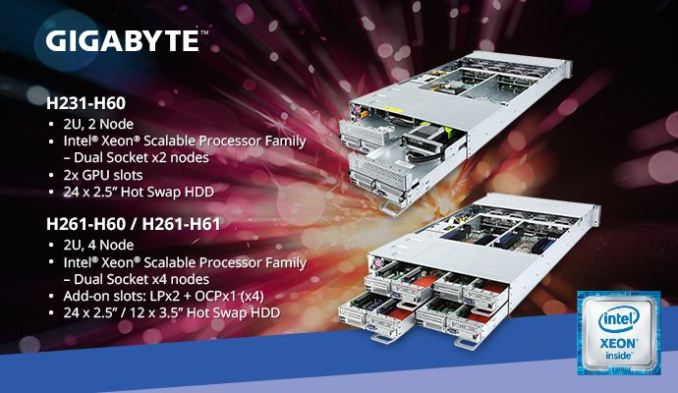 The H261-H60 and H261-H61 are both 2U4N rear-access form factor devices with each node able to support 2 x LP and 1 x OCP slots. Inside the H261-H60 the design gives each Intel Xeon CPU eight DRAM slots (Hex channel) for 16 per node and totaling 64 inside a chassis. The front of the chassis is a 12 x 3.5" hot-swap bay style configuration. The expansion will be handled through the two PCIe 3.0 LP slots in each node or OCP mezzanine cards. The H61 version uses a total of 16 hot-swappable bays changing the storage for 4x U.2 NVMe drives.
The H231-H60 replaces the top two nodes with dedicated GPU slots making it a 2U2N rear access system. Like the H261-H60/H61the H231 also supports 2 x LP and 1 x OCP slots for expansion as well as the same DRAM configuration (eight slots per CPU, 16 per node) for a total of 32 inside the chassis = cut in half since there are only two nodes.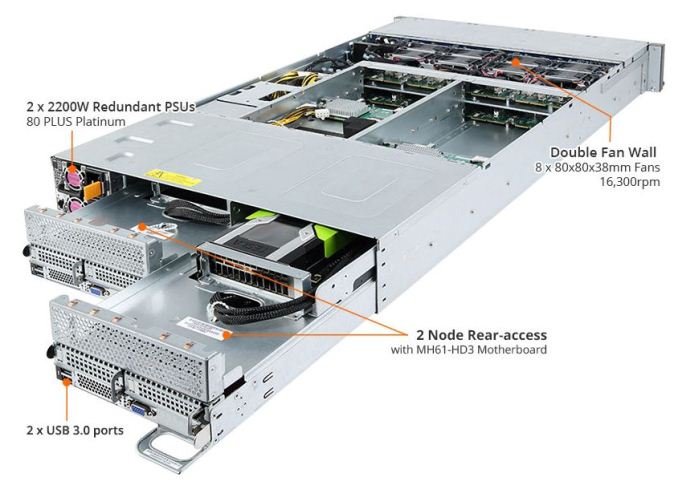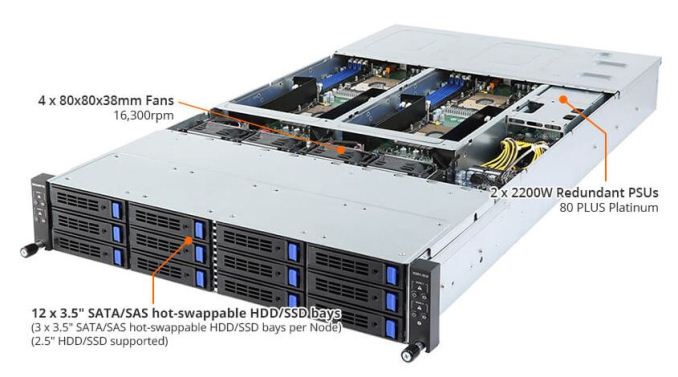 Outside of that, the new servers will use the MH61-HD5 motherboard supporting The Intel Xeon Processor Scalable Family (Skylake-SP) consisting of the Xeon Platinum, Gold, Silver, and Bronze processors up to 165W. Integrated LAN gives clients a dedicated management port per node, as well as a single 1GbE Chassis Management Controller (CMC) for monitoring the status of the computing nodes. Video output is handled by an Integrated Aspeed AST2500 6th generation Server Management Processor (800 MHz ARM11, DDR4) with native PCIe support and iKVM.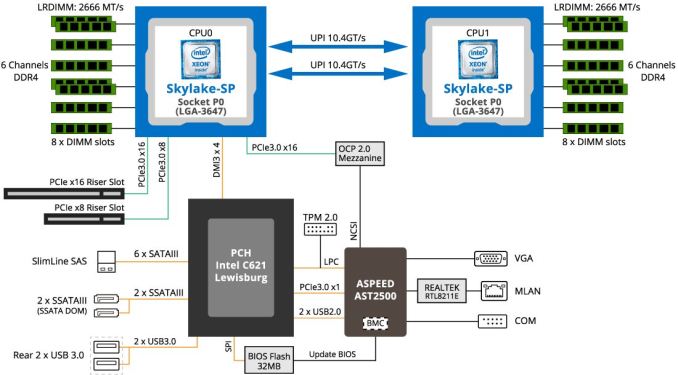 Below are the listed specifications for the servers:
GIGABYTE H261-H60/H61 and H231-H60
H261-H60/H61
H231-H60
Product Page
H60 / H61
H231-H60
Size
2U Rack Mount
CPU Interface
Socket P0 (LGA-3647)
Chipset
Intel C621 Lewisburg
Memory Slots (DDR4)
Eight DDR4 (per CPU - 16 per Node)


Hex Channel


Supporting Up To 64GB RDIMM / LRDIMMs
1.2V - 2666/2400/2133 MHz
Network Connectivity / Wi-Fi
1 x Dedicated Management Port (per node)
1 x 10/100/1000 CMC global management port
Onboard Audio
N/A
Video Outputs
Integrated in Aspeed AST2500
2D VGA with PCIe interface
1820x1200@60Hz 32bpp, DDR4 SRAM
PCIe Slots
Per Node:



2 x LP slots (x16 and x8)




1 x OCP mezzanine slot (x16)

Per Node:





1x PCIe 3.0 x16 for GPU


2 x LP slots (x16 and x8)
1 x OCP mezzanine slot (x16)
Onboard SATA/SAS

12 x 3.5" SAS/SATA hot-swappable HDD/SSD bays


2.5" HDD/SSD Supported
20 x 2.5" SAS/SATA hot-swappable HDD/SSD bays
4 x 2.5" U.2 hot-swappable HDD/SSD bays
Onboard SATA Express
None
Onboard M.2
None
Onboard U.2
None
USB 3.1
None
USB 3.0
8 x USB 3.0
4 x USB 3.0
USB 2.0
None
Power Supply
2 x 2200W redundant PSUs (80+ Platinum)
OS Supported
Windows Server 2012 R2 (x64) Update 1
Windows Server 2016

RHEL 6.9 (x64)
RHEL 7.3 (x64)

Ubuntu 16.04.2.LTS (x64)

VMware ESXi 6.5
Related Reading:
Source: Gigabyte