Performance with Hard Drives
The benchmarks processed in the previous section were also run with four WD Red 10TB hard drives in the unit. Running the robocopy benchmarks segment of the AnandTech DAS Suite with hard drives attached to the storage bridge gives us the following performance numbers. The graphs show that the storage bridge is able to sustain around 340 MBps for real-world workloads when recently launched hard drives are used. The RAID configuration and parameters, as well as the workload characteristics, deeply influence the numbers. The results below are with the RAID volumes configured with the default parameters.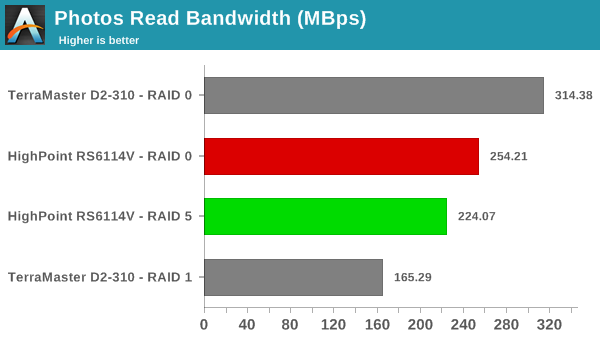 The PCMark 8 storage bench is not particularly hard drive-friendly, with the performance numbers coming in at a fraction of what one obtains with SSDs.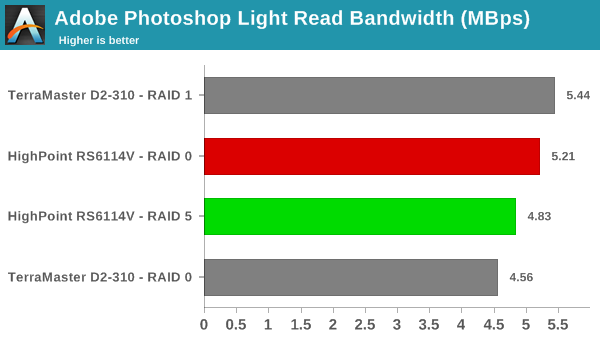 ​CrystalDiskMark workloads show numbers that are slightly better than what we saw in our robocopy tests. Small workload sizes (like the 8GB used below) can greatly benefit from caching, since the enclosure uses software RAID. The real use case numbers are a better reflection of performance under sustained loading.
Storage Bridge Benchmarks - CrystalDiskMark (with HDDs)
The active cooling ensures that the hard drives remain cool even when subject to large amounts of traffic. There is no performance consistency issue, though the test immediately reveals the slow RAID 5 write performance when hard drives are used.
Storage Enclosure Thermal Characteristics
Hard drives tend to consume more power compared to SSDs, and that is evident in the power numbers for the CrystalDiskMark workloads below. The unit idles at around 29 W, while the maximum power draw we observed was around 36 W.
Power Consumption - CrystalDiskMark Workloads