Performance Consistency
Our performance consistency test explores the extent to which a drive can reliably sustain performance during a long-duration random write test. Specifications for consumer drives typically list peak performance numbers only attainable in ideal conditions. The performance in a worst-case scenario can be drastically different as over the course of a long test drives can run out of spare area, have to start performing garbage collection, and sometimes even reach power or thermal limits.
In addition to an overall decline in performance, a long test can show patterns in how performance varies on shorter timescales. Some drives will exhibit very little variance in performance from second to second, while others will show massive drops in performance during each garbage collection cycle but otherwise maintain good performance, and others show constantly wide variance. If a drive periodically slows to hard drive levels of performance, it may feel slow to use even if its overall average performance is very high.
To maximally stress the drive's controller and force it to perform garbage collection and wear leveling, this test conducts 4kB random writes with a queue depth of 32. The drive is filled before the start of the test, and the test duration is one hour. Any spare area will be exhausted early in the test and by the end of the hour even the largest drives with the most overprovisioning will have reached a steady state. We use the last 400 seconds of the test to score the drive both on steady-state average writes per second and on its performance divided by the standard deviation.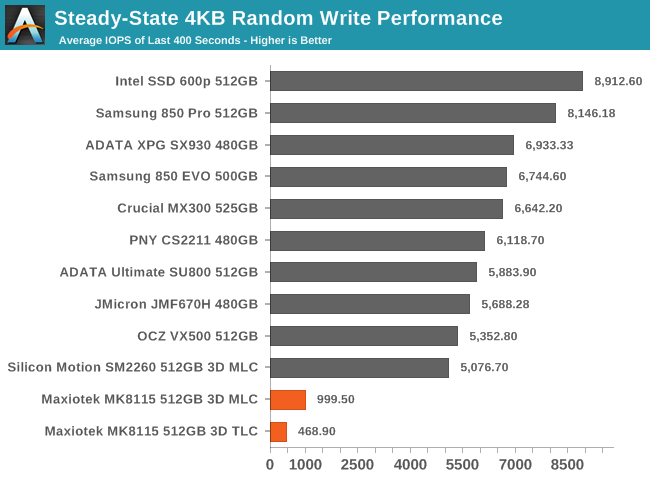 No, that's not a mistake. The abysmal steady-state performance of both MK8115 prototypes is a consequence of not having a cache for the logical to physical address mapping. Each write in this test is overwriting an in-use logical block address. While the controller's wear leveling ensures that the new data will go to a new location (the physical address of which is probably kept in a register on the controller), the controller has to read from the flash to figure out which physical page just got invalidated and became a candidate for garbage collection. Meanwhile, the garbage collection process has to scan the flash instead of a DRAM cache in order to determine if all the pages in an erase block contain stale data or if there's some live data that needs to be moved before the controller can erase that block.
This test isn't easy for any consumer SSD, but a DRAM-less SSD suffers acutely. Still, in spite of all the barriers to efficient flash management, the MK8115 drives are faster than a hard drive.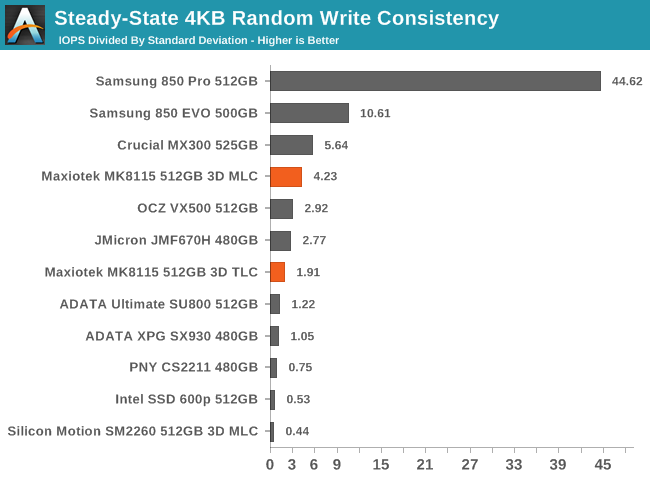 The MK8115 samples have poor steady-state throughput, but their consistency is pretty good. Maxiotek has ensured that the garbage collection never completely stalls the drive's progress on completing host write operations.
Default
25% Over-Provisioning
Before the MK8115 SSDs run out of spare area, their random write speeds aren't horrific, and are better than what most SSDs manage in steady state. It's only when the spare area runs out that the MK8115 gets into serious trouble. The TLC drive takes longer to reach this point, because the odd 48GB capacity of Micron's 3D TLC forced Maxiotek to give the drive much more overprovisioning than a typical 512GB SSD.
Default
25% Over-Provisioning
There is some cyclical behavior in the steady state of the MK8115 drives, but less than for most SSDs. The MLC drive in particular is extremely consistent save for periodic but very short bursts of higher performance.