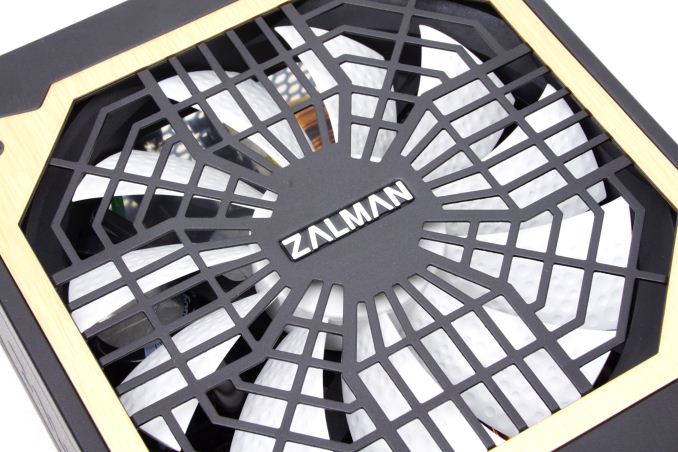 Zalman may be a company that became famous from their innovative cooling solutions, yet they have since diversified into several segments of the market. Today the company offers a wide variety of products, from PC cases and gaming peripherals to audio devices and docking stations.
Introduction
One of Zalman's first diversification attempts was the release of high performance PSUs, with the company aiming to take advantage of their expertise on cooling in their top-tier products. The company had a very good reputation as a power supply maker, but they essentially froze the release of new products due to parent company Moneaul's scandal in 2014. Zalman legally severed their ties with Moneaul and, despite that setback, is moving on as an independent company.
In this review we are having a look at the most powerful model of their latest PSU series, the ZM1200-EBT. Zalman introduced the EBT series last year but started with units ranging from 650W to 1000W. The latest addition to the series bumps the continuous maximum output to 1200 Watts rated to an ambient temperature of 50 °C, all with an 80Plus Gold certification and a fully modular design.
Power specifications ( Rated @ 50 °C )
AC INPUT
100 - 240 VAC, 50 - 60 Hz
RAIL
+3.3V
+5V
+12V
+5Vsb
-12V
MAX OUTPUT
25A
25A
100A
4A
0.3A
130W
1200W
20W
3.6W
TOTAL
1200W
Packaging and Bundle
Zalman supplies the ZM1200-EBT in a large and sturdy cardboard box, more than capable of providing enough protection during shipping. Inside the box, we found the PSU well-packed and protected between thick polyethylene foam pieces.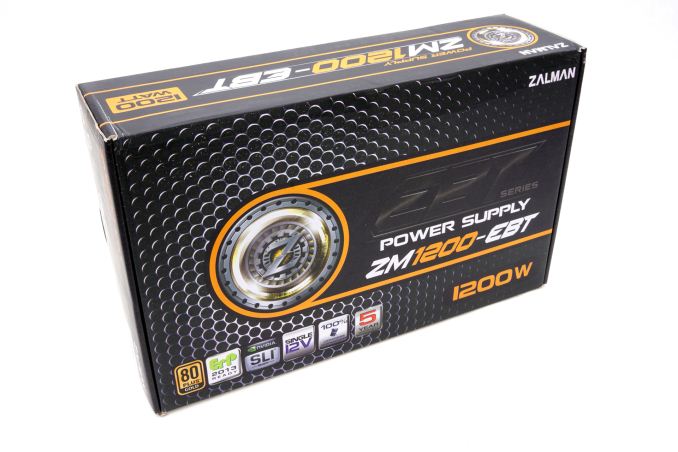 The company kept the supplied bundle down to the basics. Inside the box we only found four typical mounting screws, a manual, an AC power cable and a few cable ties.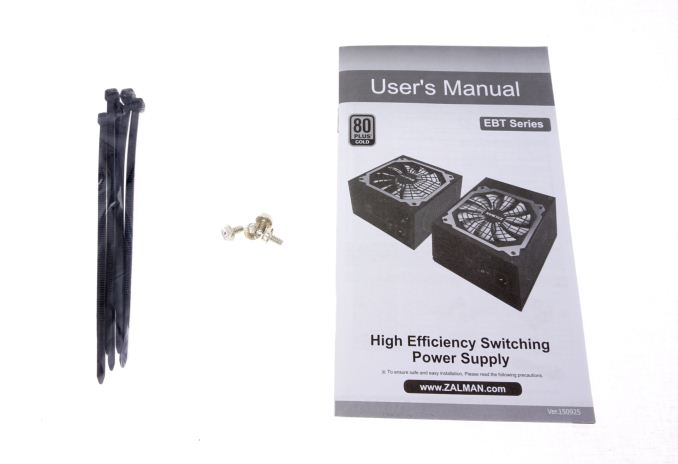 Zalman ZM1200-EBT
Connector type
Hardwired
Modular
ATX 24 Pin
-
1
EPS 4+4 Pin
-
1
EPS 8 Pin
-
1
PCI-E 6+2 Pin
-
8
PCI-E 8 Pin
-
-
SATA
-
12
Molex
-
8
Floppy
-
1
The ZM1200-EBT is a fully modular design, meaning that every cable is detachable, including the main ATX 24-pin one. With the exception of the 24-pin cable, the rest of the cables are "flat" type ribbon cables, with black wires and connectors. The 24-pin cable is made from typical colored wires, black connectors and is wrapped in black nylon sleeving.