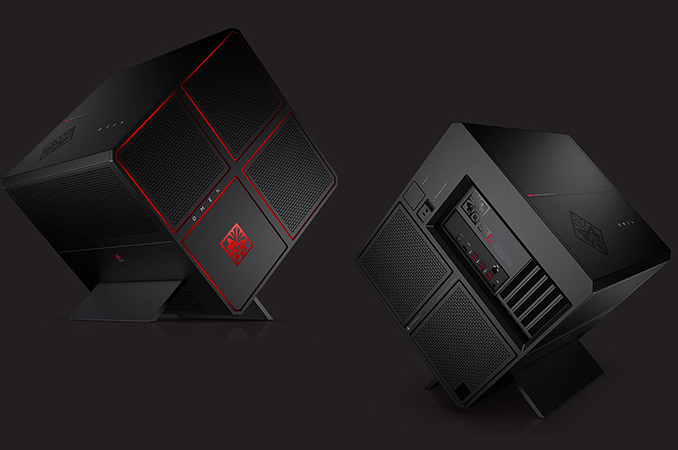 HP this week re-entered the market of high-end gaming PCs with its Omen X desktop. The machine uses rather unusual cube-shaped tri-chamber design featuring high-end hardware, liquid cooling and various upgrade options. HP will offer customized versions of the Omen X, but MAINGEAR will sell something more exclusive with additional customization options, Intel Core i7 Extreme CPUs, hand-build liquid cooling as well as factory overclocking.
The year was 2006. PC gaming was not particularly on the rise (and the word eSports was non-existent), but the interest towards high-end PC gaming technologies was high, particularly because the demographics of gamers got older and more of those people could afford ultra-high-end gaming computers as well as components. This is when Dell acquired Alienware and HP bought Voodoo PC in a bid to address the growing and lucrative segment of the PC market. While the two large PC makers made a similar decision and bought leading boutique PC makers, there actions afterwards were substantially different. While both tried to integrate their gaming PC subsidiaries, Dell has succeeded and made Alienware its integral part of itself, whereas HP first ceased to sell expensive custom desktops, then started to place VoodooDNA brand on various high-end machines and then stopped building PCs for any demanding gamers at all. Apparently, HP was not interested in serving a relatively small segment of the PC market after multiple enterprise-oriented acquisitions. However, now that HP's consumer business is a separate company, the latter seems to be gaining interest towards high-end machines, which is why it unveiled its Omen X system. Nonetheless, the company does not plan to address the market of boutique PCs just now, which is why it teamed up with MAINGEAR for advanced versions of the Omen X. While HP does not use the Voodoo brand for its Omen X, its machine carries the distinctive logotype on it.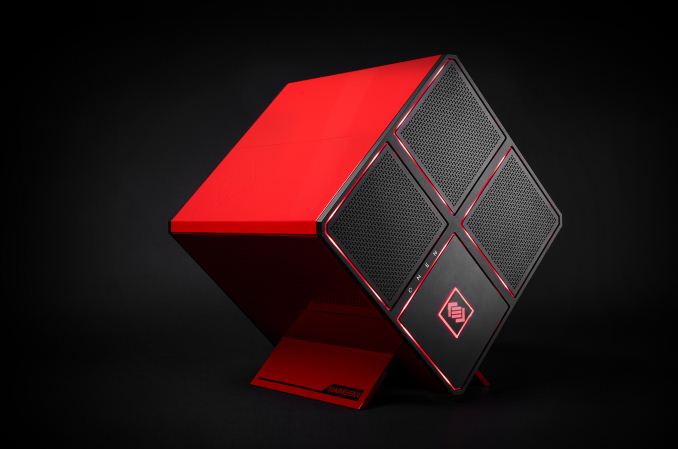 The cube-shaped 45° angled design of the Omen X is meant to simplify access to hardware by the end-user. While the form of the Omen X is very distinctive, its concept is very similar to other modern desktops. The chassis sports three chambers to separate hot components (CPU+GPU, hard drives and PSU) from each other and optimally cool-down each chamber/set of components. The Omen X chassis can fit it one Micro-ATX motherboard (with one M.2 slot, two PCIe x16 slots, four DDR4 slots and so on), two graphics cards, two 3.5" storage devices/three 2.5" SSDs/HDDs, one M.2 SSD, one ODD, and one high-end PSU, with MAINGEAR offering up to a 1200 W Corsair AX1200i model.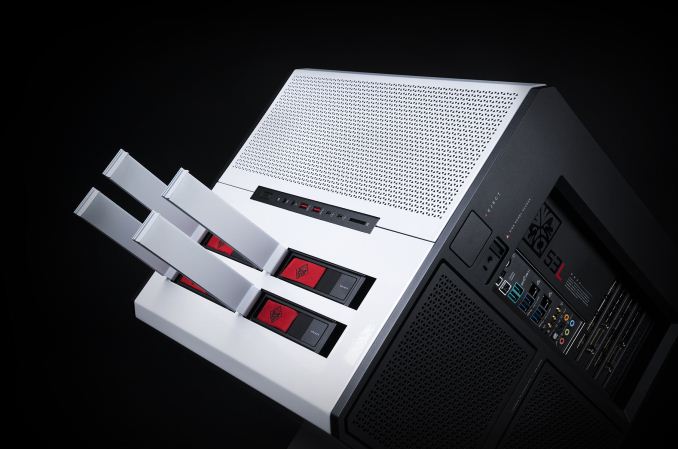 While architecturally the HP Omen X and the MAINGEAR Omen X are exactly the same, there are substantial differences when it comes to their configurations, which is why we basically talking about two rather different systems here. HP only offers Intel's LGA1151 processors as well as up to two AMD Radeon R9 Fury X or NVIDIA GeForce GTX 1080 graphics cards with its Omen X. By contrast, MAINGEAR offers only LGA2011-3 platforms, up to ten-core Core i7-6950X CPU, up to two NVIDIA Titan X (Pascal) graphics cards, hand-made liquid cooling as well as custom exterior finish with automotive paint. The differences of configurations naturally affect prices: the HP Omen X starts at $1800, whereas MAINGEAR-built Omen X starts at $3000 with more advanced "superstock" version available for $5200.
Specifications of HP and MAINGEAR Omen X Desktops
HP Omen X
MAINGEAR Omen X
CPU
Intel Core i5/i7 Skylake-S
Up to Intel Core i7-6700K
Intel Core i7 Extreme Broadwell-E
Up to Intel Core i7-6950X
PCH
Intel Z170
Intel X99
Motherboard
HP custom
ASUS X99-M WS
Graphics
Up to two AMD Radeon R9 Fury X or NVIDIA GeForce GTX 1080
Up to two NVIDIA Titan X
No AMD Radeon options
Cooling
Air cooling
Optional closed-loop liquid cooling with 120 mm radiators
Intel retail CPU cooler

Closed Loop — EPIC 240 MAINGEAR CPU SuperCooler

Regular Open Loop — Custom liquid cooling for CPU and GPU with 360mm radiator and high airflow fans

Superstock Open Loop — Custom hand crafted liquid cooling with crystal hardline or metal hardline tubing, premium Chrome fittings, 360mm copper core radiators and high airflow fans
Memory
Four DIMM slots, up to 64 GB of DDR4-3000
M.2
One M.2 (PCIe 3.0 x4) slot for up to 2280 SSDs
SATA connectors
3
3 (actual motherboard has 8)
SATAe connectors
unknown
1 (only available in single-GPU systems)
eSATA connectors
0
0
Storage bays
2x3.5"
3x2.5"
1x5.25" (for portable ODDs)
Wi-Fi
unknown
802.11ac + BT 4.0
Ethernet
Gigabit Ethernet
Gigabit Ethernet based on either
Intel I218V GbE or
Intel I211AT GbE
Display Outputs
HDMI/DP/DVI - according to GPU specs + one HDMI on the motherboard
HDMI/DP/DVI - according to GPU specs
Audio
HDMI
Optical S/PDIF
a mini-jack for headphones
a mini-jack for microphone
Five 7.1-channel audio connectors
a mini-jack for headphones
a mini-jack for microphone
Optcal S/PDIF
USB
8 x USB 3.0 Type-A
2 x USB 3.0 Type-C with fast charging
2 x USB 3.1 Type-A (10 Gbps, ASMedia ASM1142)
6 x USB 3.0 Type-A
Dimensions
20" (H) x 16" (W) x 20" (D)
50.8 cm (H) x 40.6 cm (W) x 50.8 cm (D)
PSU
600 W ~ 1300 W PSUs by HP
750 W EVGA SuperNOVA 80 Plus
860 W Corsair PAX860 80+ Platinum
1200 W Corsair AX1200i 80+ Platinum
Visual Aesthetics
Custom lighting:
- Nine lighting zones
- Four color modes
Chassis lighting
Custom exterior finish with automotive Glasurit paints
All Omen X systems use industry-standard components, so it will be possible for owners to upgrade them as they wish (subject to terms and conditions of warranty) using any aftermarket part. Still, keeping in mind that MAINGEAR offers custom liquid cooling solutions, it may not be that easy to upgrade such machines without re-building the LCS.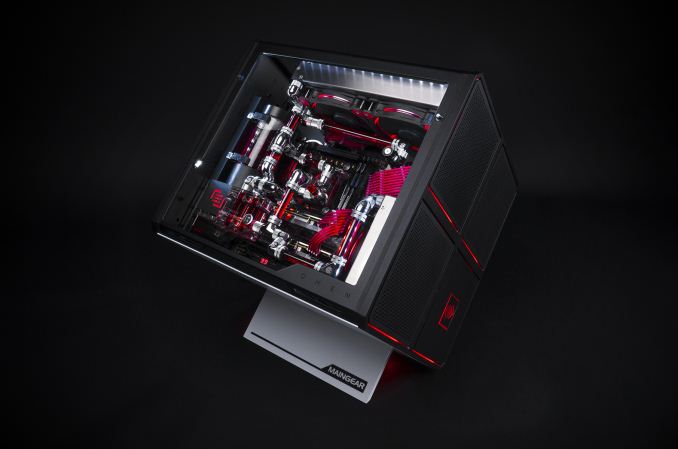 HP plans to start shipments of its Omen X at a later date, whereas MAINGEAR intends to ship its Omen X in mid-September.
In addition to Omen X desktops, HP also plans to offer a complimentary set of Omen-branded peripherals (with Voodoo logotype on them). The initial family will include a headset and a mouse designed by SteelSeries as well as a 32" display.