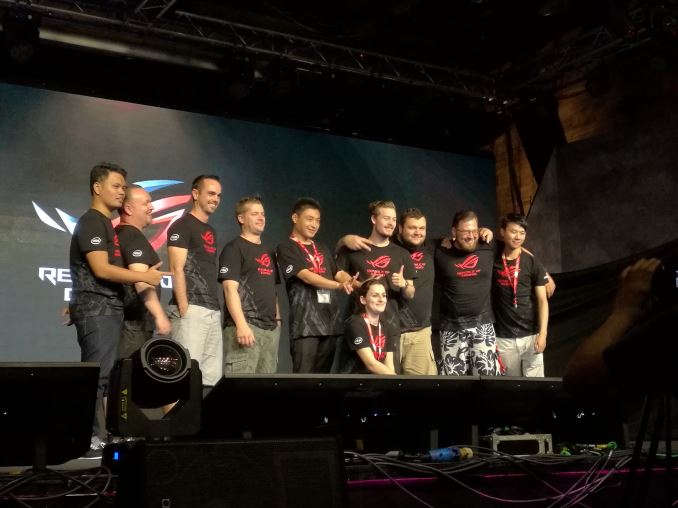 06:59AM EDT - And that's it. Lots of quick fire announcements, we'll get more details in the press kit I imagine...!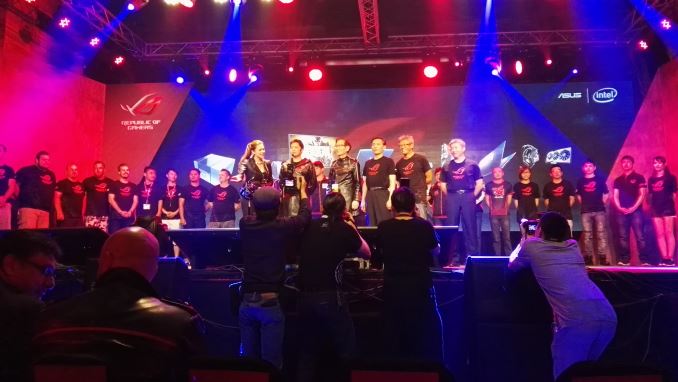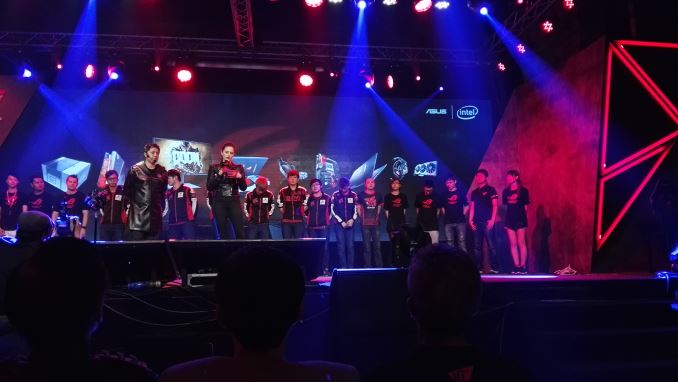 06:56AM EDT - Now a pro gaming team on stage. AHQ. Also some gamers and streams from Taiwan
06:54AM EDT - A guy with every (almost every) ASUS ROG motherboard and a number of GPUs, peripherals etc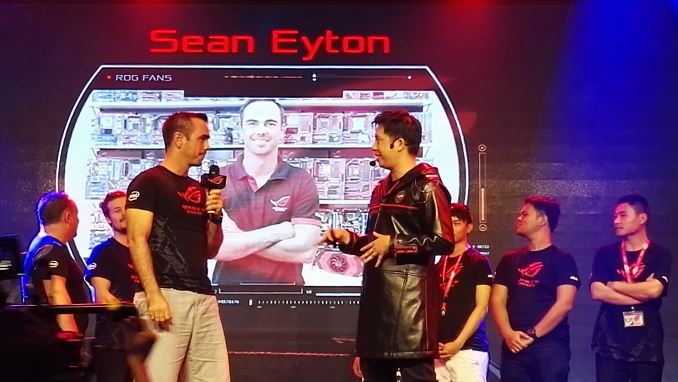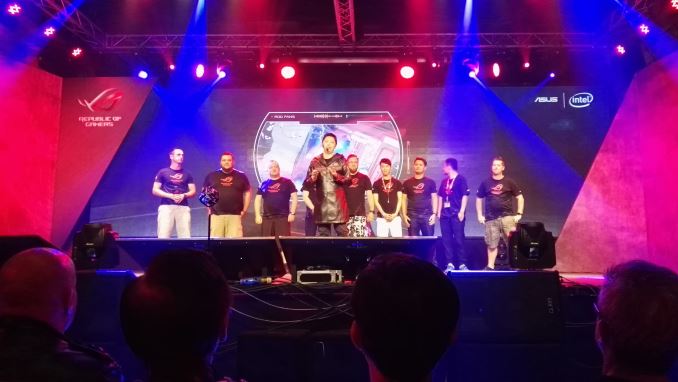 06:53AM EDT - Now there are 10 men on the stage
06:52AM EDT - Now talking about the fans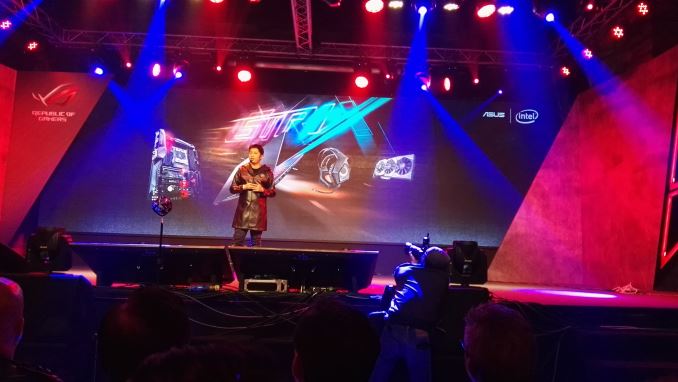 06:51AM EDT - ROG Strix GTX 1080, 1936 MHz GPU boost, Direct CU III cooling, wing-blade fans, and AURA RGB lighting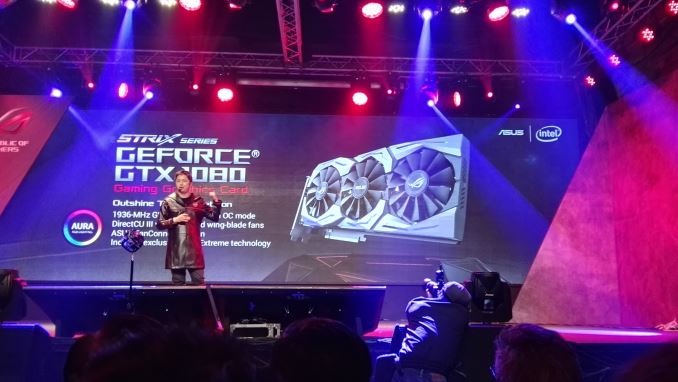 06:51AM EDT - ROG Strix brand introduced, different to Strix
06:50AM EDT - Now ROG Centurion, 7.1 Gaming Headset using HiFi grade ESS headphone amp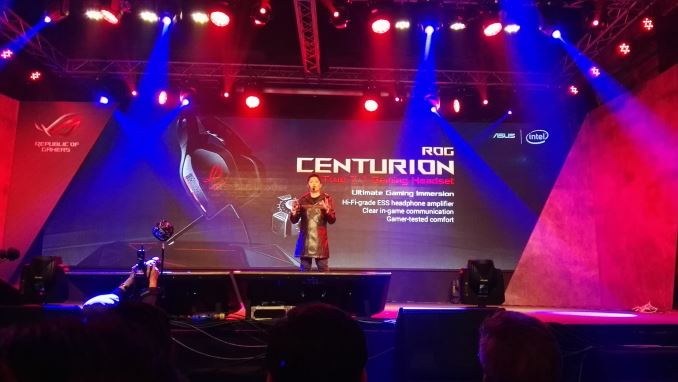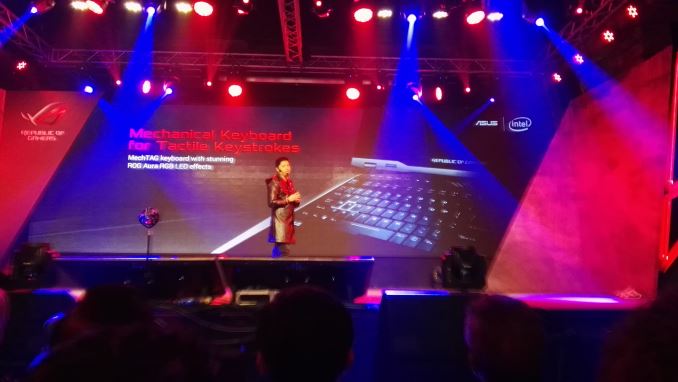 06:50AM EDT - Mechanical keyboard, MechTAG keyboard with ROG Aura RGB LED effects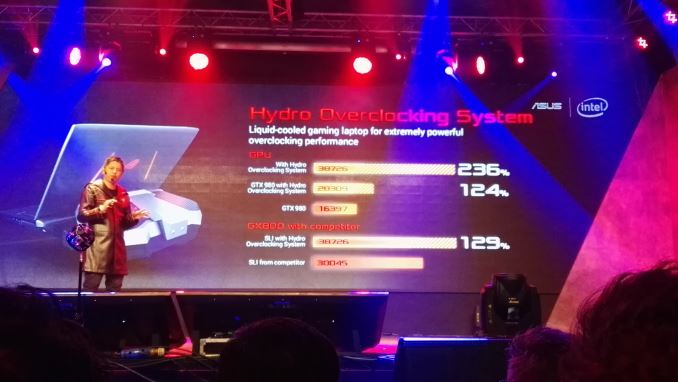 06:49AM EDT - 'Hydro overclocking system'
06:49AM EDT - so dual 330W power supplies ?
06:49AM EDT - 660W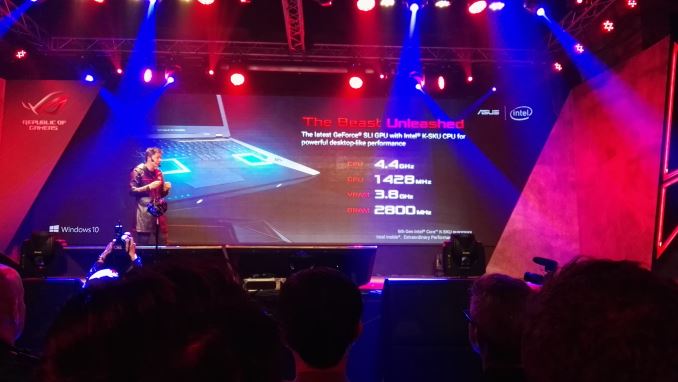 06:48AM EDT - Intel-K SKU at 4.4 GHz, dual GPU in SLI at 1428 MHz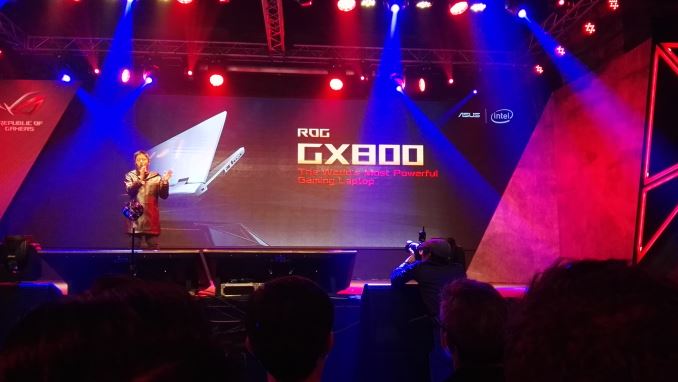 06:48AM EDT - 'World's most powerful gaming laptop'
06:48AM EDT - Now the ROG GX800
06:48AM EDT - Not sure if 180 Hz is the base, or the overclock...?
06:47AM EDT - New ROG Swift PG248Q - 24-inch GSync, overclockable 180 Hz, 1ms response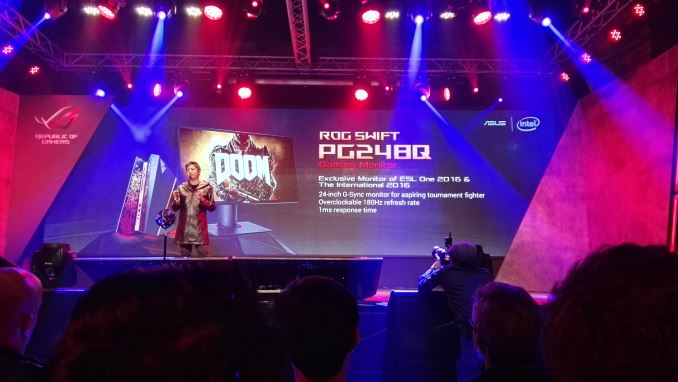 06:47AM EDT - 'most powerful desktop pound for pound'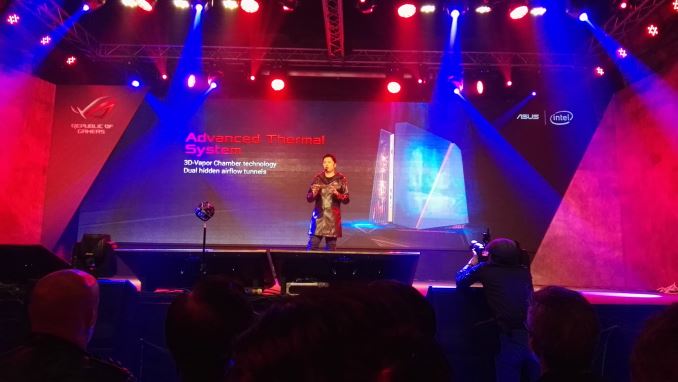 06:46AM EDT - 3D-Vapor Chamber tech: dual hidden airflow tunnels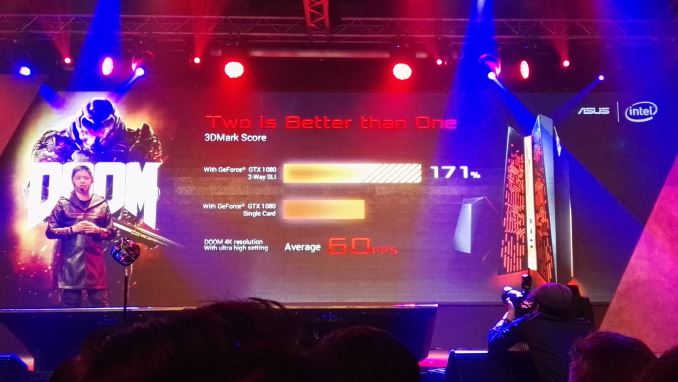 06:46AM EDT - 3D Mark score shows +71% with two cards
06:45AM EDT - Two GTX 1080 with Core i7 in a 20 liter chassis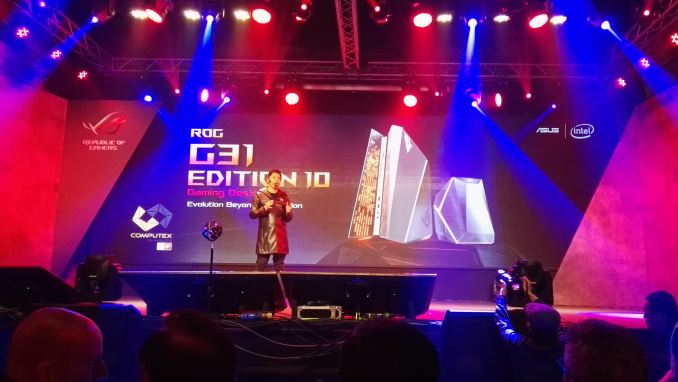 06:45AM EDT - On Desktop, ROG G31 Edition 10 announced
06:45AM EDT - This will be a retail product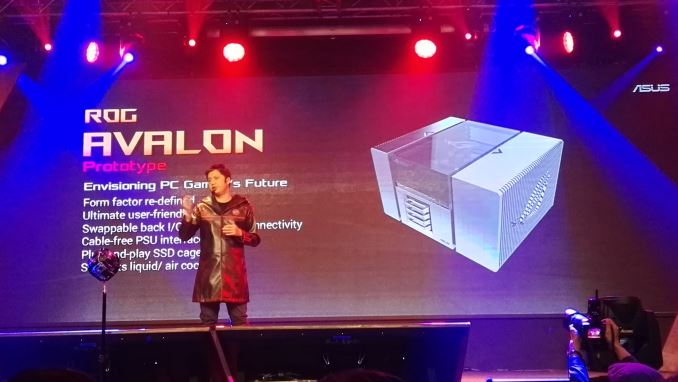 06:44AM EDT - 'Form Factor Redefined'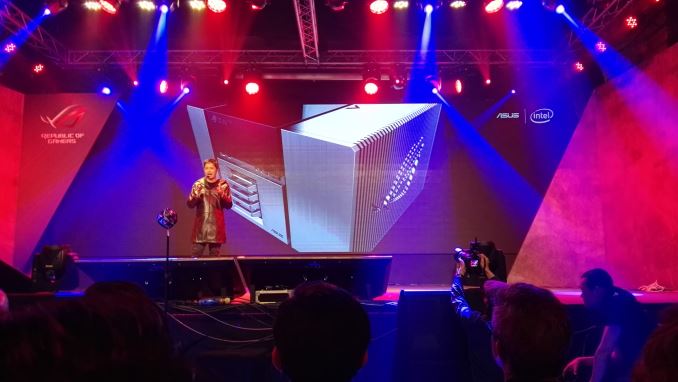 06:44AM EDT - Avalon is a prototype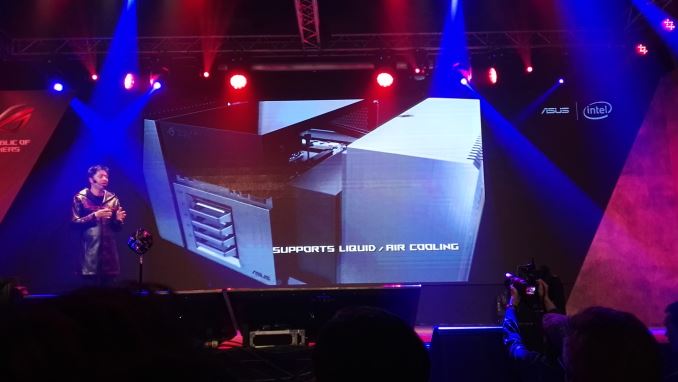 06:44AM EDT - Easy to access GPU, plug and play SSD, Supporting Liquid cooling
06:43AM EDT - Swappable IO module
06:43AM EDT - 'Project Avalon'
06:43AM EDT - Rampage V Edition 10
06:43AM EDT - X99, premounted IO shielt, upscaled audio
06:42AM EDT - New 10 year anniversary motherboard
06:42AM EDT - 'ROG started as a small project in the Motherboard division'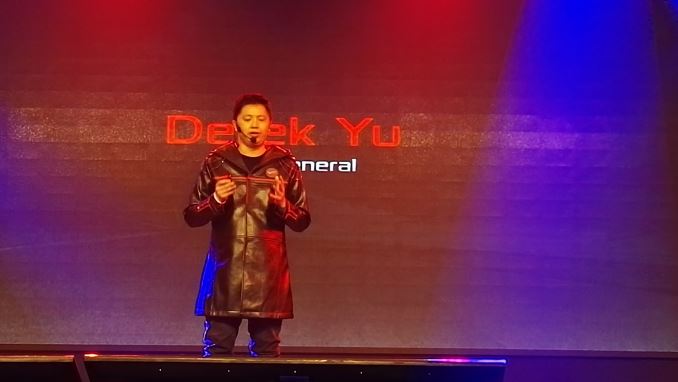 06:41AM EDT - 'ROG General'
06:41AM EDT - Derek Yu on stage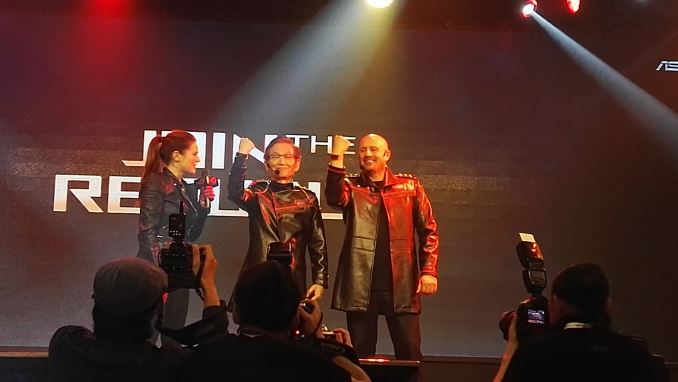 06:41AM EDT - Photo op time with the presenter
06:40AM EDT - No more talk on BDW-E though right now
06:40AM EDT - He also just mentioned Broadwell-E
06:39AM EDT - I think he just announced the GX800 laptop
06:39AM EDT - $113 billion hw/w sales 2015, ~255m eSports viewers, 1.3B PC gamers
06:38AM EDT - Also in an leather jacket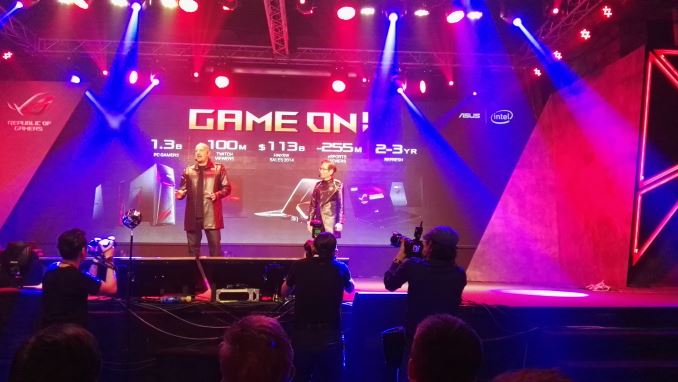 06:38AM EDT - Gregory Bryant, CVP of Connected Home and Commerical Client, from Intel on stage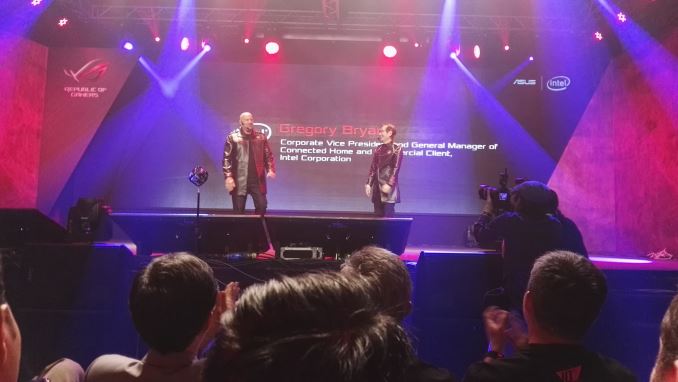 06:37AM EDT - 'Power gamers with more epic innovations'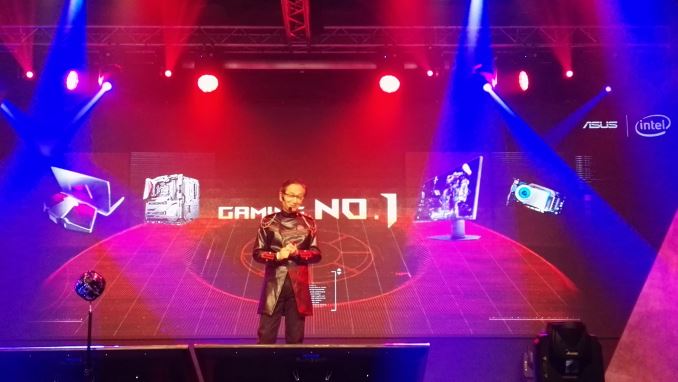 06:37AM EDT - 'Gaming No.1'
06:36AM EDT - Mentioning liquid cooled laptops, hybrid thermal cooling on motherboards, LEDs on GPUs, first to a GSYNC gaming monitor
06:34AM EDT - Going over some of ASUS' previous ROG design wins
06:34AM EDT - 'Legacy is a lifetime of achievements with a decorated wall of fame'
06:33AM EDT - 'We like to dance on the misery of our adversaries'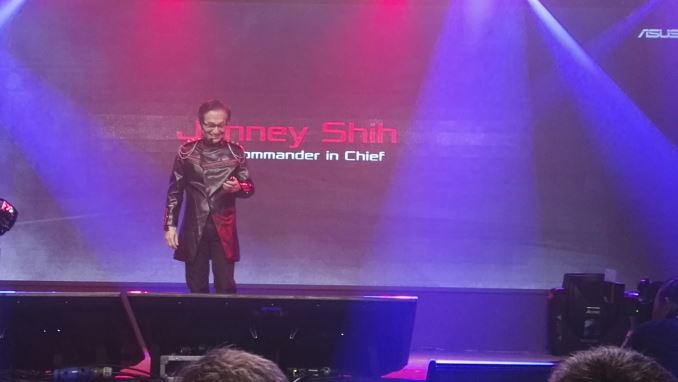 06:32AM EDT - ROG Commander in Chief
06:32AM EDT - In a long leather coat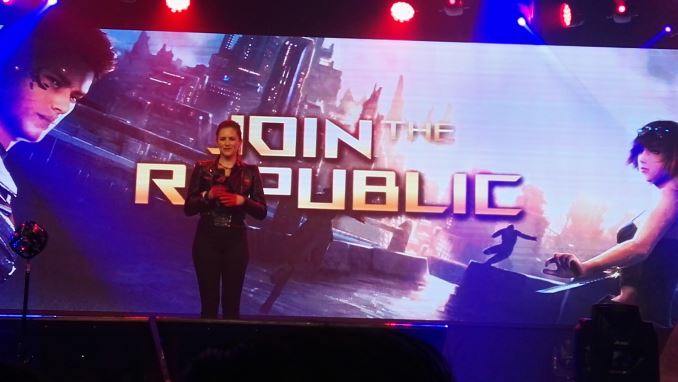 06:32AM EDT - Jonney Shih on stage
06:32AM EDT - Youtube personality on stage... I think?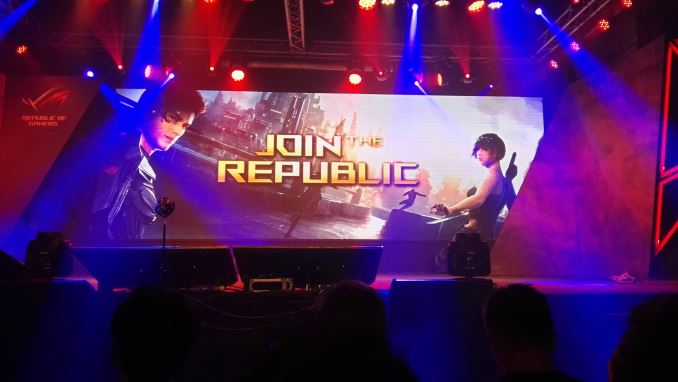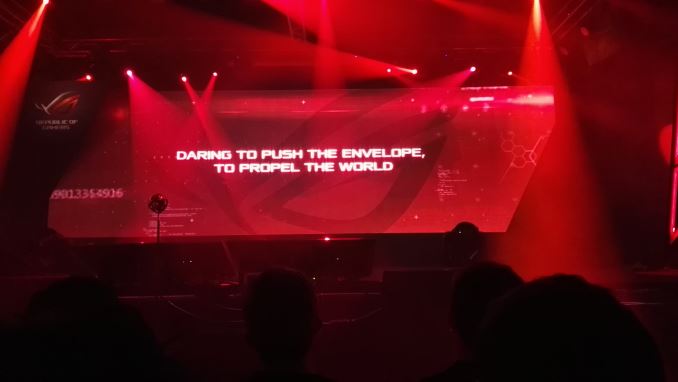 06:31AM EDT - 'Neo gamers are rising'
06:30AM EDT - countdown from 10
06:30AM EDT - lots of bass and a heartbeat video
06:30AM EDT - It begins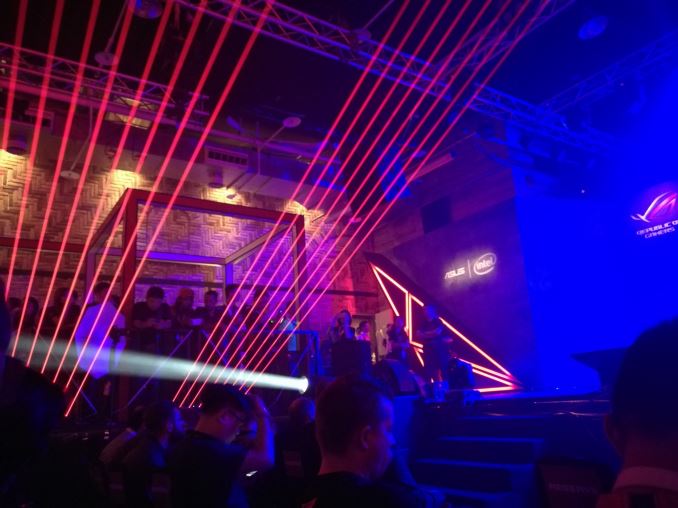 06:06AM EDT - The venue is the same as last year - a local popular club that can be hired out for private events. There's plenty of lights that look like lasers with the stage smoke in the air
06:05AM EDT - Five minutes past and it's not started. Perhaps they're going for 6:30PM local?
05:50AM EDT - We're still writing up stuff from the Zen conference. There's never enough time...(!)
05:48AM EDT - The press event starts on the hour, we now see gaming seats behind the cover. It's clearly for the gamers
05:45AM EDT - On the right of the stage is a big cover which seems to have some of the new ROG products behind
05:43AM EDT - In the group of super ASUS fans is someone I know through the overclocking scene. DrWeEz, an overclocker from South Africa, and I were part of the same professional overclocking group and we briefly held the #1 spot in the world as a team (though some skillful score submissions early in one of the Pro OC seasons)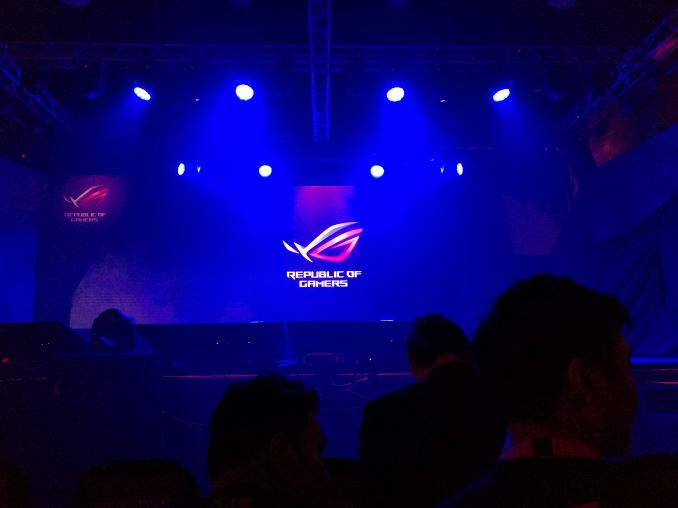 05:41AM EDT - Lots of people and media, of course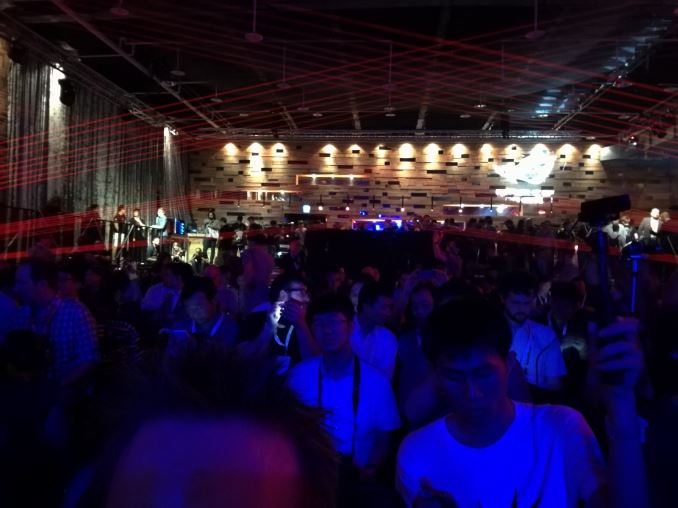 05:32AM EDT - The final press event of the day - the annual Computex Republic of Gamers press conference. This year is ASUS' 10 year anniversary for ROG, and as part of the celebrations have invited some of ASUS' most intense fans to Computex and the press event. Billy and I are here covering the announcements as they fly in, and we expect Jonney Shih to make another appearance as well as an Intel executive and one of their sponsored gaming teams.