System Performance
The XPS 15 is offered with three processor choices. The base model is the 35-Watt Intel Core i3-6100H, which is a dual-core Skylake chip with a 2.7 GHz frequency and 3 MB of cache. While I'm sure that it's fine for most tasks, the base model is also lacking a discrete GPU and means you are only going to be using the integrated graphics, which in this case is the HD 530. I would expect the bulk of Dell's sales to be the Core i5 and i7 models, which also come with the NVIDIA GeForce GTX 960M graphics card. The Core i5-6300HQ is a quad-core, 45-Watt part, that runs between 2.3 and 3.2 GHz, and it has a 6 MB cache. The top option is the Core i7-6700HQ, which includes HyperThreading (the Core i5 lacks this but the Core i3 has it) and a base frequency of 2.6 GHz with a turbo frequency of 3.5 GHz. The Core i7 is the model that was provided to us for this review.
On the memory side, this device includes two SODIMM slots which is a nice bonus for upgradability. The base offering is 8 GB of DDR4-2133, and you can buy it with 16 GB as well, or if you want to add your own DIMMs you can put 32 GB in this machine. For storage, hybrid hard drives are at the low end of the device range, but Dell ramps up to PCIe based SSDs on the higher priced models. The review unit has a PM951 Samsung drive, which is the TLC version that we've already seen in many notebooks this year. Read speeds are generally great, but write speeds will be among the slower PCIe SSDs thanks to the TLC.
I've run the XPS 15 through our standard notebook suite, along with a couple of other tests as well. All laptops in the charts below are from our Notebook Bench, and if you'd like to compare the XPS 15 to any other device we've tested, please check it out here. The previous generation XPS 15 9530 in the charts has the Core i7-4702HQ processor, GTX 750M GPU, 3200x1800 display, and a 91 Wh battery. The Lenovo Y700 is a device that we just reviewed and has the same CPU and GPU as the XPS 15 9550, and I thought it would be interesting to also see the XPS 13 here as well, although this is the Broadwell version we reviewed last year. This is a Core i5-5200U CPU, 3200x1800 display, and 8 GB of memory.
PCMark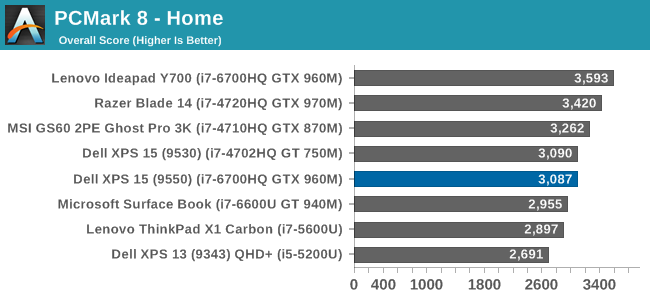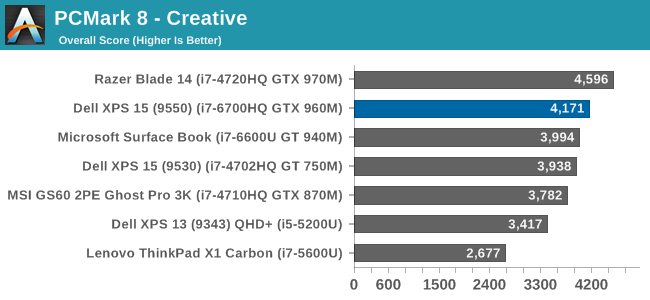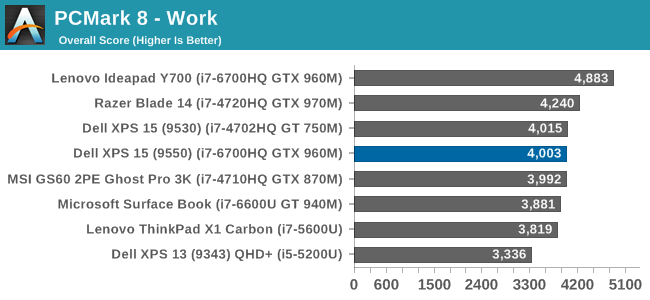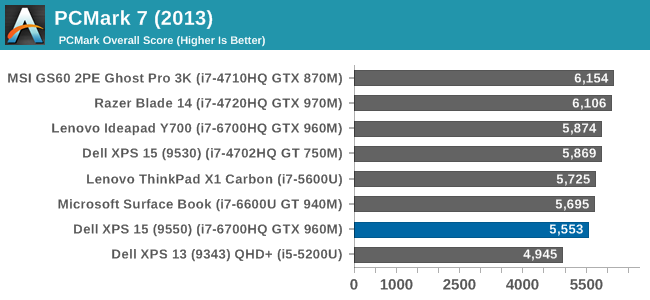 PCMark attempts to recreate actual workloads that people would use every day, and with version 8 they have several tests to focus on workloads for those tasks. Home includes web browsing, gaming, photo editing, and video chat. Creative has web browsing, photo editing, group video chat, transcoding, and some gaming, and Work has document editing, spreadsheets, and video chat. Pretty much all aspects of the device are tested, and even things like the display resolution can impact the score. The UHD resolution on the review unit impacts these scores quite a bit in fact, with the XPS 15 often quite low compared to the Lenovo Y700 which has the same CPU and GPU but a 1920x1080 display.
Cinebench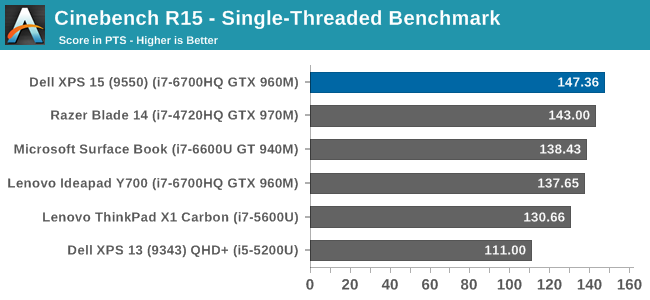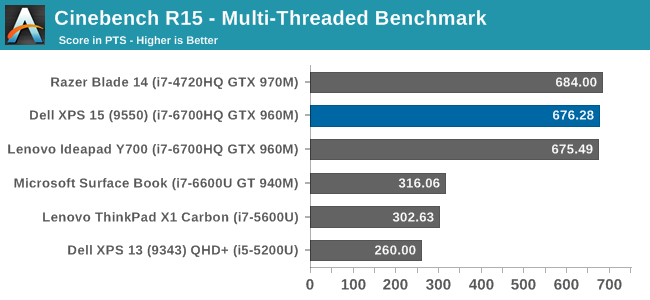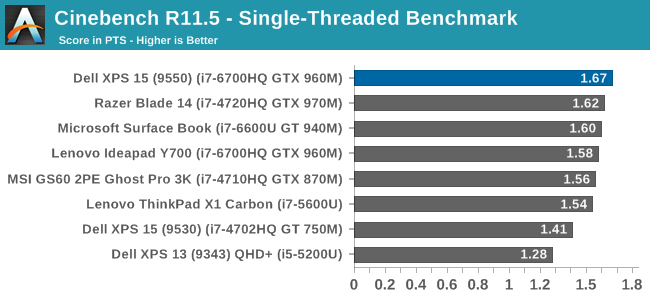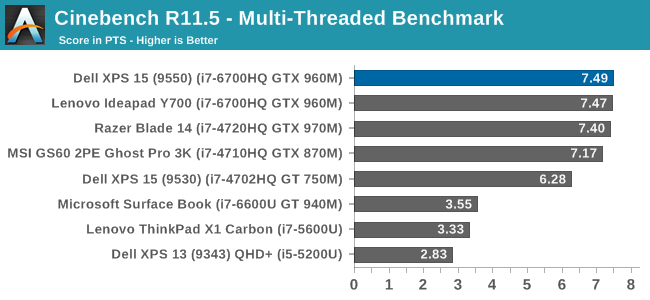 Cinebench is a CPU heavy workload which renders an image. It can use all cores and likes more MHz as well. Just like the Lenovo Y700, I found the XPS 15 wasn't a big jump in performance with Skylake compared to Broadwell and even some of the later Haswell Core i7 parts. It is however a sizeable jump over the outgoing XPS 15 9530.
x264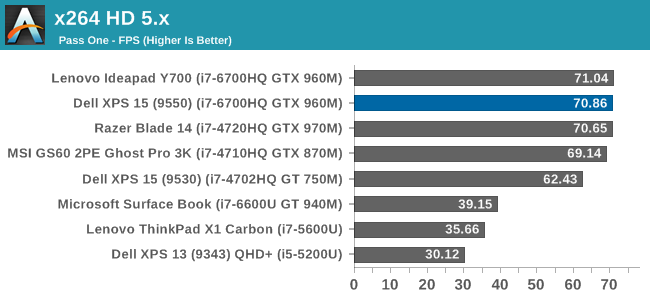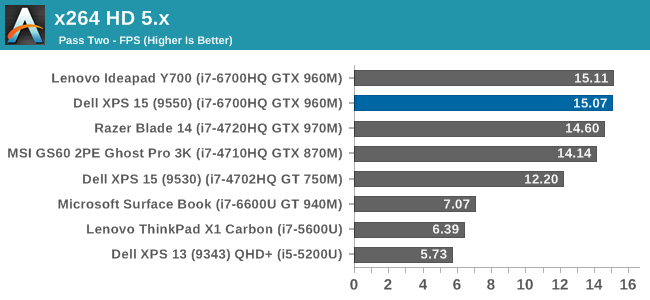 This test does video transcoding, and much like Cinebench is strongly influenced by CPU performance. More cores and higher frequencies are the name of the game here. Just like Cinebench, there also isn't an increase in performance with Skylake on these tests compared to Broadwell or later generation Haswell chips like the i7-4720HQ, which can turbo up to 3.6 GHz compared to 3.5 GHz on the i7-6700HQ. But it is still a big jump over the i7-4702HQ found in the XPS 15 9530.
Web Tests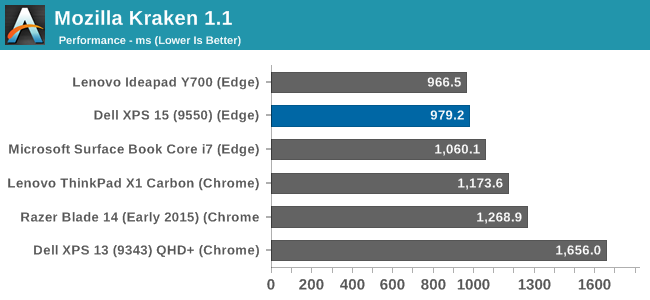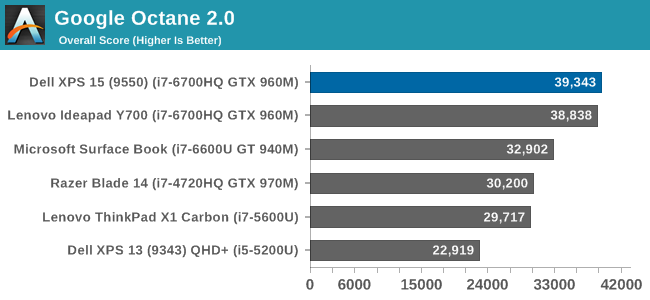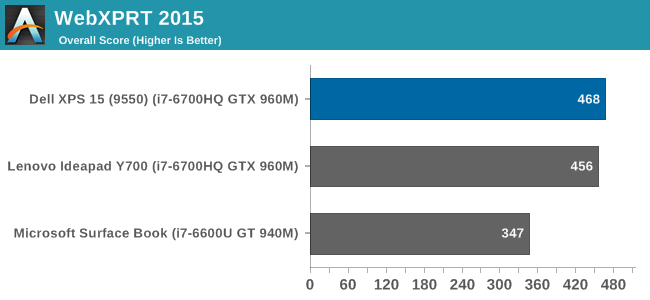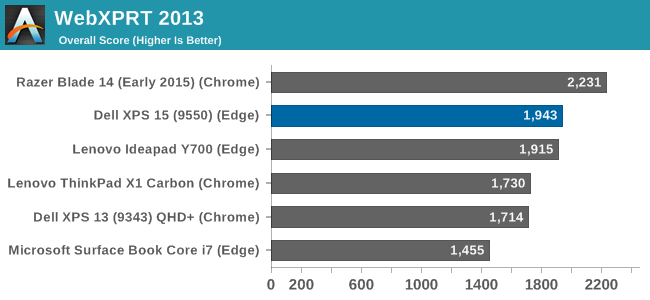 I've mentioned this a few times already but its worth repeating. Since the launch of Windows 10, we've switched from using Google Chrome for web testing to Microsoft Edge. Edge has performance that is quite a bit closer to Chrome now, surpassing it in some tests and behind in others, but both are capable browsers. As such, I've labeled the older laptops to let you know which browser was used at the time they were tested.
With a quad-core Skylake processor, which now supports Intel's Speed Shift technology, the XPS 15 scores very well in our web results. The bursty nature of the web tests really plays into the hands of Speed Shift and lets the processor quickly get up to maximum frequency to perform the task, and make for a more responsive browsing experience.