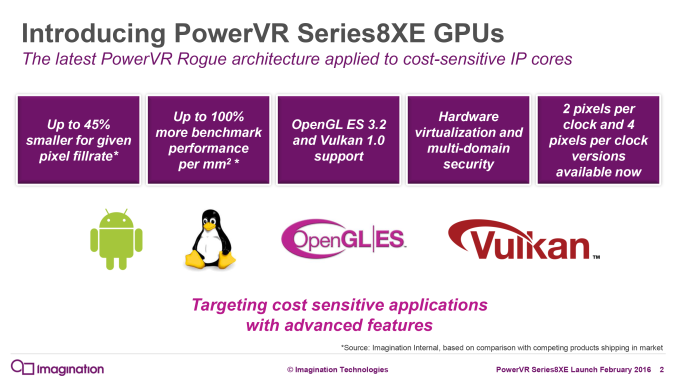 With Mobile World Congress 2016 now in full swing, we'll see a slew of announcements this week. Among the crowd is Imagination Technologies, who is using the show as a backdrop to discuss their latest generation of GPU technologies. To that end, today the company is announcing the latest iteration of their Rogue architecture for the entry-level SoC GPU market, PowerVR Series8XE.
Throughout the lifetime of the Rogue architecture, Imagination has offered two families of designs: the XT family for high performance devices, and the XE family for cost-sensitive entry-level devices. As this is the SoC space both families are focused on power efficiency, but whereas the XT family focuses on a higher overall class of features and performance, the XE family focuses on minimizing overall die size and including a smaller, core set of features. And though both get similar Series branding (e.g. Series7), it's perhaps more accurate to say both are separate takes on the Rogue architecture, sharing technologies where it makes sense but also being more differentiated than simply their performance targets.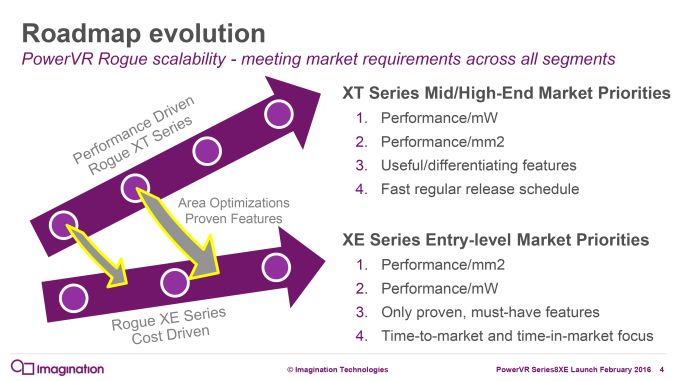 In any case, in a break from tradition, for their newest integration of the Rogue architecture Imagination is not announcing both the XT and XE parts at the same time this year. Rather it's solely the entry-level Series8XE that's getting announced at this time, making it Imagination's sole MWC 2016 GPU announcement.
With Series8XE the underlying Rogue architecture has not significantly changed from previous iterations, however Imagination has continued to optimize it for the low cost and low power markets this GPU family is targeted at. Like Series7XE, this ranges from high-end wearables and IoT devices up to midrange phones and tablets.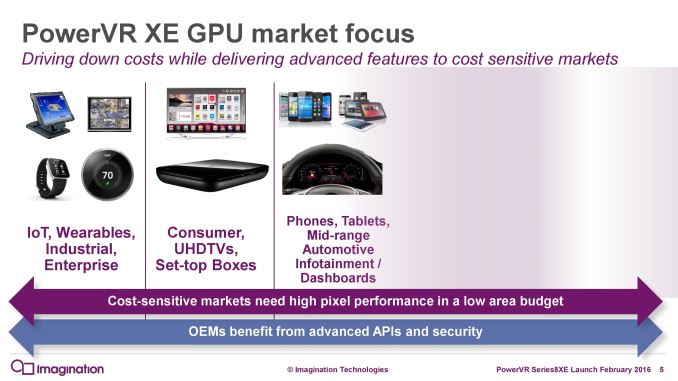 PowerVR GPU Comparison
Series8XE
Series7XT
Series7XE
Series6XE
Clusters
0.25 - 2
2 - 16
0.5 - 1
0.5 - 1
FP32 FLOPs/Clock
16 - 128
128 - 1024
32 - 64
32 - 64
FP16 FLOPs/Clock
32 - 256
256 - 2048
64 - 128
64 - 128
Pixels/Clock (ROPs)
1 - 8
4 - 32
2 - 4
2 - 4
Texels/Clock
1 - 8
4 - 32
2 - 4
2 - 4
OpenGL ES
3.2
3.2
3.1
3.1
Android Extension Pack / Tessellation
Yes
Yes
Optional
No
Vulkan
Yes
Yes
Yes
Yes
OpenCL
1.2 EB
Base: 1.2 EB
Optional: 1.2 FP
1.2 EB
1.2 EB
Architecture
Rogue
Rogue
Rogue
Rogue
From a technical perspective, compared to the last-generation Series7XE, Series8XE gains a couple of notable features. 8XE is OpenGL ES 3.2 capable (versus 3.1 for the base 7XE configuration), updating the GPU to support the latest feature sets required for ES 3.2 while also providing those features for Vulkan. And although Imagination doesn't explicitly state it, that this isn't listed as a separate, optional feature implies that tessellation and ASTC are now base features for 8XE. Meanwhile support for OmniShield, the company's hardware security zone technology has also been added to the base feature set, and from the way Imagination has talked about it, it sounds like they expect OmniShield to be a greater differentiating feature this generation.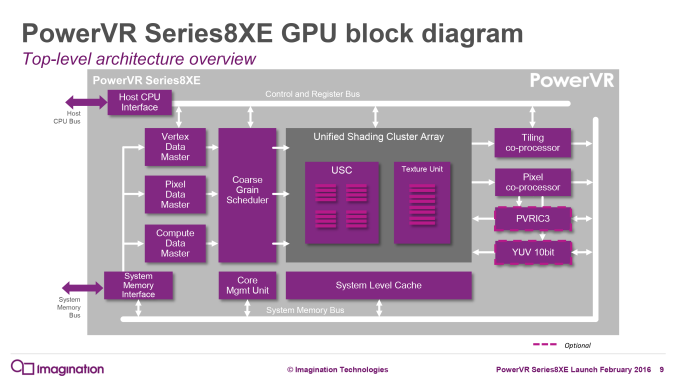 As for optional features, 10-bit YUV is still offered as an option in the design, primarily for unencumbered HEVC Main10 playback. Also optional for 8XE is the latest generation of Imagination's PowerVR image compression technology, PVRIC3. Imagination isn't detailing every last change for PVRIC3, but they are noting that this generation of the technology has full integration with their video decoder and texture decoder, allowing for resources to be passed from the video decoder into the display buffer or into the texture decoders in a compressed format, whose smaller size saves power by virtue of lower memory bandwidth needs and cache pressure.
But by far the biggest focus for Imagination for 8XE appears to be on the overall footprint of the GPU designs, with the company continuing to push down the size of their GPUs. Imagination tells us that their 8XE designs are around 25% smaller than 7XE designs for the same pixel fillrate, and smaller still than competing designs (which these days we'd assume to be ARM Mali). Ultimately the push here is to bring down the manufacturing costs of their GPUs, as every square millimeter saved further reduces the total SoC size and cost in what is a very competitive market for entry-level SoCs.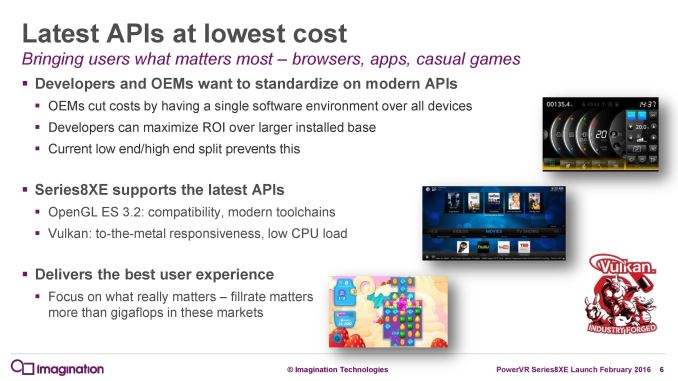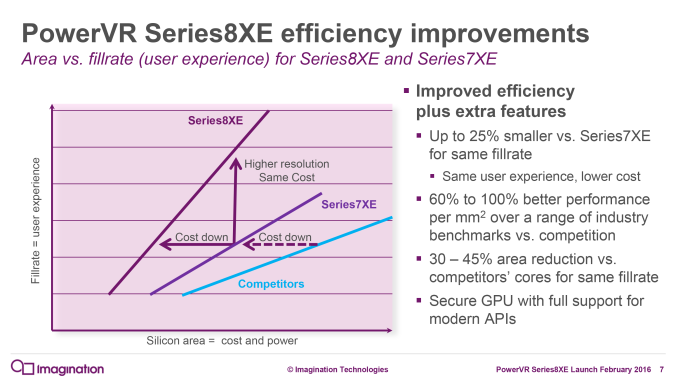 To get there, Imagination is basing the 8XE designs around maximizing pixel fillrate, while also making fillrate the primary performance metric for their designs. Imagination tells us that they believe that pixel fillrate is the biggest resource need for entry-level devices and other low-end GPU consumers right now, as simple tasks such as web browsing and casual games aren't making heavy use of pixel shader operations. And although the company isn't talking about specific details here – preferring to keep their secret sauce secret - it's implied that the company has changed the overall balance between pixel shading resources, compute resources, and pixel fillrate resources in order to hit their performance goals while still producing a more compact design than 7XE.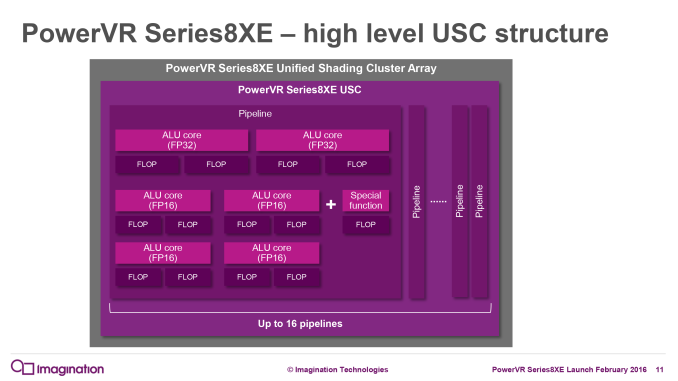 Digging a bit deeper, 8XE's USC and pixel co-processor are actually very similar to 7XE. A single USC pipeline still contains 4 FP16 ALUs, 2 FP32 ALUs, and a SFU ALU. Meanwhile the pixel co-processor still produces either 2 or 4 pixels per clock, depending on the specific implementation. In which case 8XE's theoretical per-clock performance is very similar to 7XE's, and that any rebalancing done by Imagination likely took place in the various frontend data masters and thread scheduling hardware that feed the GPU.
Moving on, for today's announcement of Series8XE, Imagination is also announcing the first two 8XE GPU designs, the GE8300 and GE8200. These designs are the successors to the 7XE-based GE7800 and GE7400 respectively, with the GE8300 implementing a whole USC (16 pipelines), while the GE8200 is essentially half of a GE8300, implementing half of a USC (8 pipelines). Similarly, pixel throughput per clock is unchanged from their predecessors, with GE8200 offering 2 pixels per clock while GE8300 offers 4 pixels per clock. Between the two GE8200 is primarily targeted at the true entry-level markets – along with the high-end wearables market – while GE8300 is for higher performance mobile devices and 4K TVs.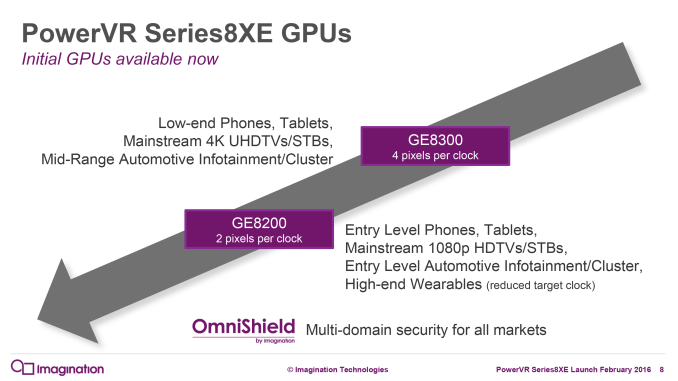 Wrapping things up, although Imagination does not announce when to expect SoCs utilizing their designs to hit the consumer market, they are announcing that they've already struck licensing deals for Series8XE for TVs, wearables, and automotive designs. All of which are no doubt welcome developments for the company in what has been a highly competitive market for entry-level GPUs.