If you couldn't tell already, it's definitely refresh season around here and Dell has been sure to keep news about their comprehensive refreshes coming through in a steady trickle. On the docket today are the well-received XPS 14 and XPS 15, and the revisions are a little broader than you might expect. We reviewed the XPS 14z, XPS 15, and XPS 15z, and the message came in loud and clear: "z" is in, and that's "z" as in "z-height."
Well, the letter "z" itself is being eschewed, but that's due largely to Dell pushing both of these new entries as ultrathin notebooks, with the new XPS 14 qualifying as an ultrabook. Styling cues are now taken from the XPS 13 ultrabook, a system we reviewed and found to be generally solid aesthetically but suffering from some thermal issues.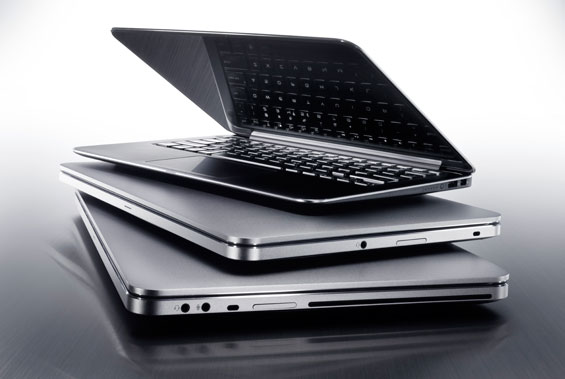 The XPS 14 will come in two basic flavors distinguished by the material used on the lid. The mainstream model will be constructed primarily of machined silver aluminum with a magnesium soft touch palm rest (just like the XPS 13), while a model with integrated mobile broadband trades the aluminum lid for a black leather display back. You also get a 1600x900, 400-nit display covered in edge-to-edge Gorilla Glass and a backlit chiclet keyboard, and Dell has dispensed with the optical drive from the XPS 14z. CPU duties are handled by Ivy Bridge ultra low voltage i5 and i7 processors, but there's only one SO-DIMM slot so memory maxes out at just 8GB of slow DDR3-1333 in a single-channel configuration. On the plus side, though, it's also configurable with an mSATA slot for SSD caching, and even better: optional NVIDIA GeForce GT 630M graphics with 1GB of fast GDDR5 that should help it push that 900p display. Given the slim form factor of the XPS 14 (20.7mm thick), it's reasonable to expect they're using the 28nm GF117 instead of the 40nm GF108 for the GPU.
Not to be left out, the XPS 15 will also be enjoying the same chassis styling as the XPS 14 and its progenitor, the XPS 13, with the same aluminum and magnesium construction, backlit keyboard, and glass clickpad. The XPS 15 bumps the 900p display up to a full 1080p, 350-nit display with the same Gorilla Glass finish, but CPUs get a big boost to either an Intel Core i5-3210M dual core processor or an Intel Core i7-3612QM 35W quad core. We get the same combination of mSATA SSD and 2.5" mechanical hard disk option as the XPS 14, too, although we now have two SO-DIMM slots capable of supporting up to 16GB of DDR3-1600. The XPS 15 also benefits from an integrated slot-loading optical drive, offering either a standard DVD-RW or a blu-ray reader. Graphics get a boost with the XPS 14's GeForce GT 630M with 1GB of GDDR5 now coming standard, with a potential upgrade to the Kepler-based GeForce GT 640M with 2GB of GDDR5, an upgrade that should actually give the XPS 15 enough horsepower to do some light gaming at 1080p (at least if our review of the same GPU in the XPS One 27 is anything to go by).
In an unfortunate sign of the times, while both notebooks will supposedly offer an impressive amount of battery life (up to 11 hours on the XPS 14 and 8 hours on the XPS 15), they also feature integrated batteries that are not user-replaceable.
Both notebooks are available today, starting at $1,099 for the XPS 14 and $1,299 for the XPS 15.