AMD has a bunch of cool stuff to show off at this year's CES. The first is the most expected: a demo of its upcoming Trinity APU. The demo started out with a desktop chassis driving two displays: one transcoding video using the CPU cores and one playing DiRT 3 at low quality settings. The big surprise is at the end of the video below.
Trinity will be available in the middle of the year in three configurations: a 65W - 100W TDP desktop part, a 35 - 45W notebook part and a 17W ULV part. The three are pictured below in that order: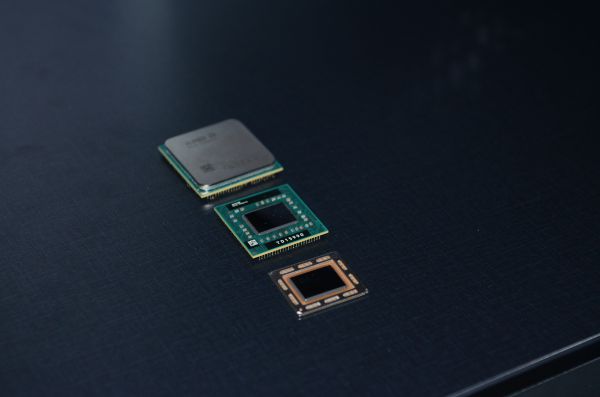 AMD claims the 17W Trinity should offer similar aggregate CPU/GPU performance to existing Llano notebook APUs at ~35W. The standard voltage notebook Trinity APU will offer a 25% increase in CPU performance and a 50% increase in GPU performance over the A-series Llano APUs available today. Finally the desktop Trinity will be 15% faster on the CPU side and 25% faster on the GPU. Although AMD didn't disclose details, it's likely that these numbers are comparing a two-module Piledriver based Trinity to a quad-core Llano.
The CPU gains seem modest on the desktop Trinity, but the standard voltage notebook part is pretty interesting as the gains should be enough to mostly bring it up to mobile Sandy Bridge performance (if AMD's numbers are correct).
Trinity is likely going to maintain the integrated GPU performance advantage AMD currently holds, even when Ivy Bridge arrives.