Yesterday Intel announced the largest stop shipment/recall I can remember it ever making (excluding FDIV). The product in question? All 6-series chipsets, a necessary part of any Sandy Bridge (aka 2nd generation Intel Core microprocessor, aka Intel Core i7/i5/i3 2xxx) system. The problem? A transistor with a thin gate oxide being driven by too high of a voltage. The aforementioned transistor is present in the clock tree circuitry of the 3Gbps SATA ports that branch off of all 6-series chipsets. The 6Gbps ports are unaffected. Over a period of 3 years, at least 5% of all these chipsets will have some failure on the 3Gbps SATA ports. The failure could start in the form of errors on the SATA link and ultimately result in an unusable SATA port. No damage to attached hardware should result.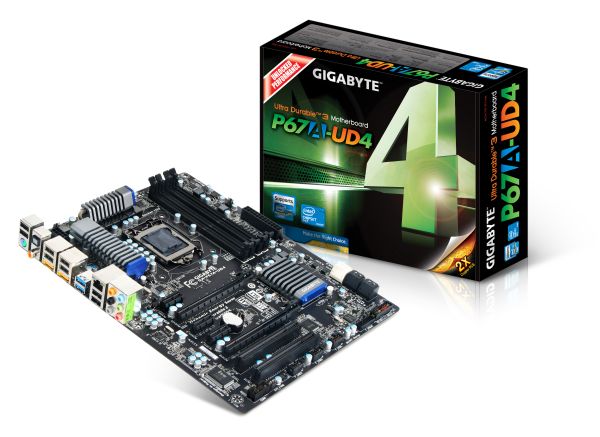 Because of the nature of the problem Intel has set aside $700M to deal with the replacement (ahem, not recall) of up to 8 million impacted 6-series chipsets. After stopping shipments and production of the 6-series chipsets, Intel began talking to its partners about how to proceed yesterday.
The fix for the problematic transistor requires a hardware change. The 6-series chipset design doesn't have to be redone, but there's a metal layer change that must be made. The result is a new stepping of the 6-series chipsets. Intel shipped with stepping B2, and the fixed version will carry a B3 stepping.
Just half an hour ago, Gigabyte sent its replacement strategy for all of its own motherboards.
The key messages are as follows:
1) Gigabyte has stopped shipment to and recalled any unsold 6-series B2 motherboards from distributors and dealers.
2) Any Gigabyte 6-series B2 motherboards that have already been sold will be accepted back for replacement with a B3 board, regardless of condition. I asked Gigabyte if this meant that non-working boards could also be returned, Gigabyte said yes - all eligible 6-series models with B2 stepping chipsets will be accepted back.
Elligible Gigabyte 6-series Motherboards
GA-P67A-UD3
GA-P67A-UD3P
GA-P67A-UD4
GA-P67A-UD5
GA-P67A-UD7
GA-H67MA-D2H
GA-H67MA-UD2H
GA-H67A-UD3H
GA-H67M-D2
GA-H67M-UD2H
3) Gigabyte says that it should have 6-series B3 chipsets in April.
4) The replacement program will happen at the dealer/distributor level. You will have to exchange your board at the location you purchased it from.
5) Customers can either exchange their board (you'll have to wait until April for this to happen) or you can get a full refund sooner (immediately?). Gigabyte recommends going the refund route as that gives you more flexibility for what you want to do next.
6) The replacement board you get will be a brand new motherboard based on the B3 chipset. Gigabyte isn't ready to disclose if there will be any new design features to these boards as well.
7) The cost of the product exchange will be handled by Intel and Gigabyte (presumably Intel is footing the entire bill).
April is two months away, that's later than the end of February. I'm guessing the first recipients of B3 stepping chipsets will be large OEMs and notebook manufacturers. The component guys will likely come second. Getting replacement motherboards won't happen on April 1st if that's when Gigabyte gets chipsets either. This could end up being an April/May thing instead of March/April.
Sending all returns/exchanges through the distributor/retailer channels is an interesting approach. I would rather Gigabyte handle the whole thing (e.g. send us an eligible board, we'll send you a new one) but I can understand if getting the distributors/retailers to help makes things easier.
The refund option is a nice one, although I'm not sure whether etailers will let you return your CPU as well once it has been used. I suspect that's something you'll have to take up with the vendor itself. If you plan on sticking with a Sandy Bridge system, your best bet is probably to keep using your system as is today and just exchange when the time comes.
I'm glad Gigabyte will be providing brand new motherboards for users who opt to exchange and that Gigabyte is accepting boards regardless of condition. Gigabyte hasn't yet decided what it's going to do with all of the returned boards.
Until April rolls around, the best you can do is use the 6Gbps SATA ports on your Sandy Bridge board. We'll keep you posted as we get more of these notices from manufacturers.