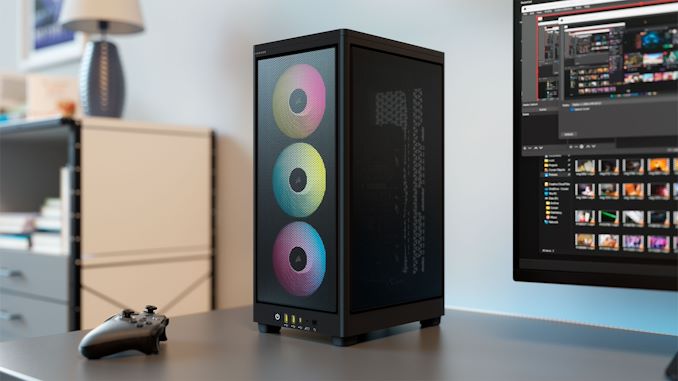 Corsair has expanded the brand's mini-ITX case lineup with the new 2000D Airflow series. The 2000D Airflow and 2000D RGB Airflow small-form-factor (SFF) cases cater specifically to compact but high-performance systems. With a volume of 24.4 liters, the Corsair 2000D series cases have enough landscape to house the most demanding hardware, including a 360 mm AIO CPU liquid cooler and full-size graphics cards up to a triple-slot design.
The 2000D Airflow is available with and without RGB-lit fans and in white or black colors. Therefore, the case comes in four different variants. Regardless, the 2000D Airflow is a mini-ITX case that prioritizes airflow for the components housed inside. For this same reason, Corsair designs the 2000D Airflow with removable steel mesh front, side, and rear panels for maximum ventilation from all directions. The case measures 18.03 x 10.67 x 7.87 inches and weighs just under 10 pounds. As a result, it doesn't require much space whether users decide to put it on or under the desk. Being an SFF case, the 2000D Airflow only accepts mini-ITX motherboards.
The 2000D Airflow can accommodate up to eight 120 mm and two 140 mm cooling fans, doing the case's name justice. If a user fits the 2000D Airflow with a single-slot graphics card, it opens the possibility of cooling the graphics card with two additional fan mounts. For CPU air cooling enthusiasts, the 2000D Airflow supports coolers with a maximum height of up to 6.69 inches. Given the generous amount of fan mounts, Corsair's SFF case offers plentiful liquid cooling options. It supports 120 mm, 140 mm, 240 mm, 280 mm, and 360 mm radiators. Users can fit up to multiple radiators with an example combination of a 360 mm unit on the side and a 240 mm one at the rear in a scenario with a single-slot graphics card.
The 2000D Airflow has three case expansion slots, accommodating beefy graphics cards with up to three PCI slots in a vertical orientation. Consumers will have no problem fitting a GeForce RTX 4090 into the 2000D Airflow. However, they must ensure the graphics card is shorter than 14.37 inches since that's the maximum length permitted inside the 2000D Airflow.
Storage options, however, are limited to three 2.5-inch drives, whether SSDs or hard drives, with the 2000D Airflow. In addition, one of the case's caveats is that it only accepts SFX or SFL-L power supplies, reducing options to units with a length of up to 5.12 inches. Nevertheless, Corsair aficionados will have no issues finding an adequate unit within the brand's ecosystem since the company offers the SF series and SF-L series with capacities varying from 600 watts to 750 watts on the former and 850 watts to 1,000 watts on the latter. Regarding the I/O design, the 2000D Airflow offers one USB 3.2 Gen 2 Type-C port, two USB 3.2 Gen 1 Type-A ports, and one 3.5 mm audio jack on the front panel.
The 2000D Airflow retails for $139.99. On the other hand, the 2000D RGB Airflow, which has three pre-installed Corsair AF120 RGB Slim fans in the front intake, will set consumers back $199.99. Corsair backs its 2000D Airflow cases with a two-year warranty. In the case of the RGB variant, the AF120 RGB Slim fans come with a three-year warranty.
Source: Corsair