Drives In Detail: Samsung & SK hynix
Samsung PM1725a
The Samsung PM1725a is a flagship high-end model that's a few generations old. Like the Micron 5100 MAX that was in our recent SATA review, we're testing this because MyDigitalDiscount has a batch of the 6.4TB model that they're selling for just 19 cents/GB - less than many high-end consumer NVMe drives.
Despite its age, the 6.4 TB Samsung PM1725a is by several metrics the fastest SSD we have ever tested, and one of only two drives in our collection that can hit more than 1 million IOPS for 4kB random reads. The PM1725a is also rated for 5 drive writes per day, more than most current-generation high-end enterprise SSDs, and even more the successor PM1725b (3 DWPD) that replaced 48L 3D TLC with 64L TLC and slightly increased performance.
Samsung PM1725a SSD Specifications
Form Factor
U.2
PCIe Add-In Card
Controller
Samsung S4LP049X01 "EPIC"
Form Factor
2.5" 15mm U.2
PCIe HHHL AIC
Interface, Protocol
PCIe 3.0 x4
NVMe 1.2
PCIe 3.0 x8
NVMe 1.2
Capacities
800 GB
1.6 TB
3.2 TB
6.4 TB
1.6 TB
3.2 TB
6.4 TB
NAND Flash
Samsung 512Gbit 48L 3D TLC
DRAM
Samsung 8Gbit DDR3-1866
Sequential Read
3.3 GB/s
6.2 GB/s
Sequential Write
3.0 GB/s
2.6 GB/s
Random Read
800k IOPS
1000k IOPS
Random Write
160k IOPS
180k IOPS
Power
Draw
Max
23 W
21 W
Idle
8 W
7.5 W
Write Endurance
5 DWPD
5 DWPD
Warranty
5 years
A big part of why the PM1725a is so fast is that there's simply a lot of SSD here. The controller (labeled "EPIC") is massive, with a PCIe x8 uplink and 16 channels for interfacing with the NAND. The usable capacity is 6.4 TB, but the drive has 8 TB of flash onboard, meaning that this drive has more internal spare area than the usable capacity of the smallest SSD in this review. All these chips and the 8-lane uplink require a PCIe add-in card form factor, with a large heatsink to dissipate over 20W.
The PM1725a is a little bit outdated by only supporting version 1.2 of the NVMe spec, but it implements almost all of the optional features, including support for multiple namespaces and SR-IOV virtualization so this massive drive can be shared among several virtual machines with minimal overhead.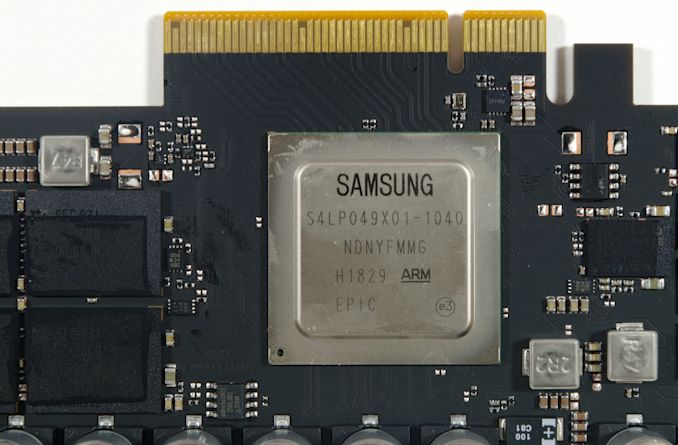 SK hynix PE6011
SK hynix currently holds fifth place in the overall SSD market (by drives shipped), but they're one of only three companies that is fully vertically integrated: they make their own 3D NAND, DRAM, controller, firmware and SSDs. Now that their 3D NAND seems to be catching up with the rest of the market, that vertical integration may help them significantly improve their standing in the marketplace, but they have fairly low visibility in some important market segments. They have seen the most success in the client OEM SSD market and have reentered the consumer retail market, but enterprise and datcenter SSDs are where the best profit margins can usually be found.
SK hynix PE6000 Series NVMe SSD Specifications
Model
PE6011
PE6031
Controller
SK hynix SH58800GG
Form Factor
2.5" 7mm U.2
Interface, Protocol
PCIe 3.0 x4 NVMe 1.3a
Capacities
960 GB
1.92 TB
3.84 TB
7.68 TB
800 GB
1.6 TB
3.2 TB
6.4 TB
NAND Flash
SK hynix 512Gbit 72L 3D-V4 TLC
DRAM
SK hynix DDR4
Sequential Read
3.2 GB/s
3.2 GB/s
Sequential Write
650 MB/s
1250 MB/s
2.3 GB/s
2.45 GB/s
2.45 GB/s
Random Read IOPS
220k
410k
620k
610k
620k
Random Write IOPS
27k
50k
67k
70k
160k
Power
Draw
Read
8.0 W
8.0 W
8.5 W
10.0 W
10 W
Write
6.0 W
8.0 W
12.0 W
14.0 W
14 W
Idle
3.5 W
3.7 W
Write Endurance
1 DWPD
3 DWPD
Warranty
5 years
The SK hynix PE6011 and its sibling PE6031 are low-power datacenter NVMe SSDs, using the same 2.5"/7mm form factor as consumer SATA drives, but with a U.2 connector to provide a PCIe 3.0 x4 interface. Most enterprise and datacenter U.2 drives instead use a 15mm thick case to allow for stacked PCBs or more cooling and higher power levels. Using their 72-layer 3D TLC NAND, SK hynix can still pack up to 8TB of storage into this case (7.68 TB usable) along with an 8-channel controller of their own design plus the necessary power loss protection capacitors. The lower power limit of the thinner 2.5" form factor does mean the PE6011 is a bit more limited in performance than most of the drives in this review, but there are lots of other SSDs out there for this product segment that we haven't had the chance to test.
The PE6031 (not tested) is pretty much the same hardware as the PE6011, but with a higher overprovisioning ratio: more spare area, less usable capacity. That allows the PE6031 to target more write-heavy workloads with twice the random write performance and an endurance rating of 3 DWPD instead of 1 DWPD. The PE6011 targets the larger market of SSDs for read-intensive workloads.