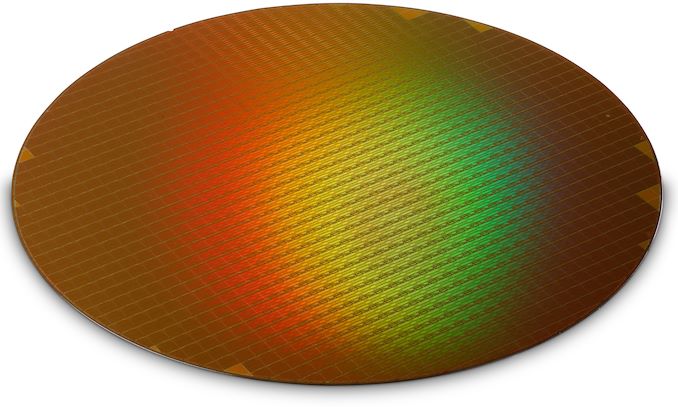 Micron announced on Thursday that it had started volume production of memory chips using its 3rd Generation 10 nm-class fabrication technology (also known as 1Z nm). The first DRAMs to be made using Micron's 1Z nm process are 16 Gb monolithic DDR4-3200 and LPDDR4X devices, with Micron expected to broaden their portfolio over time.
Micron's 3rd Generation 10 nm-class (1Z nm) manufacturing process for DRAM will allow the company to increase the bit density, enhance the performance, and the lower power consumption of its DRAM chips as compared to its 2nd Generation 10 nm-class (1Y nm) technology. In particular, the company says that its 16 Gb DDR4 device consumes 40% less power than two 8 Gb DDR4 DRAMs (presumably at the same clocks). Meanwhile, Micron's 16 Gb LPDDR4X ICs will bring an up to 10% power saving. Because of the higher bit density that the new 1Z nm technology provides, it will be cheaper for Micron to produce high-capacity (e.g., 16 Gb) memory chips for lower-cost, high-capacity memory sub-systems.
The manufacturer did not disclose the speed bins of its 16 Gb DDR4 DRAMs, but expect Micron to be in the official JEDEC ranges. One of the first products to use the company's 16 Gb DDR4 devices will be high-capacity (e.g., 32 GB and higher) memory modules for desktops, notebooks, and workstations.
As for mobile memory, Micron's 16 Gb LPDDR4X chips are rated for transfer rates up to 4266 MT/s. Furthermore, along with offering LPDDR4X DRAM packages with up to 16 GB (8x16Gb) of LPDDR4X for high-end smartphones, Micron will offer UFS-based multichip packages (uMCP4) that integrate NAND for storage and DRAM. The company's uMCP4 family of products aimed at mainstream handsets will include offerings ranging from 64GB+3GB to 256GB+8GB (NAND+DRAM).
Micron did not disclose where it's producing its monolithic 16 Gb DDR4 and LPDDR4X chips using its 1Z nm technology. Typically, the company kicks off volume production using its latest fabrication processes at its plant in Hiroshima, Japan. Meanwhile, there's also been some speculation among analysts that the company is looking forward to running 1Z production lines this year at its Micron Memory Taiwan (former Rexchip Semiconductor) fab near Taichung, Taiwan.
Related Reading:
Source: Micron