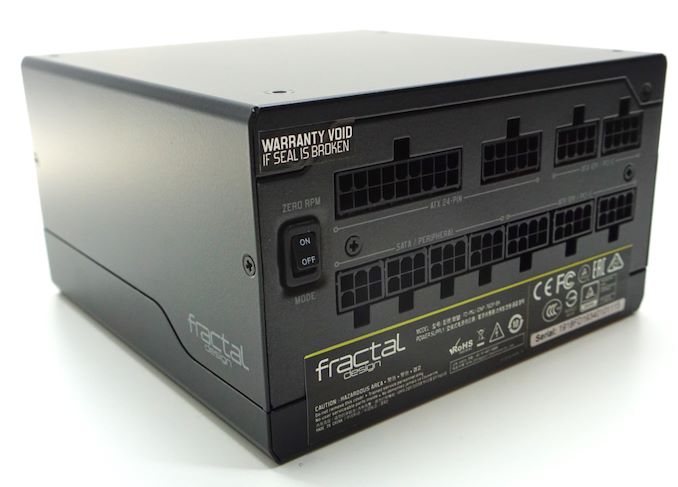 Fractal Design is a reputable Swedish manufacturer of PC components. The company started off as a PC case manufacturer and quickly became known for their sleek, quality, and innovative case designs. Having an established presence as a designer of advanced PC cases, Fractal Design is reservedly but steadily diversifying into other segments of the market, such as power and cooling. Aside from numerous of their cases, we reviewed some of their first liquid cooling solutions when the company was diversifying into that part of the market.
Meanwhile, although Fractal Design has not been completely inactive when it comes to the power supply unit (PSU) market, they have not released new products in several years. The last new product in the company's PSU product line-up, the 80Plus Gold certified Edison series, was four years ago. However, that four year drought is finally coming to an end, as the company is releasing a completely new series, the Ion+, which is meant to be the technological pinnacle of their PSU lineup.
Overall, Fractal Design is aiming rather high with their new Ion+ PSUs; the official specifications list some rather impressive quality and electrical figures, including 80Plus Platinum efficiency levels. And, as we'll see in our review, they have the real-world performance to back up those lofty claims.
Interestingly however, rather than going for ultra high wattage power supplies as some other PSU vendors do, the company has sized their PSUs more conservatively, releasing just four units that are rated from 560W up to 860W. Considering that an 860 Watt PSU is enough power for a dual GPU gaming/workstation system, the company can still cover almost the entire market, with the infrequent exception of users requiring a PSU for quad GPU or other power-hungry systems.
Even then, 860 Watts is going to border on overkill for most of today's single-CPU/single-GPU systems. So for our first review of an Ion+ PSU, we're going to take things down one step to their 760 Watt model, the Ion+ 760P.
Power specifications ( Rated @ 50 °C )
AC INPUT
100 - 240 VAC, 50 - 60 Hz
RAIL
+3.3V
+5V
+12V
+5Vsb
-12V
MAX OUTPUT
22A
22A
63,3A
3A
0,3A
120W
760W
15W
3,6W
TOTAL
760W
Packaging and Bundle
Fractal Design loves simple, functional designs, and the very box of the Ion+ PSU is a testament to that philosophy. The artwork on the box is very simple, with a picture of the PSU itself on a white background. However, there are many details regarding the performance and specifications of the PSU on the sides and rear of the box. The box itself is very sturdy, with extra packaging foam surrounding the PSU itself, providing ample shipping protection.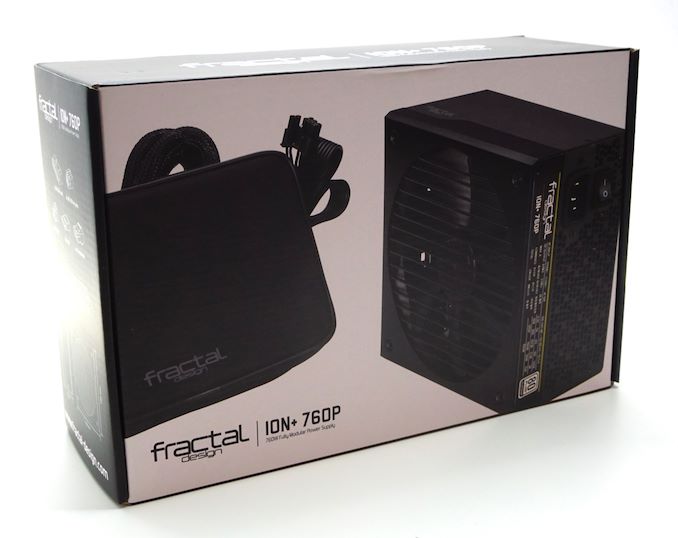 The bundled items are few but useful. Fractal Design supplies a standard AC power cable, four black mounting screws, a couple of cable straps and a typical user's guide.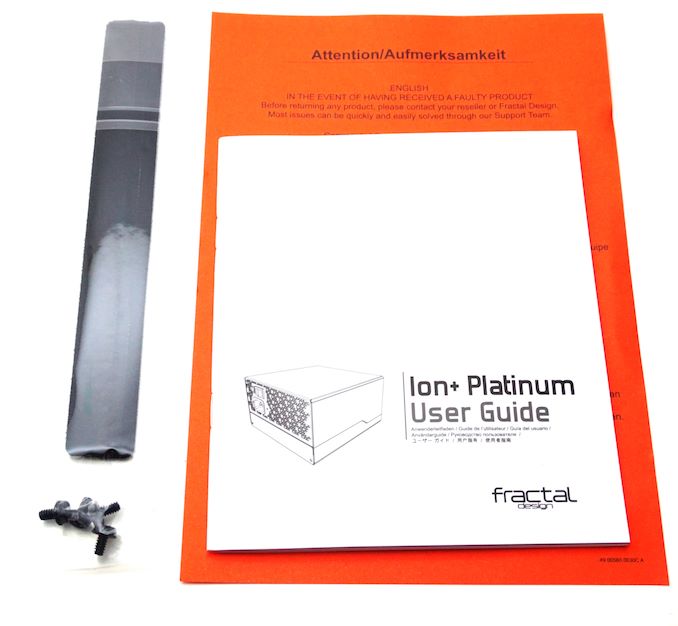 The Ion+ series is fully modular, meaning that every cable can be detached, including the 24-pin ATX cable. The modular cables are "flat" type, ribbon cables, with the sole exception being the main 24-pin ATX cable. It is noteworthy that Fractal Design is using highly flexible multi-stranded wires, which the company calls "UltraFlex" cables, allowing for easier cable management.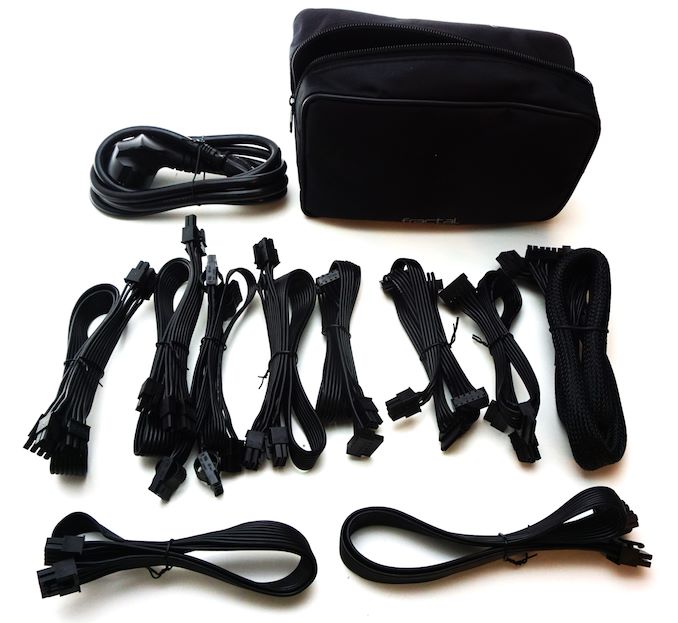 Fractal Design Ion+ 760P
Connector type
Hardwired
Modular
ATX 24 Pin
-
1
EPS 4+4 Pin
-
2
EPS 8 Pin
-
-
PCI-E 6+2 Pin
-
6
PCI-E 8 Pin
-
-
SATA
-
10
Molex
-
4
Floppy
-
-