Synthetic Benchmarks - ATTO and CrystalDiskMark
Most USB 3.2 Gen 2 NVMe-based SSDs claim read speeds of up to 1050 MBps and write speeds of up to 1000 MBps. Most of these claims are backed up by the ATTO benchmarks provided below. Unfortunately, these access traces are not very common in real-life scenarios.
Drive Performance Benchmarks - ATTO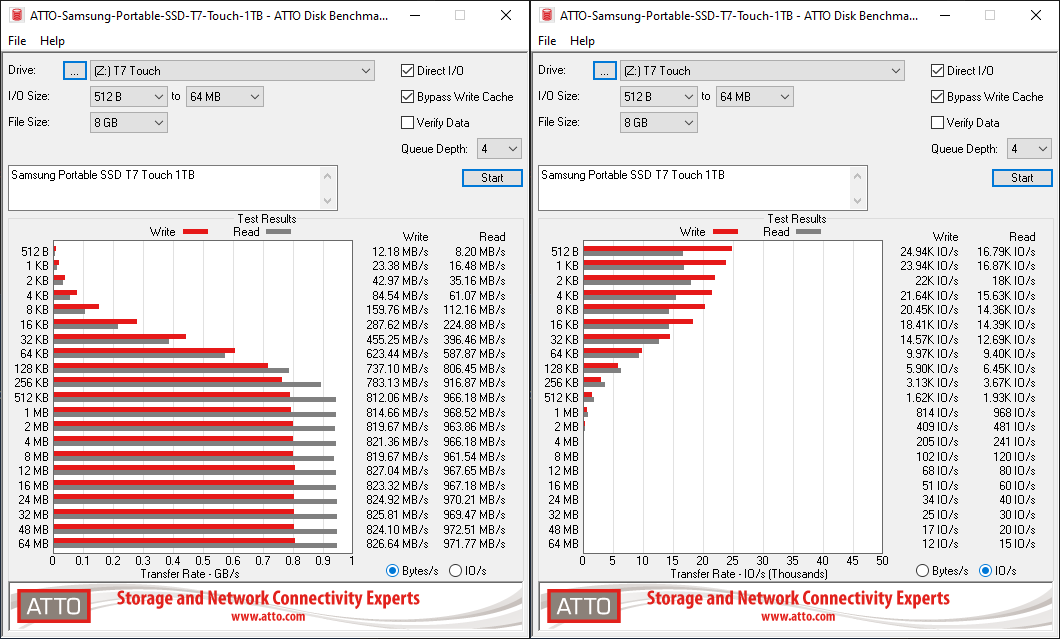 The 2TB OWC Envoy Pro EX USB-C tops the write charts at close to 935 MBps, with the rest clustered between 850 MBps and 900 MBps. On the read side, the drives are clustered around 970 MBps to 980 MBps.
CrystalDiskMark, despite being a canned benchmark, provides a better estimate of the performance range with a selected set of numbers. As evident from the screenshot below, the performance can dip to as low as 20 - 40 MBps for small-sized reads at very low queue depths.
Drive Performance Benchmarks - CrystalDiskMark

Read speeds saturate around 1020 MBps for most drives, and writes around 900 MBps. The T7 Touch appears to lag behind the rest a bit in all the workloads, while remaining in the same ballpark.