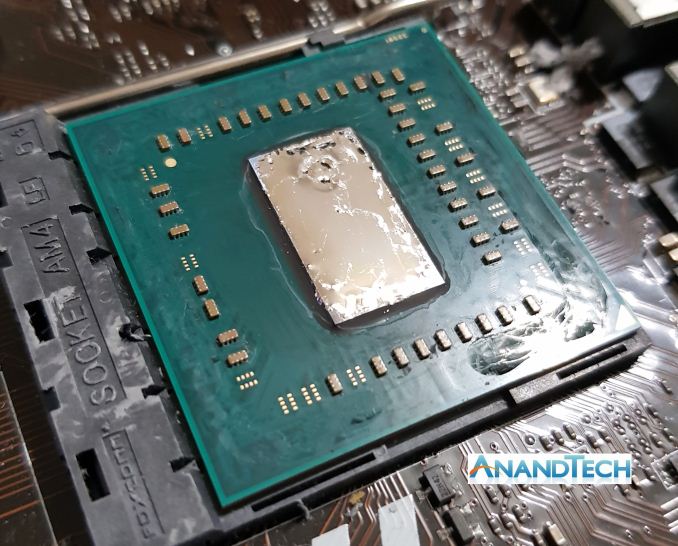 The integrated graphics 'APU' line of processors from AMD is a popular entry point for consumers on a budget based on the good performance from the cores, gaming-capable graphics, and all for a reasonable low cost that also comes bundled with a very sufficient cooler. AMD's APU line is one lock-step behind its leading edge CPU technology, so this time around the new Ryzen 3000 APUs are built on last generation Zen+ 12nm technology, but with increased IPC, clock speeds, and an overall performance bump.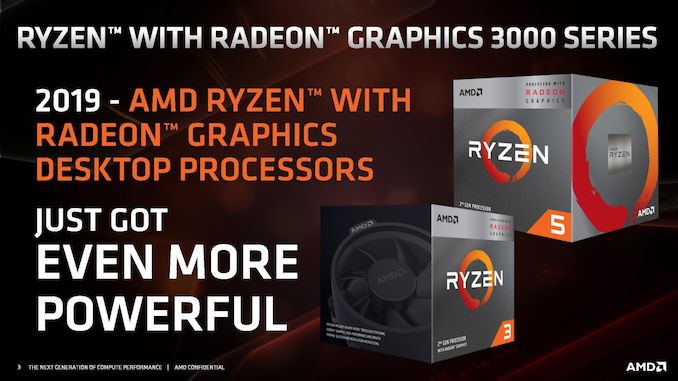 So truth be told, I'm a sucker for a good low cost entry-level processor. If you can provide me good performance and good gaming at a low price, then it becomes my go-to suggestion for low-cost builds to family and friends. These users might not need a discrete graphics card, but they need something to do desktop tasks with, and potentially game, without missing a beat. For the last generation, as seen from my CPU guides, AMD's first generation Zen APUs filled that role. This will change come July 7th, as AMD will launch its Zen+ APUs to replace them.
AMD Ryzen APUs
AnandTech
Cores
Base
Freq
Turbo
Freq
IGP
IGP
Freq
DDR4
TDP
Price
Ryzen 3000 'Zen+'
Ryzen 5 3400G
4C / 8T
3.7
4.2
Vega 11
1400
2933
65W
$149
Ryzen 3 3200G
4C / 4T
3.6
4.0
Vega 8
1250
2933
65W
$99
Ryzen 2000 'Zen'
Ryzen 5 2400G
4C / 8T
3.6
3.9
Vega 11
1250
2933
65W
$159
Ryzen 3 2200G
4C / 4T
3.5
3.7
Vega 8
1100
2933
65W
$99
The Ryzen 5 3400G and Ryzen 3 3200G replace the 2400G and 2200G counterparts in the product line and offer two new speed jumps. The Zen+ architecture used in the new CPUs will offer a raw +3% throughput increase (IPC) in compute performance, as we saw when the main processor line moved from Zen to Zen+. The other factor is frequency – both new CPUs gain +300 MHz on the turbo frequency compared to the previous generation, as well as a +150 MHz increase in graphics frequency, all at the same power budget. The new APUs also support DDR4-2933, which will help with performance.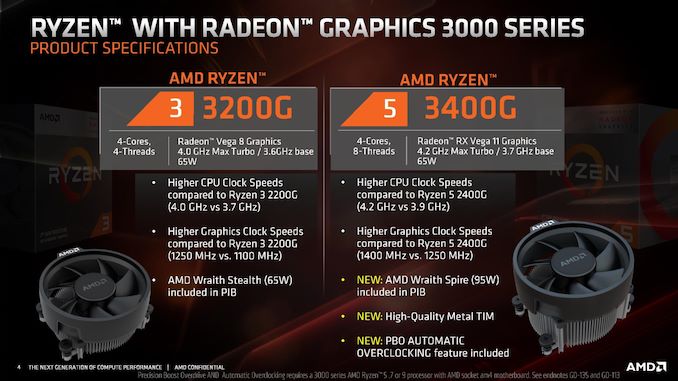 The other added bonus will be to the Ryzen 5 3400G, which will not only be released $10 lower than the 2400G, but it will now come with the 95W AMD Wraith Spire CPU cooler bundled in box, an upgrade over the 65W version previously used. This CPU will also be Indium-Tin soldered on for better thermal performance and potential in overclocking headroom.
A new feature coming to the APUs is support for 4K protected video streaming, such as Netflix 4K. This is a feature that has been missed on the previous generation, especially as AMD's APUs have found their way into a number of small form factor systems and HTPC builds. The new APUs also support Radeon Anti-Lag, a new feature to reduce controller-to-display lag input times.
These CPUs are still PCIe 3.0, because they are one generation behind AMD's mainstream processors.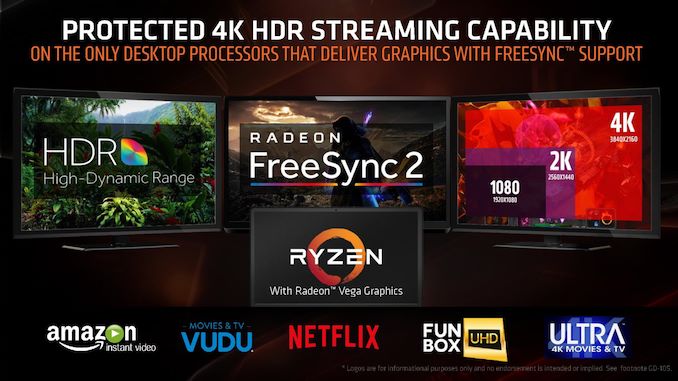 AMD's messaging on these new APUs is that they will provide the best and most powerful integrated graphics on a desktop processor. With no competition in this segment, this is likely to be true. The processors are set to be launched on July 7th with the other members of the Ryzen 3000 family.
Related Reading