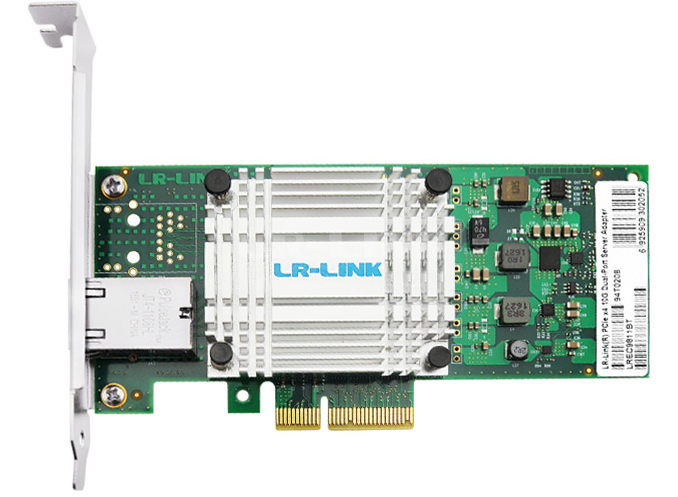 LR-Link, a maker of networking solutions from China, has introduced two new 10 GbE NICs based on an Intel controller. The cards are priced about 30% below similar products by Intel and other makers, yet they are aimed primarily at entry-level servers.
LR-Link's single-port LREC9811BT and dual-port LREC9812BT network adapters are powered by Intel's X550AT2 controller and feature a PCIe 3.0 x4 interface. The cards feature one or two RJ-45 connectors and support supports 100M, 1G, and 10G speeds using Cat5e/Cat6/Cat6A copper cabling. Intel does not explicitly deny that the X550 works with 2.5G or 5G routers/switchers, yet the company does not validate the controller with such equpment (at least officially), so nothing is guaranteed.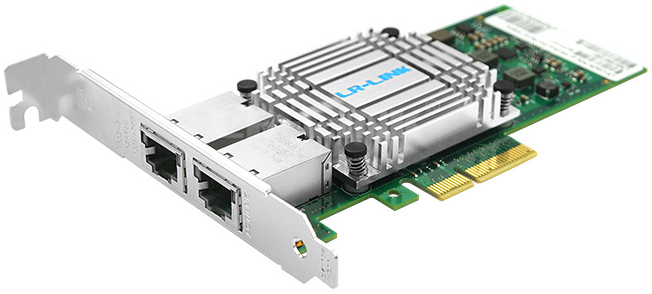 Intel's X550 controller ships with drivers for all server and desktop/workstation-grade operating systems from Microsoft, VMware as well as numerous Linux distributives. Meanwhile, just like Intel, LR-Link positions its LREC9811BT and LREC9812BT network cards mainly for servers.
LR-Link's Intel X550-Based NICs
LREC9811BT
LREC9812BT
Controller
Intel X550AT2
100BASE-T
Yes
1000BASE-T
Yes
2.5GBASE-T
-
5GBASE-T
-
10GBASE-T
Yes (over Cat6A cables)
Ports
1
2
OS Compatibility
Apple
-
-
Microsoft
Windows 7 / 8 / 8.1 / 10 or later

Windows ServerX 2012 R2
Windows Server 2012 R2 Core
Windows Server 2012
Windows Server 2012 Core
Windows Server 2008 R2
Windows Server 2008 R2 Core
VMware
VMware ESXi 5.1(Limited Functionality)
VMware ESXi 5.5
Linux
LinuxX Stable Kernel version 2.6.32/3x
LinuxX RHEL 6.5 and RHEL 7.0
LinuxX SLES 11 SP3 and SLES 12
FreeBSDX 9 and FreeBSDX 10
UEFIX 2.1
UEFIX 2.3
Price
Starting at $155
Starting at $275
Release Date
Q3 2018
Aquantia's single-chip 10 GbE solutions have made 10 GbE consumer-grade network adapters considerably cheaper, which lowered demand for entry-level 10 GbE server-grade NICs from SOHO customers. The later did not go unnoticed by traditional suppliers of 10 GbE cards, such as Intel. As it appears, the company has made its X550 chips available to third parties and we are about to see cheaper X550-based NICs from makers like LR-Link.
It's worth noting that LR-Link does not sell its products at retail in the West. So the cards are primarily available from Alibaba, Ebay, and various other online retailers in China. At press time the single-port LREC9811BT can be purchased starting from $155, whereas the dual-port LREC9812BT costs $275.
Related Reading:
Source: Hermitage Akihabara