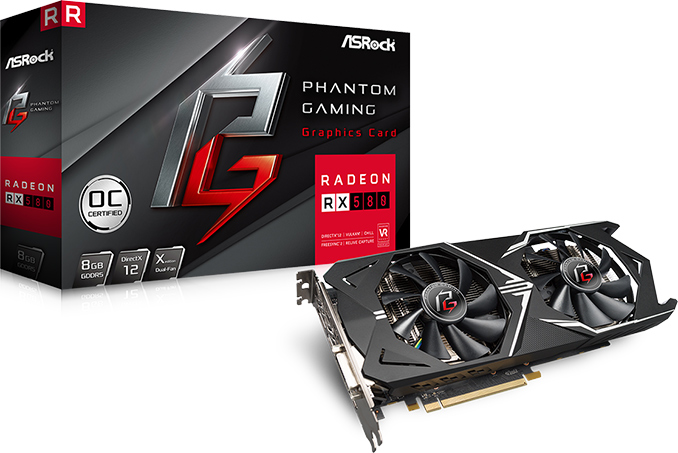 ASRock has officially introduced its first graphics cards. The Phantom Gaming family will initially include four GPU models based on the Radeon RX 500-series GPUs and are aimed at the mainstream market segment. The lineup of four boards will allow ASRock to understand its potential on the market, but will hardly pose a strong competition to other players.
ASRock's Phantom Gaming family consists of four graphics cards running AMD's Polaris 10 and Polaris 11 GPUs: the Phantom Gaming Radeon RX550 2G, the Phantom Gaming Radeon RX560 2G, the Phantom Gaming X Radeon RX570 8G OC, and the Phantom Gaming X Radeon RX580 8G OC. The cards will ship with default frequencies comparable to those recommended by AMD, but all of them support OC mode that can be activated using ASRock's proprietary overclocking utility.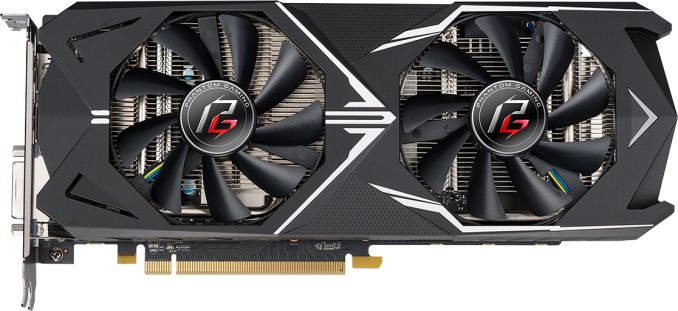 All of the Phantom Gaming graphics cards rely on PCBs and cooling systems developed by ASRock. The higher end Radeon RX 570/580 boards use large coolers featuring two fans as well as an aluminum radiator with a copper base and three heat pipes. The entry-level Radeon RX 550/560 adapters are compatible with Mini-ITX systems and feature basic aluminum radiators with one fan. The manufacturer says that it uses premium thermal grease as well as double ball bearing fans to maximize lifespan and efficiency of its cooling systems. To maximize compatibility, all the cards carry DVI-D, DisplayPort and HDMI outputs in order to connect to all kinds of displays.
Brief Specifications of ASRock's Phantom Gaming Graphics Cards
Phantom Gaming Radeon RX550 2G
Phantom Gaming Radeon RX 560 2G
Phantom Gaming X Radeon RX570 8G OC
Phantom Gaming X Radeon RX580 8G OC
Stream Processors
512
896
2048
2304
Texture Units
32
56
128
144
ROPs
16
16
32
32
GPU Clock
Silent
1056 MHz
1103 MHz
1228 MHz
1324 MHz
Base
1100 MHz
1149 MHz
1280 MHz
1380 MHz
OC
1144 MHz
1194 MHz
1331 MHz
1435 MHz
Memory
Capacity
2 GB
8 GB
Type
GDDR5
Bus
128-bit
256-bit
Clock
Silent
5760 MT/s
6720 MT/s
7680 MT/s
Base
6000 MT/s
7000 MT/s
8000 MT/s
OC
6240 MT/s
7280 MT/s
8320 MT/s
Outputs
DVI-D DL
DisplayPort 1.4
HDMI 2.0
DVI-D DL
3 × DisplayPort 1.4
HDMI 2.0
Launch Date
Q2 2018
Launch Price
?
?

?

?
So far ASRock has not disclosed any plans to use AMD's flagship Vega graphics processors, but since it is only entering the market of video cards for the first time, the company is clearly a bit cautious.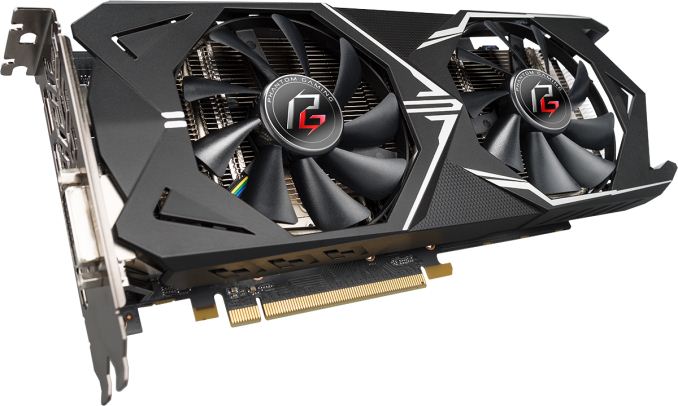 ASRock has not announced MSRPs for its Phantom Gaming video cards, but considering the fact that street prices of GPUs are high these days, it is hardly something surprising. Expect the newcomer to sell its products at prices that are competitive against established players.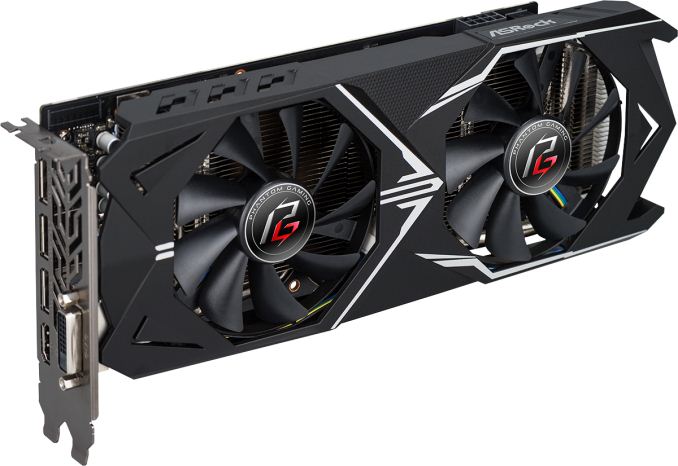 Related Reading
Source: ASRock