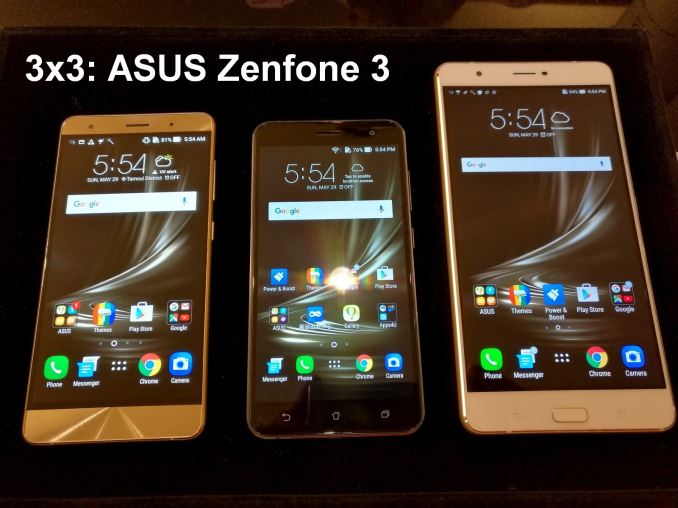 Today at Computex, as part of their annual Zen press conference, ASUS lifted the lid on the Zenfone 3 series. In previous Zenfone generations, the Zenfone has been one of the premier devices featuring Intel's Atom smartphone chipset, however due to the announcement that Intel has cancelled their Atom smartphone 'Broxton' program ASUS is going all in with a series of Qualcomm chipsets, including the custom Kryo based Snapdragon 820 and also the first 14nm Snapdragon 625 device.
The Zenfone 2 line is known for having numerous, region specific models over its lifespan. To start, the Zenfone 3 will come in three formats and sizes: the base Zenfone 3 (ZE552KL), the premium Zenfone 3 Deluxe (ZS570KL) and the media-consumption focused Zenfone 3 Ultra (ZU680KL).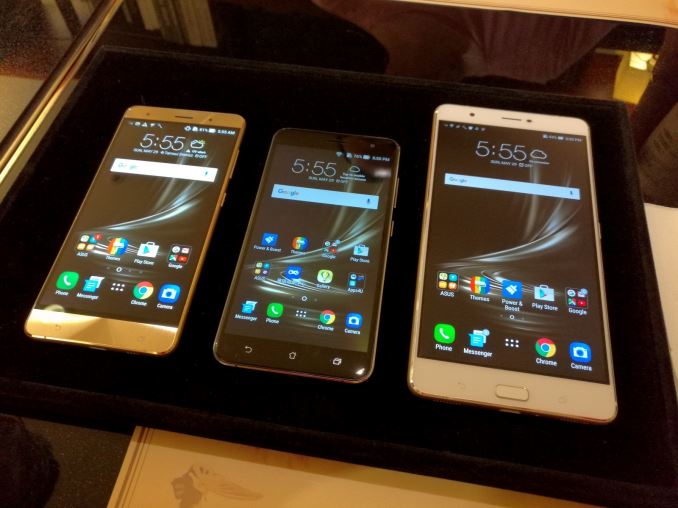 We were able to get a quick preview the day before the announcement, and had some hands-on time:
The black model is the base Zenfone model, featuring a Snapdragon 625 (dual 4xA53), and comes with Gorilla Glass 3.0 on the front and sides with 2.5D for the contouring on the edge. This model will feature up to 4GB/64GB, a Sony IMX298 rear camera, 2x2 dual-band 802.11ac WiFi, up to Cat 6 LTE, dual SIM and a USB 2.0 but Type-C based connector. The screen is a 5.5-inch Super IPS+ LCD, and runs Android Marshmallow with ZenUI 3.0.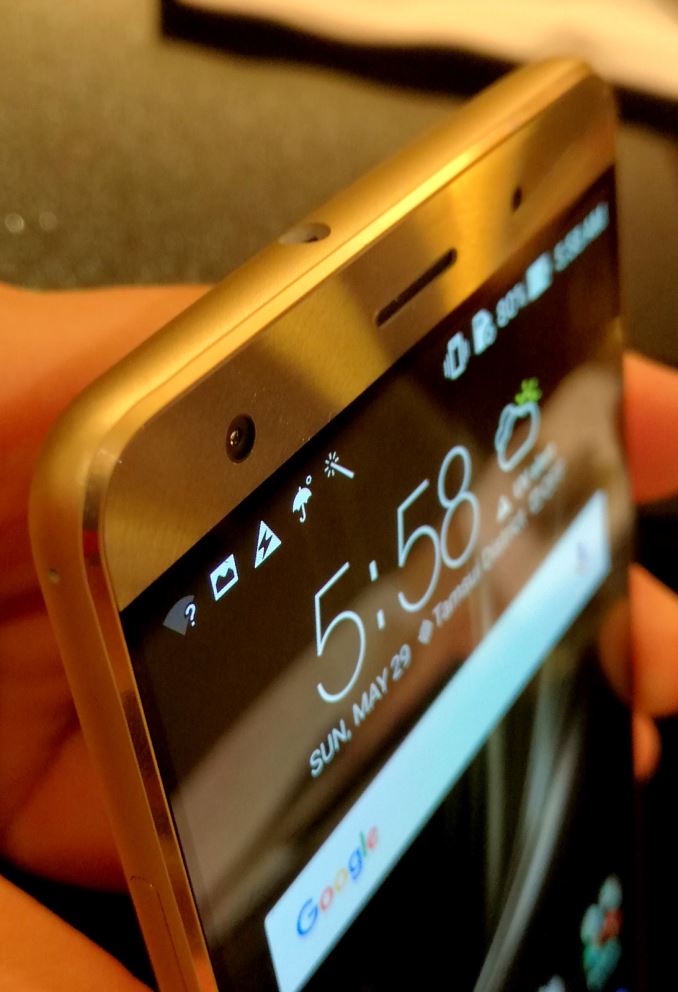 The gold model is the Zenfone Deluxe, designed to be the high-end model with the main focus on the Snapdragon 820 (using Qualcomm's custom Kryo cores, similar to the LG G5 and certain Samsung Galaxy S7 models) and having up to 6 GB of memory. So add to this on the storage of up to 256 GB, supporting the UFS 2.0 standard, and an upgraded 23MP Sony IMX318 rear camera and USB 3.0 (again, via Type-C), and ASUS hopes to be challenging some of the high-end devices. The unibody design aims for a seamless rear, with no antenna banding or windows, instead going for a small hole on the side of the phone at the top which, according to ASUS' internal metrics, should be sufficient. The Deluxe will support Quick Charge 3.0 and has a similar 3000 mAh battery to the base model.
The large 6.8-inch Zenfone 3 Ultra is what ASUS is calling its 'multimedia Smartphone', aiming to combine the use case of a tablet with a smartphone. We've seen large smartphones before (like the Huawei P8 Max) but these tend to be region focused: I was told that the Ultra will be coming to the US in some form over the next few months. The Ultra runs a Full HD display (1920x1080) like the other two devices, but uses 'ASUS Tru2Life' technology based on Pixelworks' 4K TV processor which also featured in the ZenPad S 8.0. This is supposedly an upgraded version over the ZenPad S 8.0, and it will be interesting to see Brandon's reaction to it over the ZenPad. ASUS is equipping the Ultra with the Snapdragon 652 (4xA72, 4xA53), with up to 4GB/64GB and a 4800 mAh battery. ASUS is keen to promote that the phone can also act like a power bank and offers reverse charging. The Ultra will also come with DTS HD Premium Sound and Headphone 7:1 support, allowing for hi-res audio support up to 24-bit/96 kHz, and aiming squarely at the multimedia experience.
ASUS Zenfone 3 Series
Zenfone 3
ZE552KL
Zenfone 3 Deluxe
ZS570KL
Zenfone 3 Ultra
ZU680KL
Display
5.5-inch
Super IPS+ LCD
1920x1080
5.7-inch
SuperAMOLED
1920x1080
6.8-inch
IPS LCD
1920x1080
SoC
Snapdragon 625
4xA53 @ 2.0 GHz
4xA53 @ 1.4 GHz
Snapdragon 820
Snapdragon 652
4xA72
4xA53
GPU
Adreno 506
Adreno 530
Adreno 510
DRAM
Up to 4 GB
Up to 6 GB
Up to 4 GB
Storage
Up to 64 GB
Up to 256 GB
(UFS 2.0)
Up to 128 GB
Front Camera
16MP Sony IMX298
f/2.0, 6-element
23MP Sony IMX318
f/2.0, 6-element
Rear Camera
8MP, 85-degree
WiFi
2x2 802.11ac with MU-MIMO
4G
Category 6
Category 13, 3xCA
Category 6
Connectivity
Type-C USB 2.0
Type-C USB 3.0
Type-C USB 2.0
Battery
3000 mAh
4800 mAh
Colors
Shimmer Gold
Aqua Blue
Sapphire Black
Moonlight White
Titanium Gray
Glacier Silver
Sand Gold
Titanium Gray
Glacier Silver
Rose Pink
OS
Android M with ZenUI 3.0
All three will feature fingerprint sensors, with the base model and the Deluxe having a rear touch sensor, the Ultra having a button sensor on the front, and all three supporting five fingers of recognition. They will all support ASUS' PixelMaster 3.0 camera features: an f/2.0 6-element lens, 4-axis photo OIS, 3-axis EIS and dual tone LED flash. ASUS wants to promote its TriTech autofocus technology, enabling focus via contrast, phase and a second generation laser (capable up to 1.2m) for a 0.03-second autofocus system (ASUS states that around 250,000 pixels have left/right light detection to aid this). An 8MP front camera is on the front of all the cameras also.
We're writing this before the announcement, and we expect pricing to be specified during the presentation along with the time for device rollout.