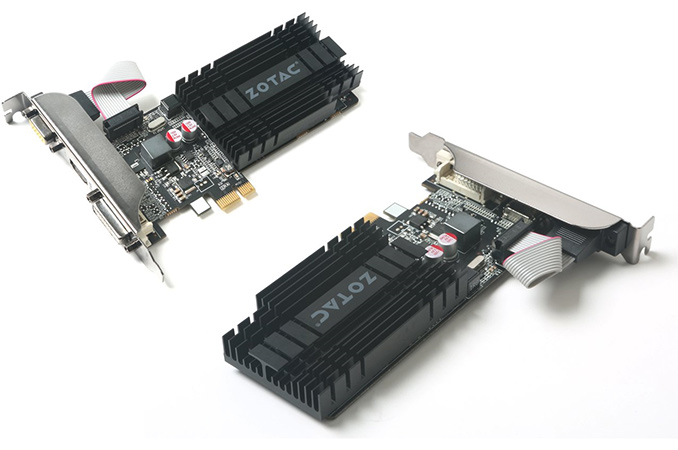 ZOTAC has quietly introduced a new video card which is compatible with virtually every desktop PC released in the recent years. The new GeForce GT 710 graphics card with PCIe 3.0 x1 interface is not going to outperform modern higher-end iGPUs in games, but it will help owners of very low-cost systems, particularly those which may not even have a PCIe x16 slot, to add support for another display, or improve over the performance of completely outdated iGPUs.
The ZOTAC GeForce GT 710 1 GB (ZT-71304-20L) video card is powered by a cut-down version of NVIDIA's GK208 GPU with 192 CUDA cores, 16 texture units and 8 ROPs. The GPU is based on the Kepler architecture, which supports Direct3D feature level 11_0, OpenGL 4.5 as well as OpenCL 1.2 APIs. The chip is clocked at 954 MHz and has compute performance of around 366 GFLOPS (well below that of modern iGPUs). The card is equipped with 1 GB of DDR3-1600 memory featuring 12.8 GB/s bandwidth.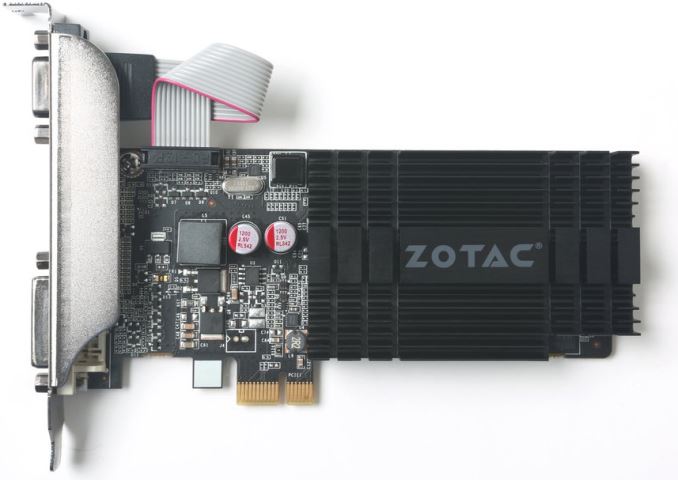 The card comes in half height half length (HHHL) form-factor and is shipped with two brackets (for low-profile and standard PCs) to maximize compatibility with various computers. The graphics board has minimal (19W) power consumption and does not require active cooling (which means, it is also whisper quiet).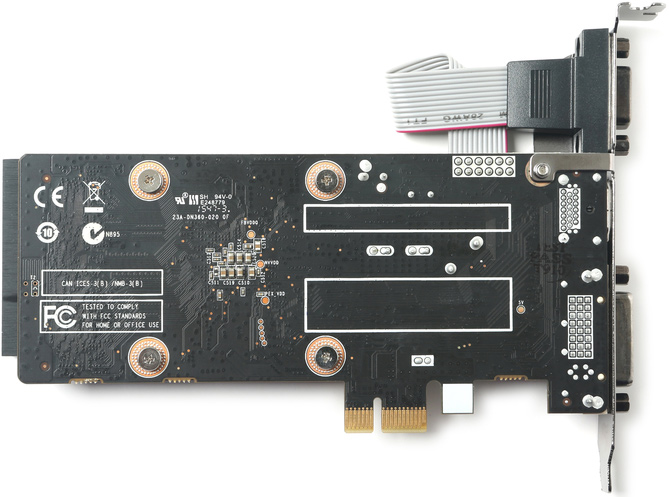 The main selling points of the ZOTAC GT 710 are its PCIe 3.0 x1 interface as well as three display outputs — DVI, HDMI 1.4 and D-Sub. Some entry-level PCs simply do not have PCIe x16 or x8 slots to install a graphics card, but virtually all desktops released in the last ten years have at least one PCIe x1 slot. ZOTAC's new graphics card promises to be compatible with such systems. If owners of such PCs need to add one or two more display outputs, or just find their iGPUs too slow in Windows 10, they can buy the GeForce GT 710 1 GB PCIe 3.0 x1 graphics adapter. The board supports up to three displays, which should be enough for many workloads.
NVIDIA GPU Specification Comparison
GT 710
GT 720
GT 630
GT 610
CUDA Cores
192
192
192
48
Texture Units
16
16
16
8
ROPs
8
8
16
4
Core Clock
954MHz
797MHz
875MHz
710MHz
Shader Clock
N/A
N/A
N/A
1620MHz
Memory Clock
1.8GHz DDR3
1.8GHz DDR3/ 5GHz GDDR5
1.8GHz DDR3
1.8GHz DDR3
Memory Bus Width
64-bit
64-bit
64-bit
64-bit
VRAM
1GB or 2GB
1GB or 2GB
1GB or 2GB
1GB
TDP
19W
19W
50W
29W
GPU
GK208
GK208
GK107
GF119
Launch Timeframe
January, 2016
March, 2014
April, 2012
May, 2012
Launch Price
$30 - $50
$49
OEM
$49
When it comes to performance in games, it is unlikely that the GeForce GT 710 is fast enough for more or less demanding titles. The product may be faster than iGPUs integrated into entry-level Celeron or Pentium processors, but only in various online games that do not require a lot of GPU horsepower anyway.
As for market perspectives of ZOTAC's GeForce GT 710 1 GB PCIe 3.0 x1, it should be noted that this is a niche product designed for owners of low-end systems, who need a better GPU or additional display outputs. Typically, people, who use such systems do not upgrade often, hence, ZOTAC's new video card will hardly become a bestseller. Nonetheless, it will be a unique device for those who really need it.
ZOTAC does not list recommended prices on its web-site. However two stores which sell the device in Europe have it listed €58.30 ($65.8) and €84.7 ($95). This is definitely higher than you'd otherwise expect for a bottom-tier NVIDIA card, though it may very well be that retailers are counting on its unique nature.
Source: ZOTAC (via the Tech Report)