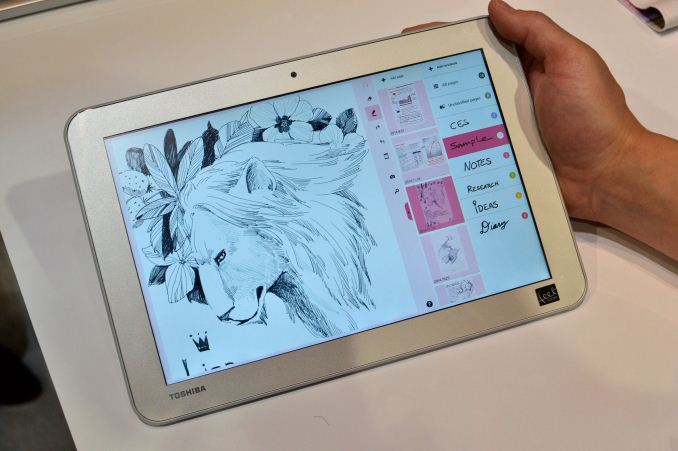 Much like Samsung and Sony, touring the Toshiba booth turned up plenty of devices but not too many laptops – though I'd say out of the big consumer electronics companies, Toshiba had more laptops/hybrids than anyone else. (I was hoping to go hands on with their Chromebook 2 and it was nowhere to be seen.) There were three major products on display that I want to quickly discuss: the Encore 2 Write tablet, the Portege Z20t hybrid Ultrabook/tablet (or WT20 if you just want the tablet portion), and TransferJet.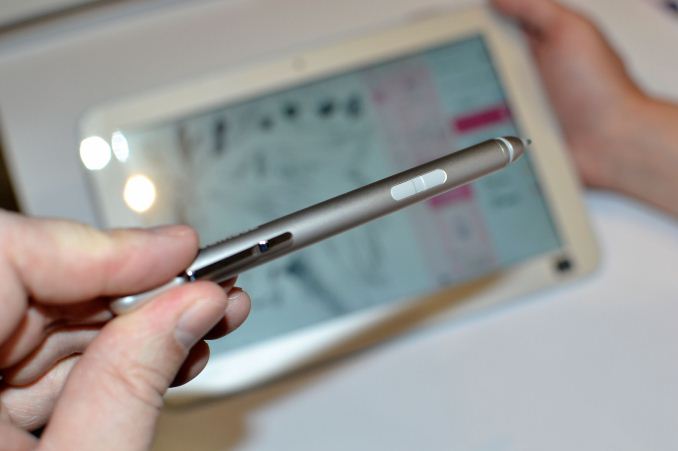 Starting with Encore 2 Write, Toshiba has built two Windows 8 tablets with some of their own software that actually provides some interesting use cases. As the name implies, the Encore 2 Write tablets include a stylus, TruPen™, which uses Wacom's Active Electrostatics pen technology and a "pro-grade" pen tip with 2048 levels of pressure sensitivity. I'm not enough of a stylus enthusiast to really offer any critique of the pen or implementation, but Toshiba had a collection of galleries that others had created using the stylus showing that in the right hands it can certainly be put to good use. More interesting to me was the collection of "Tru" apps: TruNote, TruCapture, and TruRecorder.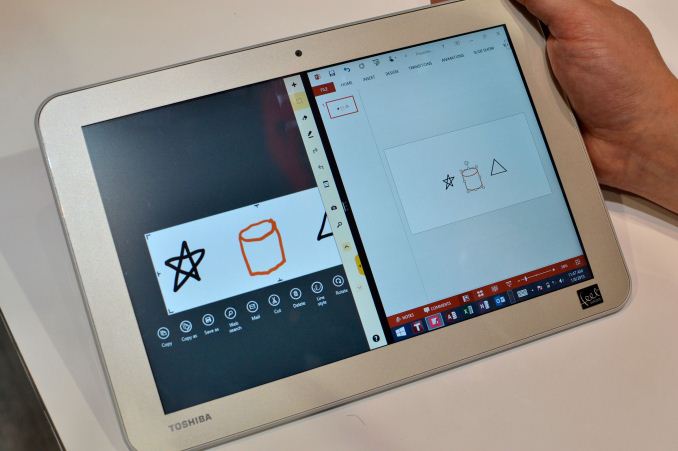 TruNote is similar to other stylus-enabled interfaces I've seen, with the ability to scribble notes, mark up photos, paint, etc. It does work with Microsoft Office and has a custom user interface for managing your notes. One interesting aspect was the object recognition, where you could draw objects (triangles, rectangles, stars, cylinders, etc.) and TruNote would convert them into Office draw objects for easy manipulation. Of course handwriting recognition is also present and it was able to properly decipher my chicken scratches in my limited testing.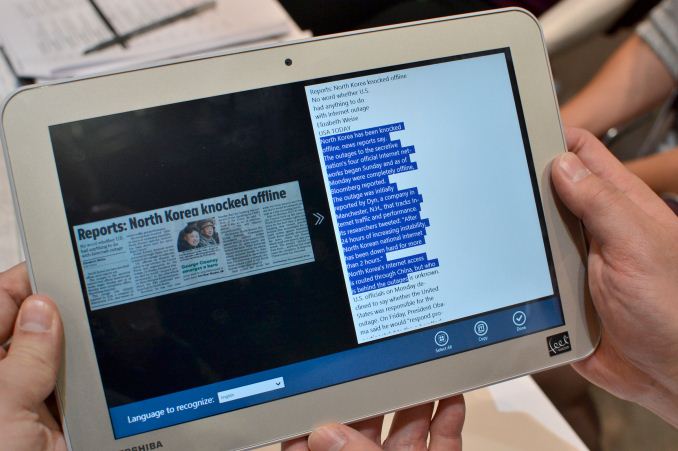 TruCapture was something I haven't really seen done before, at least not in the same fashion. It uses the built-in 8MP camera and allows capturing images, followed by OCR on sections if you want to convert text to a non-image format. The application can also perform keystone adjustment, so in one sequence they snapped an off-angle picture of a placard and the software was able to recognize the object and convert it back to a more or less properly shaped rectangle. For the image recognition, they took a picture of the front page of USA Today, selected the text they wanted to convert, and then a notepad popped up with the raw text output. While it's not something I would necessarily use much, I could certainly see applications for researchers, students, and other professionals where TruCapture would be useful.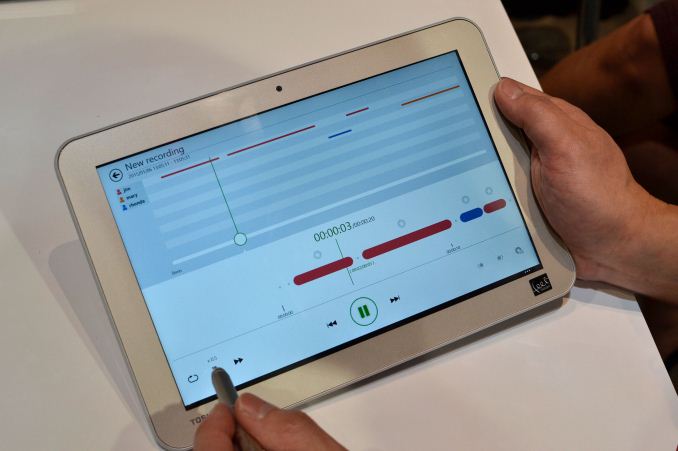 Finally, TruRecorder uses the built in dual array microphones to help detect and analyze different voices during a group recording. As an example, a recording of a meeting with three attendees was shown where the software was able to pick out the individuals and then create an audio track view showing when each one is participating in the conversation. Along with the ability to skip silence, you can play back one or more individuals (i.e. so if you wanted to only listen to comments from one person, you could do that). Again, in the right environment the software could prove useful. (Side note: I'd love to see it analyze our recent podcast.)
As far as the hardware in the tablets, Toshiba is using quad-core Intel Atom Z3735F (up to 1.83GHz) with 2GB RAM and a rather surprising 64GB of eMMC storage. The tablets include GPS, accelerometer, gyroscope, and e-compass sensors. Also included are a micro USB 2.0 port, micro HDMI port, and micro SDXC slot with support for up to 128GB of external storage. Connectivity consists of dual-band 802.11n WiFi and Bluetooth 4.0. Other features include 1.2MP front- and 8MP rear-facing cameras and battery life rated at up to 11 hours.
The Encore 2 Write is available in two sizes at present, 10.1" and 8", though both are only 1280x800 resolution panels. The 8" model measures 132mm x 211mm x 9.4mm and weighs 381g, with a 15Wh battery capacity. It is available now with an MSRP of $350. The larger 10.1" tablet measures 259mm x 175mm x 8.9mm and weighs 550g with an MSRP of $400. Both tablets include Windows 8.1 with Bing and include a 1-year subscription to Office 365 Personal. While the pricing is a bit higher than I'd like, again I applaud the inclusion of 64GB of storage as the default, and the Wacom Active Capacitance Pen is certainly going to be worth the added cost for some users.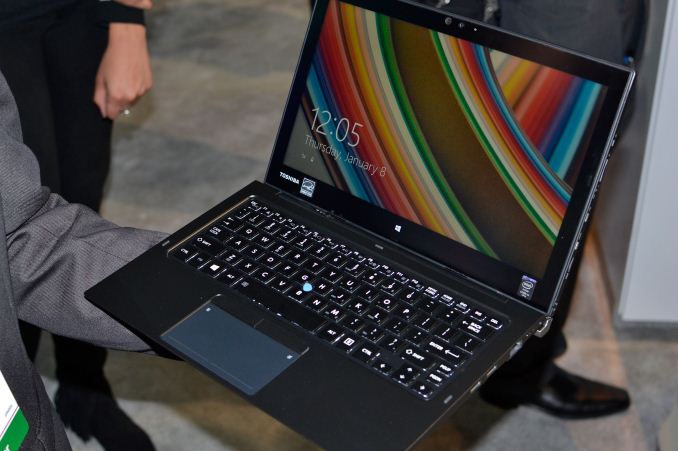 Moving over to the hybrid/Ultrabook side of things, the Portege Z20t is a new device sporting Core M processors with a 12.5" 1080p IPS display. It also supports and includes a Wacom stylus – it appears to be the same stylus as in the Encore 2 Write with 2048 points of pressure sensitivity, though I'm not sure if the same Tru apps available on the Encore 2 Write are available (which would be a shame if they're not).
Other features on the tablet include 2x2 802.11ac WiFi + BT4.0 (Intel AC-7265), micro USB 2.0, micro HDMI, micro SD, and an "emergency pen" (not as nice as the full stylus but still usable – see the gallery); the tablet has a built-in 36Wh battery and 2MP front- and 5MP rear-facing cameras. Moving over to the keyboard dock, it adds a second 36Wh battery (good for 17.4 hours of combined battery life), touchpad, backlit keyboard with full size keys, pointing stick, VGA port, full size HDMI port, Gigabit Ethernet port, and two USB 3.0 ports.
The Portege line is for business users, so as you'd expect the pricing and features are going to go after that market. As such, the Z20t is available with either a Core M-5Y51 or Core M-5Y71, with either 4GB RAM on the base model or 8GB on the upgraded models. Storage consists of 128GB M.2 SSDs for two of the models, with the top spec going for 256GB of M.2 storage. The base model has an MSRP of $1400, while upgrading to 8GB RAM and the faster Core M processor bumps the price up to $1600, and if you want 256GB of storage that brings the total to $1700. If you just want the tablet portion (without the digitizer or keyboard), it is available as the Portege WT20 with a starting price of $900. The Z20t is available for order now while the WT20 should be available in February.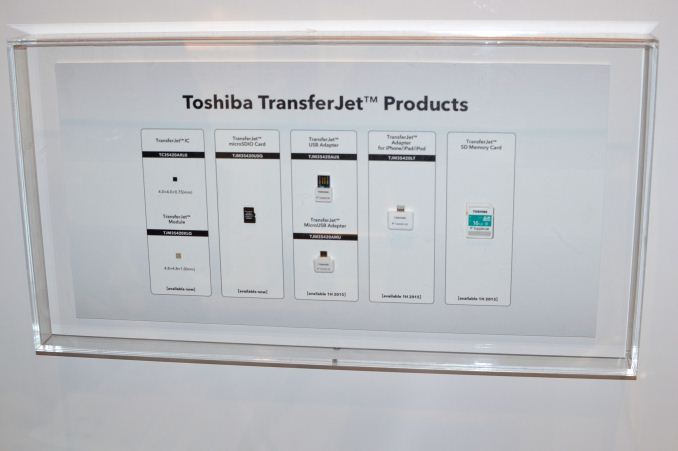 Finally, I wanted to quickly talk about TransferJet, a protocol and set of devices designed to allow high speed transfers of data between devices simply by touching them together. TransferJet isn't new (it's been around for a few years), but Toshiba now has TransferJet adapters for iOS devices (the first time anyone has done TransferJet on iOS apparently) as well as second generation USB adapters for Windows and micro USB adapters for Android.
TransferJet uses a close proximity ultra-wideband wireless technology to send and receive data at up to 560Mbps, though of course you need flash devices capable of reading/writing at those speeds to make it work and wireless overhead means the theoretical maximum is closer to 375Mbps. The short range also means TransferJet won't disrupt other WiFi services and there's little potential for accidental data leakage (plus you can lock devices to only speak to other registered TransferJet devices). Basically, think of it as NFC but with about 1000 times the potential bandwidth for data transmission.
The way TransferJet works is that you open up the TransferJet app on one device, select the files you want to send, and then touch the two TransferJet adapters together. Toshiba demonstrated transmission of a 100MB movie in about 3 seconds using TransferJet with their new iOS adapter. The problem is that TransferJet has been available in a few devices going back as far as 2010, but it still hasn't gained much traction that I can see. Until/unless we see more devices directly incorporate TransferJet, it will likely remain more of a niche protocol.
Source: Toshiba