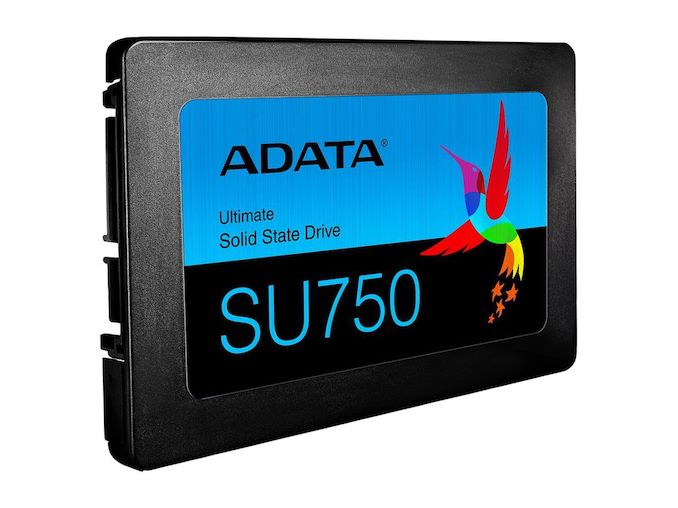 Realtek may only be a household name for particularly nerdy families, but their chips are everywhere in the PC industry. They are best known for their near-ubiquitous audio codecs and for their networking chips. Their products are usually not known as the absolute best quality that money can buy, but they consistently offer "good enough" performance and feature sets combined with very affordable pricing that wins over OEMs and gets Realtek devices in the hands of any consumer that isn't deliberately avoiding them.
In recent years, Realtek has set their sights on the SSD market. Some of their earliest attempts to make SSD controllers were more or less failures (eg. a 55nm NVMe controller that could barely break 1GB/s), but they now have a full lineup of controllers are ready to compete in almost every market segment. This is where ADATA comes in; we can usually count on them to try out all the SSD controllers and NAND options available. They end up shipping more of those experiments than is really sensible, and that contributes to their confusingly broad product lineup. However, they are more judicious with their review sampling, which is why we're looking at Realtek's second-generation SSD controllers.
We're starting our look into ADATA's Realtek-based SSDs at the low end of the product stack, with the ADATA Ultimate SU750, a DRAMless SATA SSD using the RTS5733 controller and 3D TLC NAND. This drive is also being sold as the Amazon-exclusive ADATA SU760.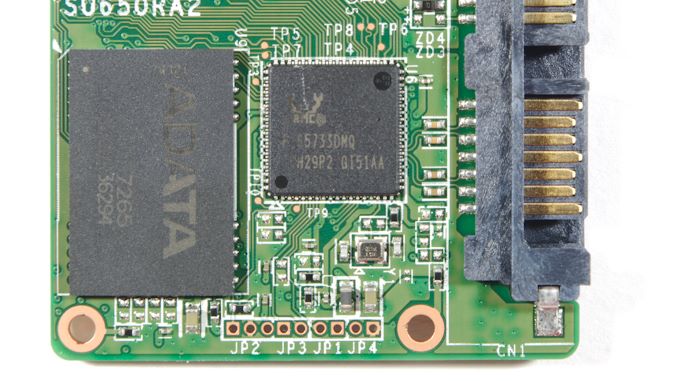 The RTS5733 controller is a mere two-channel design, which puts it in the same league as controllers like the Phison S11, used in a variety of budget SATA drives. Quite a few other budget drives use Silicon Motion 4-channel controllers like the SM2258XT, and they don't seem to have any trouble competing on cost with drives using smaller 2-channel controllers.
Part of Realtek's overall SSD controller strategy is an emphasis on reducing the need for external DRAM on the SSD; the performance penalties that come from having little or no DRAM are partially offset by including larger buffers on the controller itself, but the precise amount has not been disclosed.
ADATA Ultimate SU750 SSD Specifications
Capacity
256 GB
512 GB
1 TB
Form Factor
2.5" SATA
Controller
Realtek RTS5733DMQ
DRAM
None
NAND Flash
Micron 64L 3D TLC
Sequential Read
550 MB/s
Sequential Write
520 MB/s
Random Read
65k IOPS
Random Write
75k IOPS
Warranty
3 years
Write Endurance
200 TB
0.7 DWPD
400 TB
0.7 DWPD
800 TB
0.7 DWPD
Current Retail Price
$31.99
(12¢/GB)
$51.99
(10¢/GB)
$94.99
(9¢/GB)
The ADATA SU750 uses Micron 64L 3D TLC NAND flash memory, the same as most of ADATA's current SSD models. ADATA does their own binning and packaging of NAND, and it appears that the SU750 gets pretty good quality flash: the write endurance ratings are roughly 0.7 drive writes per day for the 3-year warranty period, equivalent to about 0.4 DWPD over 5 years. This is slightly higher endurance than quite a few of ADATA's own SSDs that come with 5-year warranties. If anything, we usually expect DRAMless SSDs to get lower endurance ratings due to less effective wear leveling.
The use of a DRAMless, two-channel controller doesn't hurt the sequential IO specs for the SU750, but it does lead ADATA to give it lower random IO performance ratings than mainstream drives that can saturate the SATA link. The random read performance takes the bigger hit, which is normal for DRAMless drives.
The construction of the SU750 is typical for a low-end SATA drive. The case is half metal, half plastic, and held together with clips rather than screws. The PCB inside takes up only a third of the available space. The bulk of that PCB space is taken up by two NAND packages on each side, containing 256GB each for our 1TB sample. The two-channel DRAMless controller itself has a fairly low pin count and consequently small footprint.
The Competition
We don't get really low-end SSD samples very often, but we do have the Toshiba TR200 as a representative of the many drives that use the Phison S11 controller with Toshiba NAND. We also have the Samsung 860 QVO, a QLC-based SSD that belongs in this entry-level segment even if Samsung refuses to price it accordingly. Also of note is the ADATA SU800, an older model with Micron 32-layer 3D TLC that is slower and cheaper than current mainstream SATA drives, but usually outperforms any DRAMless SATA drive thanks to the SU800's DRAM buffer. (Note that the largest SU800 we have is the 512GB model, so it's at a potential disadvantage to the 1TB SU750.) The rest of the drives we are comparing the SU750 to are in higher tiers, though the price differences between mainstream SATA drives and an entry-level model like the SU750 can be all but erased by a good sale.
The Crucial BX500 and Mushkin Source are similar DRAMless SATA drives in direct competition with the SU750. We've tested a smaller capacity of the Source, but have not tested the BX500.
AnandTech 2018 Consumer SSD Testbed
CPU
Intel Xeon E3 1240 v5
Motherboard
ASRock Fatal1ty E3V5 Performance Gaming/OC
Chipset
Intel C232
Memory
4x 8GB G.SKILL Ripjaws DDR4-2400 CL15
Graphics
AMD Radeon HD 5450, 1920x1200@60Hz
Software
Windows 10 x64, version 1709
Linux kernel version 4.14, fio version 3.6
Spectre/Meltdown microcode and OS patches current as of May 2018