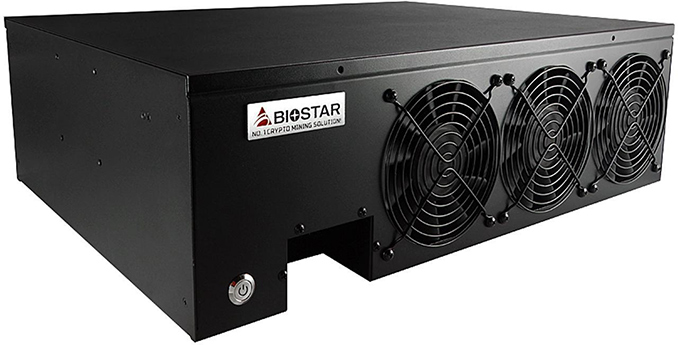 Just in time for this week's dive in cryptocurrency prices, Biostar has started selling its specially designed all-in-one rig for mining. The iMiner A578X8D is a complete black box crypto mining solution for eight GPUs, and notably does not use any riser cards. As a result, the fully-integrated miner is touted as being extra-durable to ensure stable 24/7 operation and an equally stable hash rate.
The Biostar iMiner A578X8D is based on the company's TB250-BTC D+ motherboard featuring Intel's Celeron G3930 processor (two cores, 2.9 GHz, 51 W TDP), 4 GB of DDR4-2400 memory, and a 120 GB SSD. The system is equipped with eight AMD Radeon RX 570 graphics cards and a 1600 W PSU to provide these GPUs a stable supply of power. The crypto mining rig supports ETH, ETC, XMR, and ZEC currencies out of the box, which greatly simplifies its deployment. According to the manufacturer, one iMiner A578X8D can deliver ETH hash rate of 220 MH/s (+/- 5%).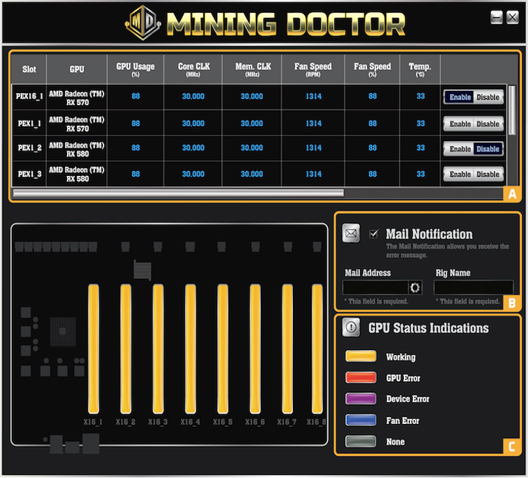 The mining rig is outfitted with seven fans to ensure sufficient cooling. In addition, the TB250-BTC D+ motherboard has a PCIe slot state detection that can check the state of each GPU and discover whether everything works properly. If the iMiner detects an error, it automatically sends an email notification to enable remote management of the rig.
The all-in-one mining farm is now available from Newegg for $3,499. Later on the company is expected to start selling other AIO mining rigs that will pack six and 12 GPUs, thus offering a bit lower and higher performance.
Biostar iMiner
A564X12
A578X6
A578XD
Motherboard
TB250-BTC Pro
TB250-BTC D+
CPU
Intel Celeron G3930
Dual Core
2.9 GHz
51W TDP
Memory
4GB DDR4-2400
4GB DDR4-2400
SSD
90GB
120GB
Video Card(s)
12x RX 560 4G
6x RX 570 8G
8x RX 570
Power Supply
1300W, ≥88% efficiency
1600W, ≥88% efficiency
Chassis
Black, 5x 120mm fans
Black, 7x 120mm fans
Hashrate (ETH)
148 MH/s (±5%)
165 MH/s (±5%)
220 MH/s (±5%)
Dimensions (LxWxH)
N/A
19.8" x 13.58" x 5.84"
Related Reading: