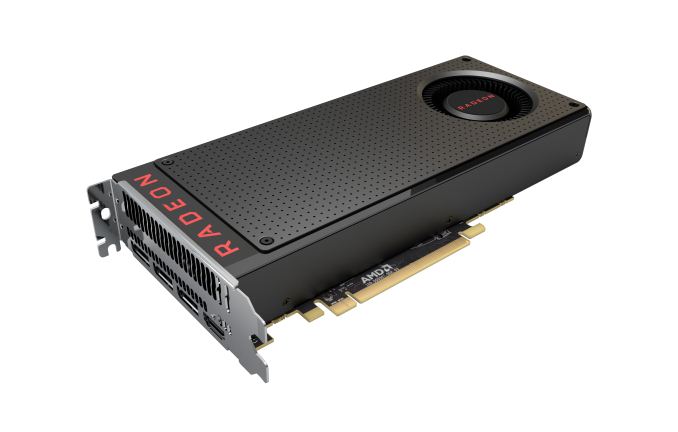 This week, Jon Peddie Research (JPR) reported significantly higher discrete GPU shipments for Q2 2017, attributing the historically unprecedented increase to cryptocurrency mining, specifically to Ethereum mining. As opposed to the cryptocurrency mining demand of a few years ago, JPR notes that the ASIC-resistant nature of Ethereum mining has especially encouraged GPU mining. In terms of discrete desktop graphics market share, AMD gained a few percentage points from NVIDIA, bringing the current balance to AMD's 29.4% versus NVIDIA's 70.6%.
In context, the GPU and PC markets fluctuate in a relatively consistent seasonal pattern: shipments trend flat to down in Q1, notably down in Q2, notably up in Q3, and up to flat in Q4. According to JPR, Q2 2017 has seen an unprecedented 31% increase in discrete GPU shipments from Q1, the first time in over eight years that Q1-to-Q2 shipments have seen an increase at all. Discounting the minor increases during the recession, Q2 has always been the seasonally weak quarter for graphics card shipments.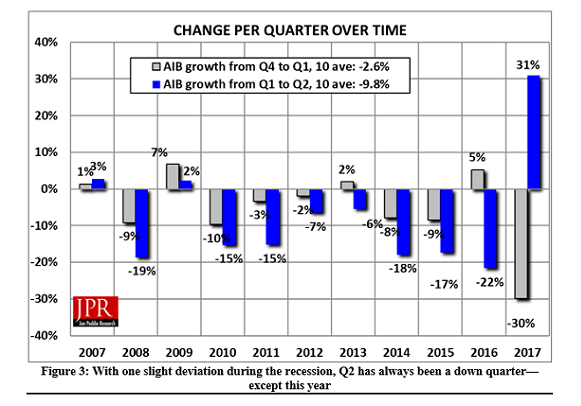 Drawing a contrast to the limited Bitcoin and Litecoin mining impact on 2013 shipments, JPR identifies the memory-intensive Ethash, Ethereum's hashing algorithm, as deterring ASIC development for Ethereum mining, and in turn any sudden GPU-displacing bust. That is, during the Bitcoin boom, low cost ASICs displaced GPUs. Consequently, JPR does not see a repeat of market cannibalization by used mining cards. While the diminishing return-on-investment (ROI) will eventually flatten out Ethermining-fueled GPU demand, this quarter saw a direct and significant Ethermining/cryptomining impact on discrete graphics demand.
On the back of that cryptomining demand, discrete GPUs have regained market share over integrated GPUs (iGPUs). Weak iGPU and desktop PC shipment numbers continue to reflect the overall declining PC market, while the high-end gaming PC sector continues to be the bright spot for the market. Overall, GPU shipments increased by 7.2% from last quarter.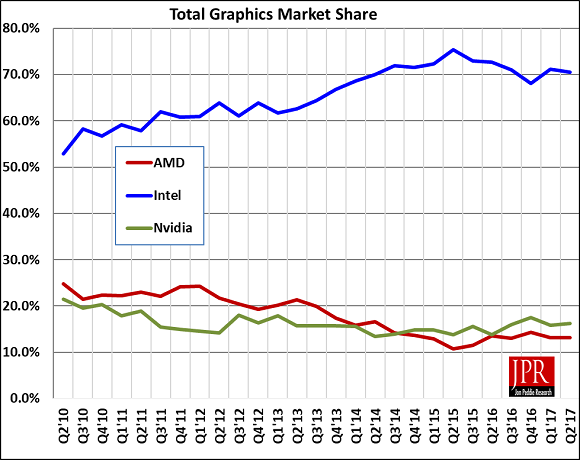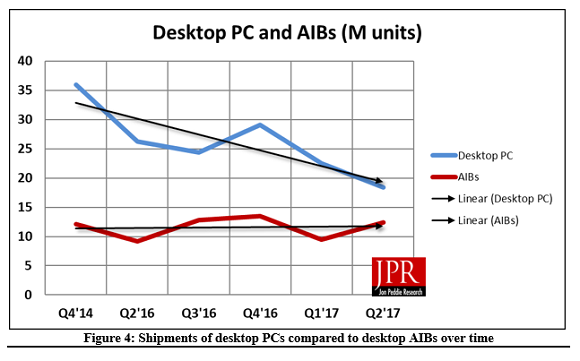 Vendor-wise, JPR reports that AMD's overall unit shipments increased 7.8% quarter-to-quarter, Intel's shipments increased 6.3%, and NVIDIA's shipments increased 10.4%. As mentioned earlier, AMD did gain market share in discrete desktop graphics, but still remains below last year's market share level.

For AMD, their market share is back to Q2 2016 levels of around ~30%. The past year has seen launches of NVIDIA's Pascal-based consumer cards, as well as of AMD's Polaris-based RX 400 and 500 series cards; of the latter, the Polaris-based cards were explicitly a volume-play, and did not target the high-end market. To that end, the GTX 1070 and above did not have competition until this month, with AMD's launch of RX Vega cards, and on the face of it, while Polaris has improved AMD's market share against NVIDIA, it has not made a dramatic difference. As the next few months roll on, the RX Vega cards, as well as Vega 11-based cards, will play a large role in AMD's aspiring return to its historical 35% – 40% discrete desktop GPU market share.
For cryptomining demand, the remarkable impact on discrete graphics shipments does match up with general reports of mainstream graphics card shortages. When we looked at the discrete graphics market in Q2 and Q3 of 2016, the cryptocurrency mining demand then was nothing like this quarter. Now that the Ethereum mining mania has been quantified into numbers, it has revealed some of the context and reasoning behind cryptomining cards, cryptomining motherboards, and Radeon Pack bundles. And what the numbers reveal is that Ethereum GPU mining has been ridiculous in every sense of the word.
While Ethereum itself will die down eventually, it is anybody's guess if GPU cryptomining booms will be firmly part of graphics card economics.
Source: Jon Peddie Research