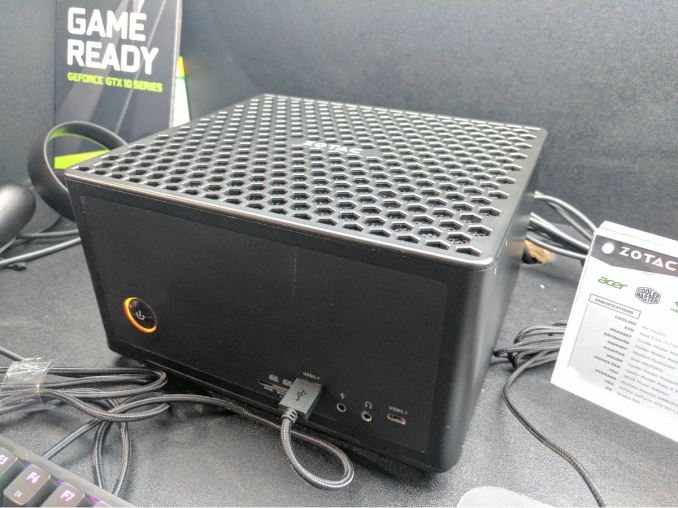 Besides of course their video cards, Zotac's other claim to fame is their variety of mini-PCs. For this year's Computex trade show, the company did not disappoint, with the announcement of a new generation of Magnus gaming mini-PCs.
The big change for the upcoming family of Magnus boxes is that they have been revamped to make room for some of Zotac's mini-branded video cards, including the GTX 1060 and GTX 1070. Previously, the ZBox Magnus family utilized the mobile versions of NVIDIA's 10-series GPUs.
The new ZBox Magnus lineup consists of four different models, with two sporting Intel CPUs and two featuring AMD Ryzen processors. The company wasn't clear on which specific AMD Ryzen chips would be utilized, but it did disclose that they would sport a 65W TDP.
Zotac ZBox Magnus (2017) Barebones PC
EK51060
EK71070
ER51060
ER51070
CPU
Intel Core i5-7300HQ
Intel Core i7-7700HQ
AMD Ryzen
AMD Ryzen
Video Card
Zotac GeForce GTX 1060 Mini
Zotac GeForce GTX 1070 Mini
Zotac GeForce GTX 1060 Mini
Zotac GeForce GTX 1070 Mini
Memory
2x DDR4 SO-DIMM
Storage
1x M.2 (PCIe & SATA) + 1x 2.5" SATA Bay
Networking
2x Gigabit Ethernet +
802.11ac
Connectivity
4 x USB 3.0 Type-A
1 x USB 3.1 (Gen 2) Type-A
1 x USB 3.1 (Gen 2) Type-C
1 x 3.5mm headset
3-in-1 Card Reader
Each of the two Intel ZBox Magnus offerings sport different CPUs and GPUs, with the Magnus EK51060 featuring an Intel Core i5-7300HQ and a Zotac GeForce GTX 1060 Mini. The Magnus EK71070 sports an Intel Core i7-7700HQ. Both offer support for Intel Optane memory with an M.2 2242/2260/2280 slot.
Over on the AMD side of the ZBox spectrum, the new Magnus ER51060 features an undisclosed AMD Ryzen CPU and a GTX 1060; the new ER51070 sports a Zotac GTX 1070 Mini. If the naming convention of each model is any indication of the hardware inside (see the Intel models), the CPUs will likely be Ryzen 5 chips.
All of the new ZBox Magnus PCs feature an M.2 slot for PCIe or SATA SSDs, a 2.5" drive bay, and support for up to 32GB (2x16GB) of DDR4-2400 SODIMM memory. There's also four USB 3.0 ports, two USB 3.1 ports (one Type-A, one Type-C), and a 3-in-1 card reader. Network connectivity is provided by two gigabit Ethernet ports and 802.11ac WiFi. For display output, the new ZBox Magnus PCs sport the same outputs as the GPUs; three DisplayPort 1.4 interfaces, an HDMI 2.0 port, and a DVI-D connector.
Pricing and availability for the new ZBox Magnus mini PCs is still undetermined.
Derek Forrest contributed to this report