Performance Metrics - I
The Zotac ZBOX CA320 nano was evaluated using our standard test suite for low power desktops / industrial PCs. We revamped our benchmark suite earlier this year after the publication of the Intel D54250WYK NUC review. We reran some of the new benchmarks on the older PCs also, but some of them couldn't be run on loaner samples. Therefore, the list of PCs in each graph might not be the same.
Futuremark PCMark 8
PCMark 8 provides various usage scenarios (home, creative and work) and offers ways to benchmark both baseline (CPU-only) as well as OpenCL accelerated (CPU + GPU) performance. We benchmarked select PCs for the OpenCL accelerated performance in all three usage scenarios. These scores are heavily influenced by the CPU in the system. The main system for comparison is the ECS LIVA, a fanless Bay Trail PC (that is alot cheaper, but comes with soldered DRAM and eMMC intead of a SO-DIMM slot and ability to take a 2.5" drive). Interesting, the AMD A6-1450 compares quite favourably with the Bay Trail Celeron J1900-based GIGABYTE BXBT-1900, even though the latter is actively cooled. Other than that, there is no surprise in these graphs - particularly, the performance lag when compared to a Haswell-Y CPU with similar TDP levels in the ZBOX CI540 nano.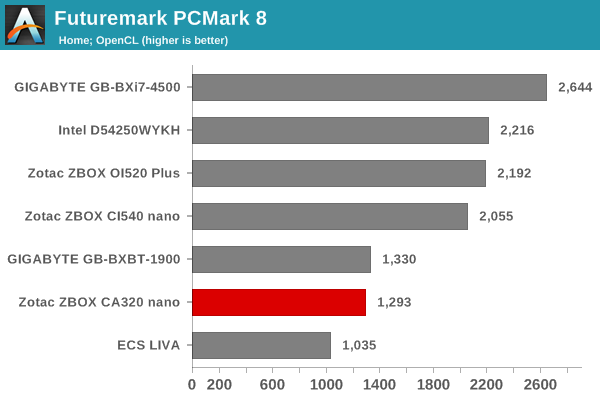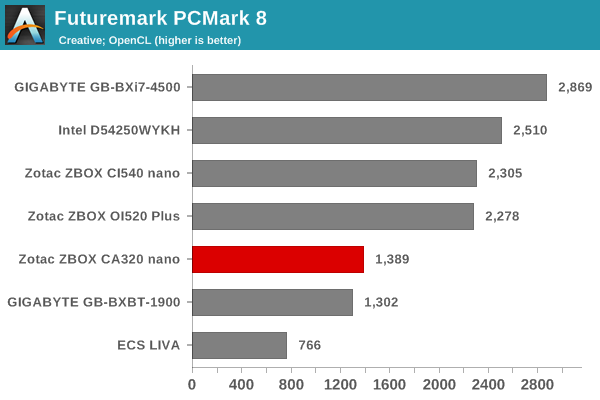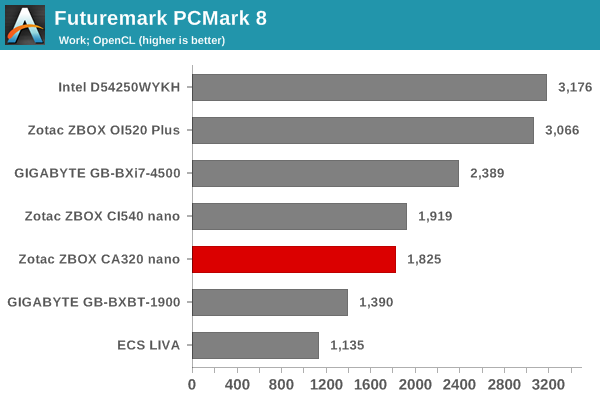 Miscellaneous Futuremark Benchmarks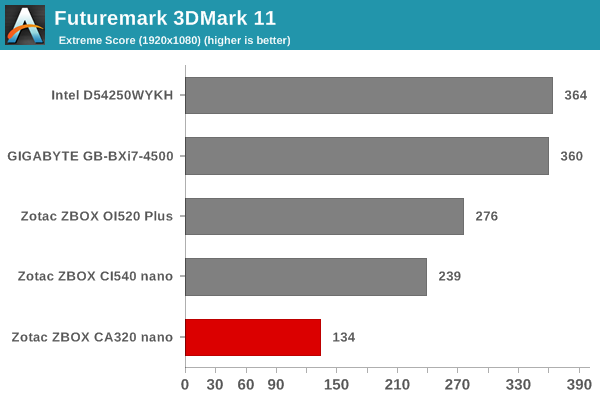 One of the interesting aspects of the 3DMark 11 benchmarks was that we were unable to get Bay Trail-based units to complete any run other than the Entry-level workload. The Temash-based ZBOX CA320 nano had no trouble processing both the Entry and Extreme workloads. Both graphs are presented here. Temash's HD 8250 seems to be no match for the IGP in the Haswell Core i5-4210Y, but it handily surpasses the IGP in the Bay Trail SoCs. The latter aspect is the important point - Temash-based units are competing at the same price points as the Bay Trail-based ones.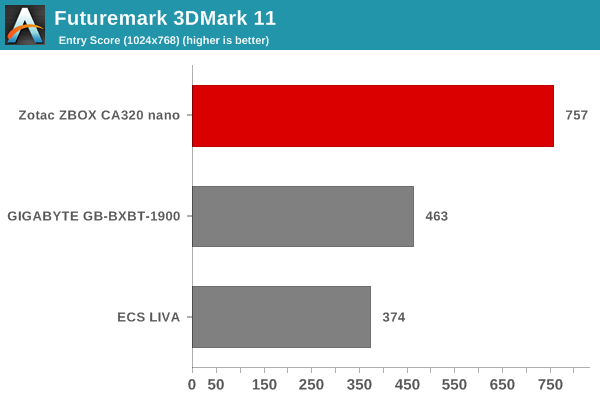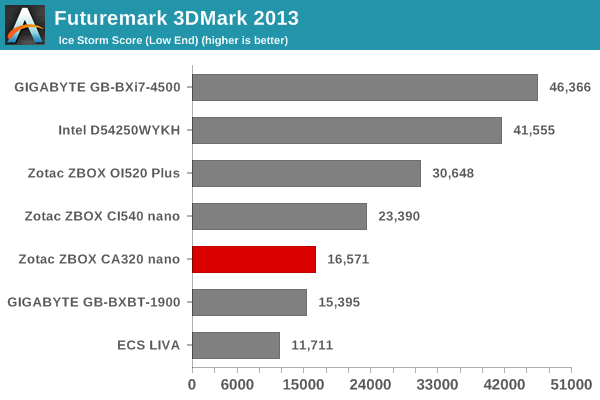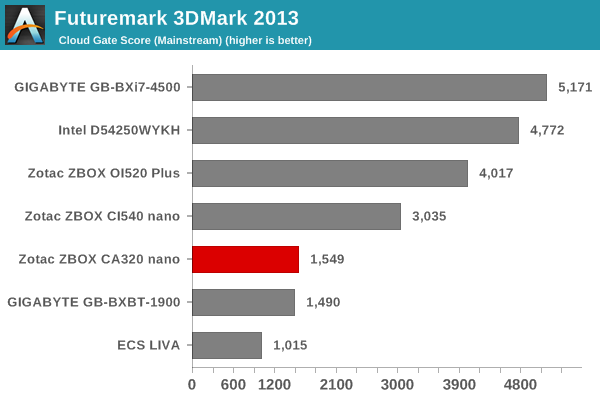 3D Rendering - CINEBENCH R15
We have moved on from R11.5 to R15 for 3D rendering evaluation. CINEBENCH R15 provides three benchmark modes - OpenGL, single threaded and multi-threaded. Evaluation of select PCs in all three modes provided us the following results.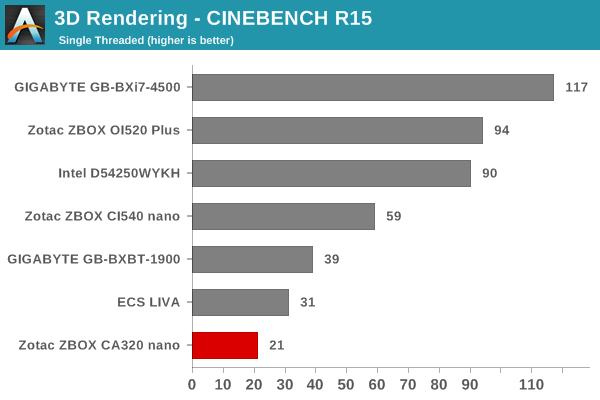 Single-threaded performance for Temash seems to be quite a bit worse compared to even the Bay Trail-based Celeron N2807 in the ECS LIVA. However, multi-threaded performance is better for the Cinebench workload, thanks mainly to the presence of double the number of cores / threads (4 vs. 2) in the A6-1450. The GPU capabilities as exposed by the OpenGL run (and also seen in the 3DMark benches) is also better for Temash compared to Bay Trail.