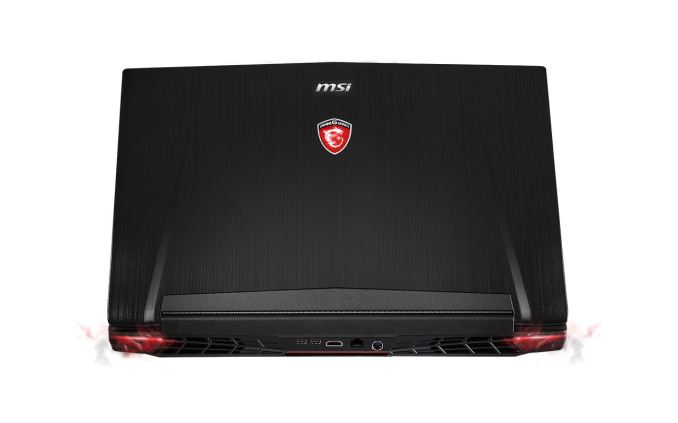 NVIDIA just launched their new GTX 980M/GTX 970M GPUs, and unfortunately we were unable to get a notebook in time for testing… which just changed this morning a couple hours after the launch article went live. We've covered MSI's GM204 notebooks already, and now we have a sample GT72 sample from MSI for review. The GT72 Dominator is available in seven different configurations, two "Dominator" SKUs with GTX 970M and five "Dominator Pro" SKUs with GTX 980M. We received the GT72 Dominator Pro-208 for testing, which has the following specifications:
GT72 Dominator Pro-208 Specifications
CPU
Core i7-4710HQ (2.5-3.5GHz)
GPU
NVIDIA GeForce GTX 980M 8GB
Intel HD 4600 (Manual Switching)
RAM
32GB (4x8GB) DDR3L-1600
SSD
512GB M.2 SATA SSDs
(4x128GB SSDs in RAID 0)
HDD
1TB 7200RPM
Optical
Blu-ray Burner 9.5mm
Display
17.3" Full HD eDP Anti-Glare (1920x1080)
Networking
Killer Gaming Network
Killer N1525 Combo (2x2 802.11ac + BT 4.0)
I/O Ports
6 x USB 3.0
Flash Reader (SDXC/SDHC)
HDMI 1.4
2 x mini-DisplayPort 1.2
Input
Steel Series Keyboard
Multi-touch Touchpad
Power
9-cell battery
230W AC adapter
Extras
Full HD webcam (1080p30)
Configurable Multi-colored Backlighting
Anti-Ghost Key
OS
Windows 8.1 Multi-Language
Dimensions
16.85" x 11.57"x 1.89"
(428mm x 294mm x 48mm)
Weight
8.4 lbs. (3.82kg)
Pricing
$3000 MSRP
$2900 Online
Once you get past the sticker shock, what we're looking it is a top of the line gaming notebook. MSI's GT72 is an overhaul of their previous GT70 design, with a new motherboard and chassis. The updates includes a slimmer and slightly lighter chassis with two cooling fans, six USB 3.0 ports (instead of five USB ports with two of them being USB 2.0 on the GT70), two mini-DisplayPort 1.2 ports (no VGA now), and a switch to M.2 SATA for SSDs instead of mSATA.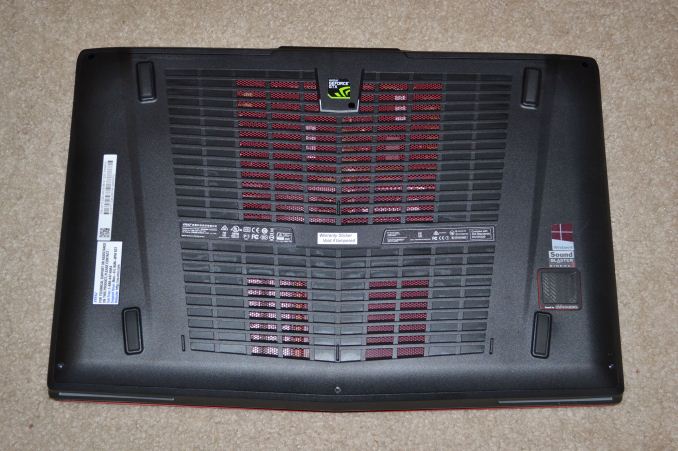 MSI also supports up to four M.2 SSDs now instead of three mSATA SSDs, with the option to go as high as a 1TB SSD array. I'm still not really convinced the RAID SSDs are the best solution for storage, and the cost of the SSDs looks to be quite high relative to 2.5" SSDs. For instance, the Samsung 850 Pro 512GB only costs $380 while MSI charges $350 to go from two 128GB SSDs to four 128GB SSDs (and 24GB to 32GB RAM). That said, the RAID 0 set of four SSDs should at least provide a hefty sustained throughput if that's what you need.
There is one concern with the configuration we've received for testing, and that's the choice of CPU. On a $3000 notebook, I'm a bit worried that the i7-4710HQ might be a bottleneck in some games. Of course, those are going to be games that tend to be CPU limited anyway (e.g. Skyrim and StarCraft II, which we're no longer running for precisely that reason). Still, we ran into cases where the previous generation GTX 780M was held back by the use of i7-4700MQ in the notebook we tested, and i7-4710HQ isn't much better.
I also find it curious that MSI has opted for the soldered onto the motherboard CPUs in place of the socketed i7-4710MQ. Perhaps it came with some space savings, but it means that whatever you start with will remain your CPU for the life of the laptop. On the other hand, I don't know many people who have upgraded notebook CPUs, so I suspect this will be more of a limitation for system integrators than for end users. Another concern is the lack of Optimus support; some people dislike Optimus and it can get in the way on occasion, but going back to manual switching at the press of a button (with a reboot in between) isn't necessarily great either.
Running our full suite of notebook tests obviously requires quite a bit of time, so we're not going to be done with the complete review of the MSI GT72 Dominator Pro for at least a few days. But considering this is first and foremost a gaming notebook, we felt a short preview of the graphics performance was in order. We've run all of our current crop of gaming tests (along with a couple extras for good measure).
Since we have a decent selection of MSI notebooks still available for testing, I've confined the reported results to those notebooks. That means we're looking at the GE60 Stealth Pro, GS60 Ghost Pro 3K, GT70 Dominator Pro (GTX 880M), and the new GT72 Dominator Pro-208. (Note that if you're just after the GTX 980M, the GT72 Dominator Pro-211 drops to a single 128GB SSD and 16GB RAM for $2300.) We're also looking to get a notebook with a GTX 970M for testing, but we haven't received one yet; performance should be pretty close to the 880M in most cases, though with potentially better battery life and support for new features like VXGI and DX12.
But first, let's unwrap this "present" and see what MSI has sent along....