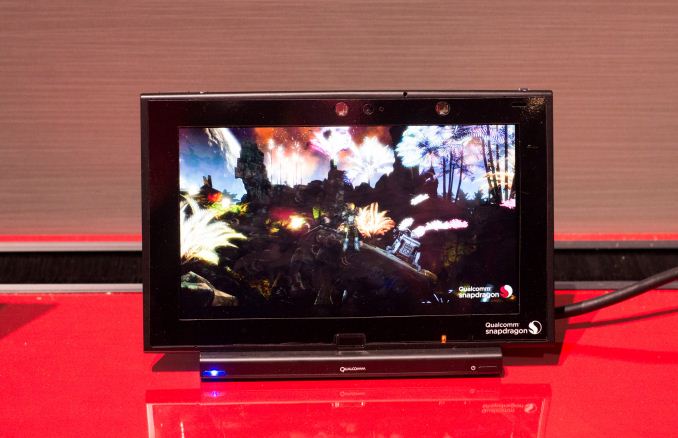 I don't know of any other mobile SoC vendor (outside of Apple) that has been able to deliver frequent, consistent architecture and product updates as well as Qualcomm. Its latest Snapdragon SoCs remain the ones to beat across all Android smartphones, and are generally found in many of the more desirable Android tablets. Last year we saw the announcement of Qualcomm's Snapdragon 805 that combines four Krait 450 CPU cores with a brand new Adreno 420 GPU, all behind a 128-bit wide memory interface. It's a pretty significant step forward at the SoC level, but particularly when it boils down to graphics. Qualcomm is promising a 40% increase in shader bound workloads compared to Adreno 330, which is pretty impressive given that we're still talking about a 28nm HPM design.
With a GPU heavy focus, Qualcomm was more than eager to show off a bunch of games running on Snapdragon 805 tablets at the show. These tablets were all running at 2560 x 1600 and had no issues delivering smooth, playable frame rates regardless of the content.
With Adreno 420 Qualcomm adds hardware tessellation, and of course had a tessellation demo at the show:
Demonstrating the additional GPU overhead offered by Adreno 420 over Adreno 330, Qualcomm had a GPU utilization monitor up on one of the systems. This test allegedly had Adreno 330 utilization at close to 100%, compared to sub-60% on Adreno 420.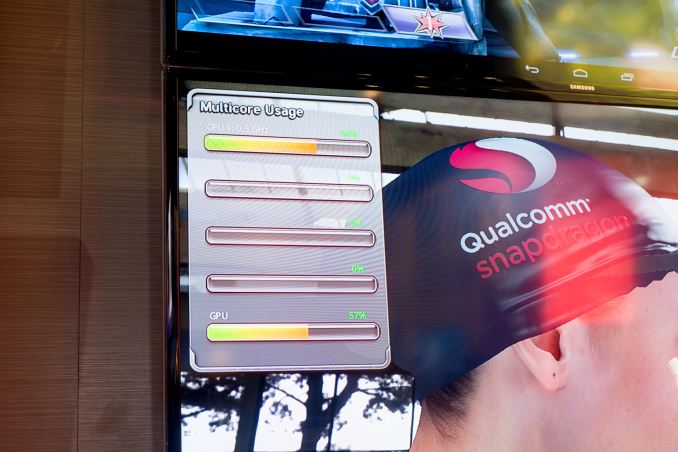 Qualcomm also had Unreal Engine 3 and Unity demos, demonstrating that the company has been working closely with top tier engine providers. I fully expect the mobile GPU wars to heat up this year with Adreno 4xx from Qualcomm, mobile Kepler from NVIDIA and Apple likely moving more aggressively after the milder than expected GPU update in the A7.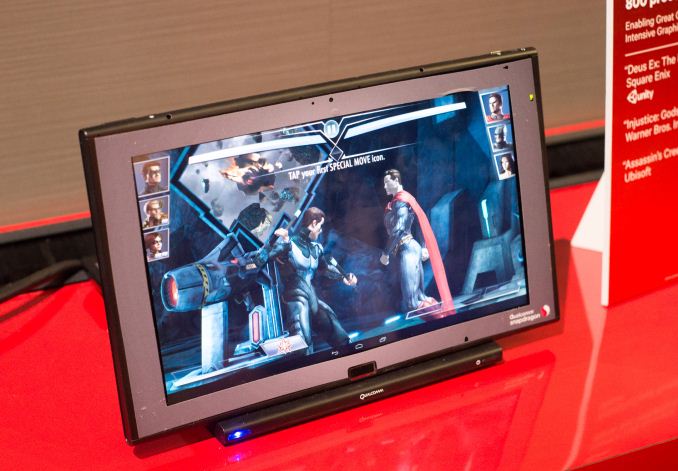 Snapdragon 805 is also the first Qualcomm SoC to integrate HQV's video processing IP post acquisition, which Qualcomm promptly showed off at the show with a sequence of 1080p video upscaled to 4K. Even on the reference tablet's 2560 x 1600 resolution there's a decent quality improvement: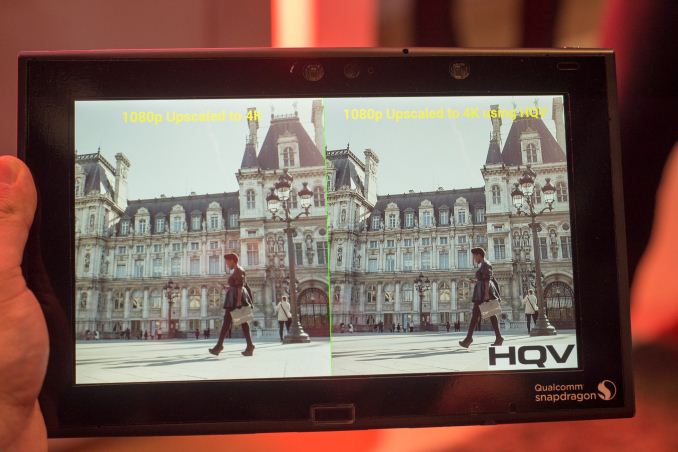 Good quality scaling hardware is very important, especially as tablets move to ultra high resolutions while most mobile content remains at 1080p.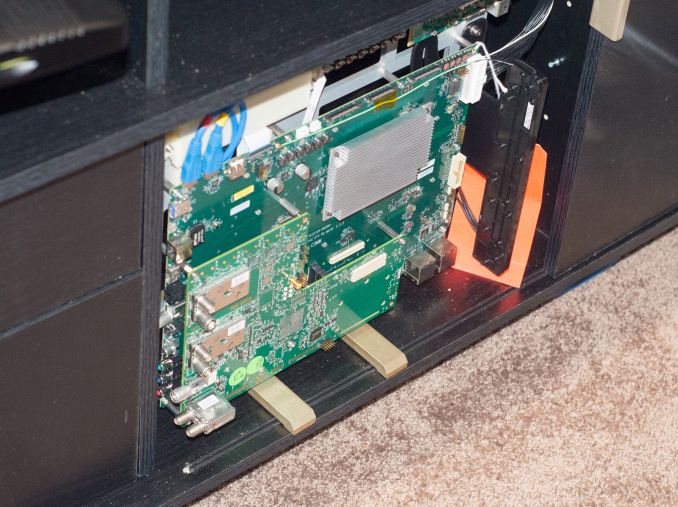 Although it didn't announce any new mobile SoCs at CES last week, Qualcomm did introduce new automotive and TV SoCs: Snapdragon 602A and 802, respectively. The latter is a variant of Snapdragon 800, intended for use in TVs. Qualcomm had a reference board up and running showing off a 4K TV with a native resolution UI, driven by the SoC's Adreno 330 GPU. Qualcomm even had Riptide running, at 4K, all off of the adapted mobile SoC.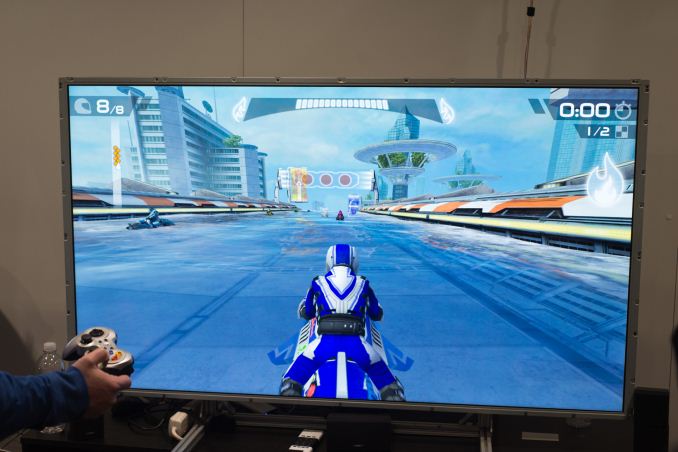 There are many believers (including NVIDIA's Jen-Hsun Huang) in the view that automotive applications of high performance mobile SoCs will be huge. You could make the same argument for high performance mobile SoCs in TVs as well. Traditionally, large amounts of user facing compute power have been kept out of both of those applications. Should that tradition stop now, the current day leaders in mobile will likely have a big advantage in entering those markets. Just as we saw in mobile however, I suspect a big part of compute being useful in cars and TVs will depend on having the right software to properly take advantage of the hardware.