Ergonomics
We've always thought the iPad was on the heavier side for prolonged use, particularly for one handed use. This was something more true for the 1st/3rd/4th gen iPads than for the comparatively svelte iPad 2, but at 1.33-1.5lbs, they were all too heavy for truly ultramobile use . The mini changes that in a big way, introducing a chassis that has 60% of the footprint and 47% of the weight of the latest 4th gen iPad in a 25% thinner frame, but even versus the iPad 2, the mini is a featherweight. It's thinner than both the 4th generation iPod touch and iPhone 5, though not as ridiculous as the 6.1mm frame of the latest iPod touch. At 7.2mm thick and 0.68lbs, the mini has the size and weight part absolutely nailed.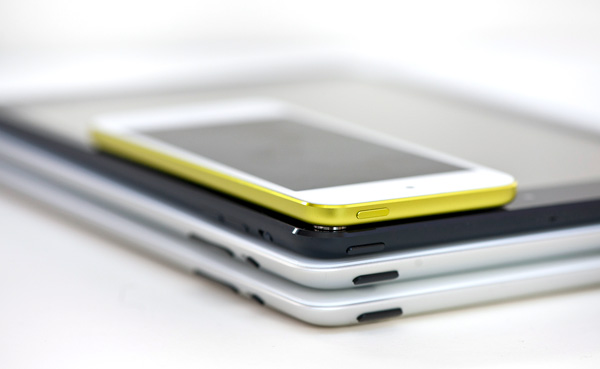 From top to bottom: iPod Touch (5th gen), iPad mini, iPad 2, iPad 4
Part of this is due to the smaller screen, but the bezel around the display has also been whittled down significantly, particularly on the sides, so it's actually possible to grip in portrait mode with one hand if you don't have particularly small hands. I wouldn't necessarily call it comfortable to do, certainly not as natural as on a 7" 16:10 widescreen Android tablet. It's definitely possible, but about 10mm too wide to do it properly.
The best way that I found, actually, was to hold it like a paperback book - pinky underneath for vertical support, thumb on the side for horizontal support, and the rest of the hand spread across the back. The mini is actually light enough that this is a perfectly natural way to do it no matter which hand you prefer holding the tablet in.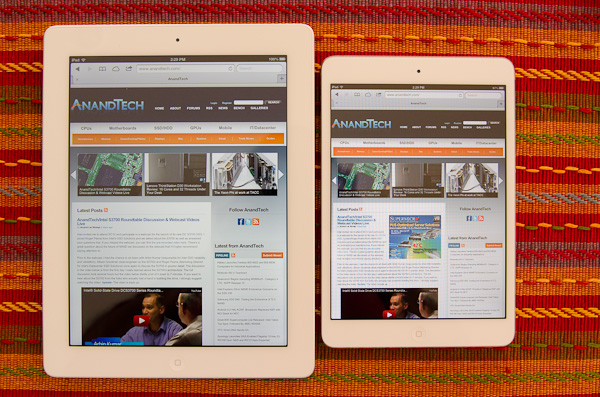 It's just an absolute joy to carry, the weight and thickness really make a big difference in the ergonomics as well as the portability. The footprint, too, has opened up some more mobile use-cases. You can easily use the iPad mini when walking around, something I found exceedingly difficult to do with the 9.7" iPad or any other 9-10" tablet without looking out of place and feeling like I was going to drop it every time I tried to walk at a normal, semi-rushed urban pace. The mini fits more readily in car gloveboxes and center console bins too, and it generally is a much more handy device.


iPad mini (left) vs Nexus 7 (right)
It's about a centimeter too wide to fit into the back pockets of my jeans and about 5mm too much for the inside pocket of my jacket, but with baggier clothes it's a non-issue. The N7 does fit into my jeans, though not comfortably (is there any situation in which a pocketed tablet does?). The mini will fit really easily in most purses, and fits in most suit jacket inner pockets, so it's about as portable as you can get. I already have CES plans that involve stashing a mini in my suit and relying on that and my phone for web publishing from the show floor.
If you're familiar with 7" Android tablets or, my previous favorite portable tablet form factor, the 7.7" devices from Samsung and Toshiba, this really isn't news. The smaller tablets, particularly the Nexus 7 and the Galaxy Tab 7.7/7.0+, have excelled at bringing a content consumption experience that is as good or better their larger 10.1" counterparts in a cheaper, more portable package. This is new to iOS though. Previously, there was a pretty gaping hole between the pocket-friendly iPod touch/iPhone and the notepad-sized iPad, and I think the mini does a great job of filling that hole. It's smaller than the iPad by enough to make it worth considering for the size alone, but not enough to take away from the user experience, and that makes it all the more tempting.