Public Cloud Computing services are growing fast despite the fact that a lot of people do not fully trust them. Just look at the number of launched Amazon EC2 instances in the datacenter US East 1 region (Courtesy of Jack of All Clouds). In 2008, the highest peak reached 20K instances, at the end of 2010 customers launched up to 140k instances, an increase with a factor of 7!
And Amazon is not the only dog in town. According to the same measurements, the Rackspace Cloud Servers have to serve up just as much instances per day. Translation to us hardware nuts: many people are hiring a virtual server instead of buying a physical one.
But if you are reading this, you are probably working at a company which has already invested quite a bit of money and time in deploying their own infrastructure. That company is probably paying you for your server expertise. Making use of Infrastructure as a Service (IaaS) is a lot cheaper than buying and administering too many servers just to be able to handle any bursty peak of traffic. But once you run 24/7 services on IaaS, the Amazon prices go up significantly (paying a reservation fee etc.) and it remains to be seen if making use of a public cloud is really cheaper than running your applications in your own dataroom. So combining the best of both worlds seems like a very good idea.
Even back when I visited VMworld Europe in Cannes in 2008, we were promised by VMware that "Hybrid datacenters" or "hybrid clouds" were just around the corner. The Hybrid Cloud would ideally let you transfer cloud workload between your own datacenter and a public clouds like Amazon EC2 and the Terremark (now part of Verizon) Enterprise Cloud.
In 2010, the best you could get was a download/upload option. There were still quite a few hurdles to take as you could read in our article: "Hybrid Clouds: are we there yet? ".
The excellent concept of hybrid cloud started to materialize when VMware launched their vCloud Connector back in February 2011. The VMware vCloud Connector is a free plug-in that allows you to deploy and transfer virtual machines (VMs) from your own vSphere based datacenter to a datacenter that runs the vCloud Director.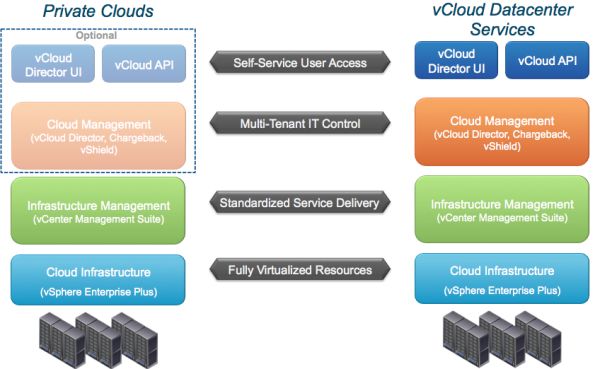 The 1.0 version, was a virtual appliance which was rather slow and unreliable when moving VMs around. Just a few days ago, VMware has announced the 1.5 version which seems to be quite a bit faster, more reliable (checkpoint & restart) and is agent based. We will try it out soon. Citrix is also on the Hybrid cloud bandwagon with the Netscaler Cloud Bridge.
We asked a few hosting providers how they felt about the VMware version of hybrid cloud and the reactions were mixed. Several people told us that this would make offering a Service Level Agreement quite complex or even impossible. It is after all quite hard to offer a good SLA when your uptime is also dependent on the internet connection between the customer's datacenter and the hosting provider's datacenter. Your thoughts?