T-Mobile G2x - The Display
The word gorgeous doesn't do the 4" display justice. In this day and age, with most of the high end devices releasing with qHD screens, the WVGA resolution isn't going to light the world on fire, but it's an IPS panel that looks pretty phenomenal. Part of that has to do with the colour calibration, which looks pretty spot on (though we unfortunately have no way to verify this on smartphones like we do with notebooks), as well as the greater viewing angles.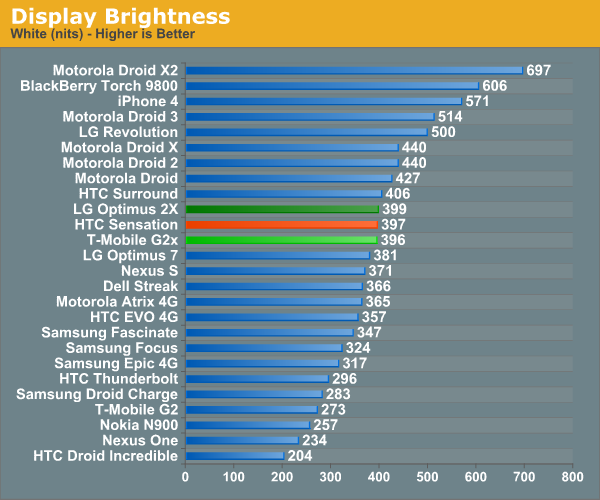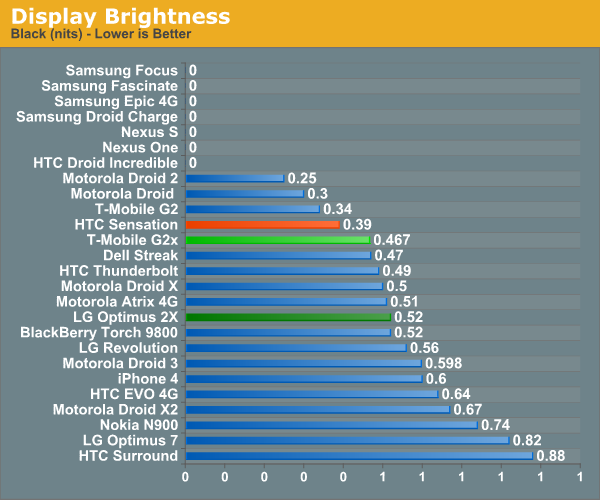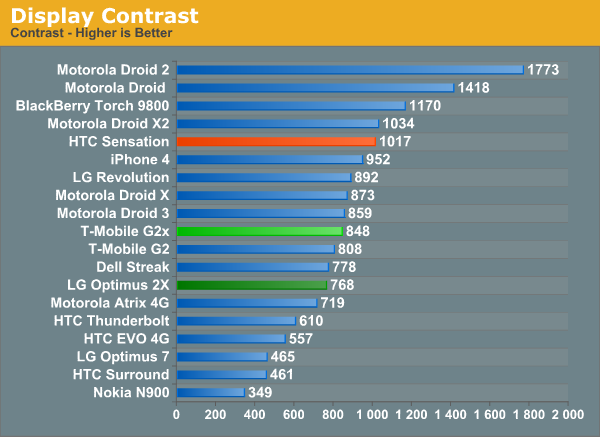 Our measured tests say that it's towards the higher side of average when it comes to brightness and contrast, but definitely still in the middle of the pack. The black levels are not so great, which hurts the contrast ratio, but overall, it's not particularly otherworldly from a measurable standpoint. Solid, definitely, but I'd say the display looks better than the numbers indicate. The white point of 7000 K is slightly cooler than the Sensation's display (6500 K), but warmer than Samsung's Infuse (8000 K). Samsung tends to use oversaturated blues, in my experience, so it's pretty consistent.
But as much as I like the G2x's display, the Sensation's qHD display is probably a better bet. It's just as bright and still very good looking, as well as getting you the higher pixel density. It's not quite up to the Retina Display 300+ PPI level, but it's getting there - 256 PPI is nothing to scoff at. I've noticed that Android tends to work better with more screen real estate, so the Sensation has the edge with 35% more pixels at your disposal.