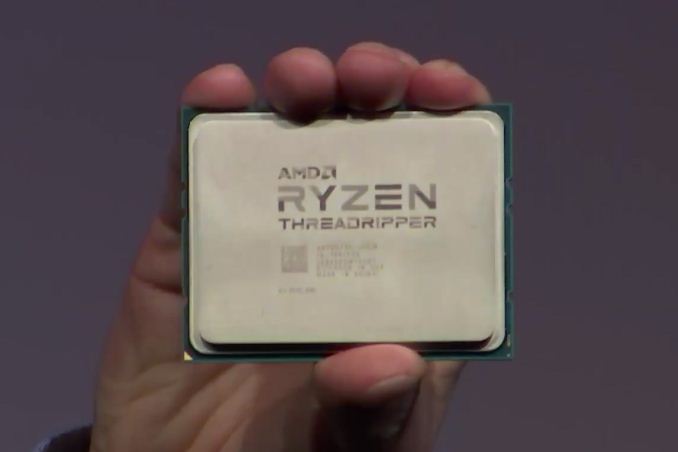 Last night out of the blue, we received an email from AMD, sharing some of the specifications for the forthcoming Ryzen Threadripper CPUs to be announced today. Up until this point, we knew a few things – Threadripper would consist of two Zeppelin dies featuring AMD's latest Zen core and microarchitecture, and would essentially double up on the HEDT Ryzen launch. Double dies means double pretty much everything: Threadripper would support up to 16 cores, up to 32 MB of L3 cache, quad-channel memory support, and would require a new socket/motherboard platform called X399, sporting a massive socket with 4094-pins (and also marking an LGA socket for AMD). By virtue of being sixteen cores, AMD is seemingly carving a new consumer category above HEDT/High-End Desktop, which we've coined the 'Super High-End Desktop', or SHED for short.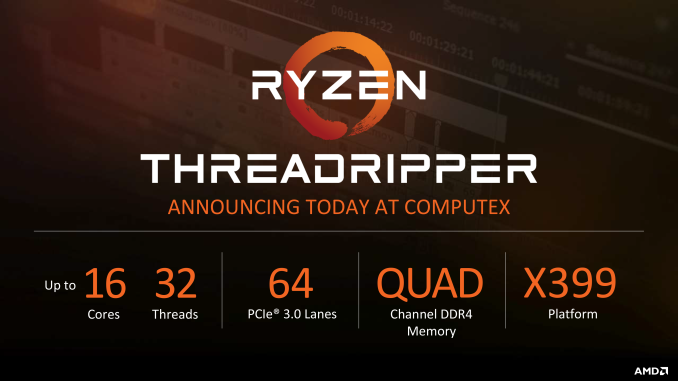 Today's announcements, accompanied by a video from the CEO of AMD Dr. Lisa Su, shed some light on the new SHED processors: namely clock speeds and pricing, and a reaffirmed commitment to launching the new CPUs in August.
AMD Ryzen CPUs
Threadripper
1950X
Threadripper
1920X
Ryzen 7
1800X
Socket
TR4 (LGA)
4094-pin
AM4 (PGA)
1331-pin
Cores/Threads
16 / 32
12 / 24
8 / 16
Base Frequency
3.4 GHz
3.5 GHz
3.6 GHz
Turbo Frequency
4.0 GHz
4.0 GHz
4.0 GHz
XFR
? (+100?)
? (+100?)
+100 MHz
L3 Cache
32 MB
32 MB ?
16 MB
TDP
180W*
180W*
95 W
PCIe 3.0 Lanes
60 + 4
60 + 4
16 + 4 + 4
DRAM Frequency
1DPC
?
?
DDR4-2666
2DPC
?
?
DDR4-2400
Chipset Support
X399
X399
X370
B350
A320
Price (List)
$999
$799
$499
Price (Retail)
TBD
TBD
$419
As you can see from the table, there are lots of question marks. We fired off a series of questions to AMD to fill in the blanks, so we can understand this product a bit better, but we were told to wait until closer to launch day. The only answer we could get was the styling on the naming. These are 'Threadripper' processors (rather than ThreadRipper), and are part of the Ryzen family, and the official SKU names are 'Ryzen Threadripper 1950X' and 'Ryzen Threadripper 1920X'. We are likely to shorten these to 'TR 1950X' and 'TR 1920X' for expediency.
*180W was confirmed after this article was originally posted.
The AMD Ryzen Threadripper 1950X
From what we do know, 16 Zen cores at $999 is about the ballpark price we were expecting. With the clock speeds of 3.4 GHz base and 4 GHz Turbo, this is essentially two Ryzen 7 1800X dies at $499 each stuck together, creating the $999 price (obviously it's more complicated than this). Given the frequencies and the performance of these dies, the TDP is likely in the 180W range; seeing as how the Ryzen 7 1800X was a 95W CPU with slightly higher frequencies. The 1950X runs at 4.0 GHz turbo and also has access to AMD's XFR – which will boost the processor when temperature and power allows – in jumps of +25 MHz: AMD would not comment on the maximum frequency boost of XFR, though given our experiences of the Ryzen silicon and previous Ryzen processor specifications, this is likely to be +100 MHz. We were not told if the CPUs would come with a bundled CPU cooler, although if our 180W prediction is in the right area, then substantial cooling would be needed. We expect AMD to use the same Indium-Tin solder as the Ryzen CPUs, although we were unable to get confirmation at this at this time.
Comparison: Threadripper 1950X vs Core i9-7980XE / Gold 6150
AMD
Threadripper 1950X
Features
Intel
Core i9-7980XE
Intel
Xeon Gold 6150
16 / 32
Cores/Threads
18 / 36
18 / 36
3.4 / 4.0 GHz
Base/Turbo
?
2.7 / 3.7 GHz
60
PCIe 3.0 Lanes
44
44
512 KB/core
L2 Cache
1 MB/core
1 MB/core
32 MB
L3 Cache
24.75 MB
24.75 MB
180W*
TDP
? (165W?)
165W
$999
Price (List)
$1999
$3358
Intel has already announced that they will be launching the 18-core Intel Core i9-7980XE processor later this year for $1999, although final specifications have yet to be announced. Given the launch this week of Intel's Skylake-SP Xeon processors, there is one CPU in that line-up that would fit the bill for an i9-7980XE candidate: the Xeon Gold 6150, running at a 2.7 GHz Base and 3.7 GHz Turbo at 165W, but this part has a list price of $3358. If the Gold 6150 becomes with Core i9-7980XE, then the new SHED category of CPUs will be an exciting one to watch.
Comparing the two, and what we know, AMD is going to battle on many fronts. Coming in at $999 is going to be aggressive, along with an all-core turbo at 3.4 GHz or above: Intel's chip at $1999 will likely turbo below this. Both chips will have quad-channel DRAM, supporting DDR4-2666 in 1 DIMM per channel mode (and DDR4-2400 in 2 DPC), but there are some tradeoffs. Intel Core parts do not support ECC, and AMD Threadripper parts are expected to (awaiting confirmation). Intel has the better microarchitecture in terms of pure IPC, though it will be interesting to see the real-world difference if AMD is clocked higher. AMD Threadripper processors will have access to 60 lanes of PCIe for accelerators, such as GPUs, RAID cards and other functions, with another 4 reserved by the chipset: Intel will likely be limited to 44 for accelerators but have a much better chipset in the X299 for IO support and capabilities. We suspect AMD to run a 180W TDP, and Intel at 165W, giving a slight advantage to Intel perhaps (depending on workload), and Intel will also offer AVX512 support for its CPU whereas AMD has smaller FMA and AVX engines by comparison. The die-to-die latency of AMD's MCM will also be an interesting element to the story, depending exactly where AMD is aiming this product.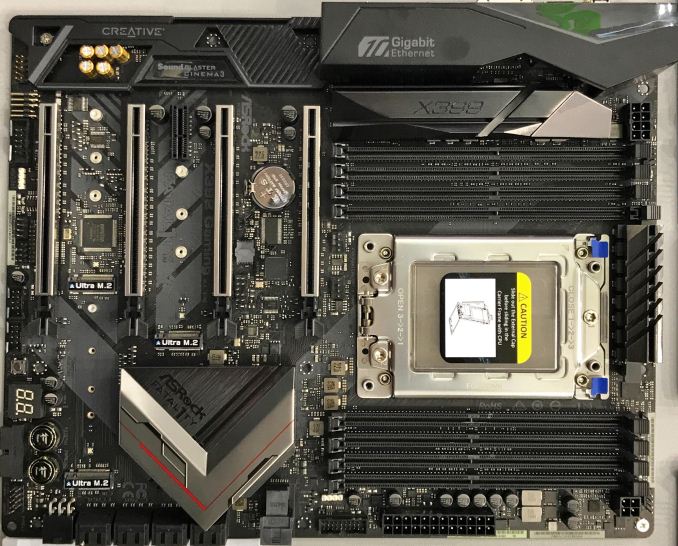 Meanwhile we have seen some of the X399 early-version motherboards back at Computex last month. With 60 PCIe lanes on each Threadripper CPU for accelerators, we are likely to see 32 or 48 used for PCIe slots (in x16/x16, x8/x8/x8/x8, x16/x16/x8/x8 or similar configurations) with up to three PCIe 3.0 x4 storage options. On the ASRock board above, there are two PCIe 3.0 x4 M.2 slots as well as a PCIe 3.0 x4 based U.2 connector for drives like Intel's SSD 750. Because these are aiming for the SHED market, features such as 10 Gigabit Ethernet ports from Aquantia are likely to feature on a number of boards as well.
The AMD Ryzen Threadripper 1920X
The 12-core Threadripper 1920X is likely positioned directly against Intel's 10-core Core i9-7900X or Core i7-7820X, which are both available today.
Comparison: Threadripper 1920X vs Core i7-7820X / i9-7900X
AMD
Threadripper 1920X
Features
Intel
Core i7-7820X
Intel
Core i9-7900X
12 / 24
Cores/Threads
8 / 16
10 / 20
3.5 / 4.0 GHz
Base/Turbo
3.6 / 4.5 GHz
3.3 / 4.5 GHz
60
PCIe 3.0 Lanes
28
44
512 KB/core
L2 Cache
1 MB/core

1 MB/core

32 MB ?
L3 Cache
8.25 MB
11 MB
180W*
TDP
140W
140W
$799
Price (List)
$599
$999
The 12-core part should use 3 cores per CCX if trends of Ryzen CPUs are followed, and should have access to all 64 MB of L3 cache (we are waiting for this to be confirmed). At $799, it falls half-way between the 7900X at $999 and the 7820X at $599, but beats them both in pure core count. The 1920X has all the 60+4 PCIe lanes that the 1950X does, while Intel's chips have 44 and 28 respectively. Again, Intel does have access to AVX512, but only the 7900X has dual 512-bit FMA engines while the 7820X has one (and the 1920X has 128-bit FMAs). The 1920X will also take the new socket.
In a series of tests AMD performed, to accompany the launch, they ran Cinebench R15 and got the following scores:
AMD's Cinebench Results
Cores/
Threads
Base/
Turbo
List
CB15
Score
AMD Threadripper 1950X
16C/32T
3.4/4.0
$999
3062
AMD Threadripper 1920X
12C/24T
3.5/4.0
$799
2431
Intel Core i9-7900X
10C/20T
3.3/4.3
$999
2167
Test Setups from AMD can be found here.
AMD is set to provide some interesting competition in the HEDT and SHED spaces, and we fully suspect AMD to go after the more traditional floating point crowd for these new processors. We will probably see some talk about gaming performance as well, just because of the draw of the news. We've still got a number of questions for AMD:
Will the ThreadRipper family have more than two parts in the future?
Do both 16-core and 12-core parts have access to all 32MB of L3 cache?
Can you reconfirm the 12-core part is using 3 cores per CCX?
Is the Infinity Fabric bandwidth between the two dies the same as in EPYC (42 GB/s bidirectional)?
This corresponds to an Infinity Fabric data rate of 10.4 GT/s? Or is it declocked to 9.6 GT/s or 8.0 GT/s?
What is the official memory support for the TR CPUs? DDR4-2666?
Is that at 2 DIMMs per channel or 1 DIMM per channel?
What are the TDP numbers for both TR processors? (Edit: AMD's System Setups confirm 180W)
Do they come with any pre-bundled coolers? If not, what coolers will AMD recommend?
Are those prices 1k unit prices or MSRPs? If the former, what are the MSRPs?
Can you confirm if XFR for these CPUs is +100 MHz?
What are the largest DDR4 memory modules that TR supports? (e.g. 16GB UDIMM or up to 32/64/128GB RDIMM/LRDIMM?)
Did AMD give the motherboard manufacturers any ball-park figures for motherboard pricing to aim for? At what pricing should we expect the entry/mid-range motherboards to appear at?
What markets are AMD targeting with the ThreadRipper launch?
Will both CPUs be available worldwide on the same day, or will there be a staggered regional launch?
Can you confirm that ThreadRipper is using an Indium-Tin solder between the die and the heatspreader?
For the 64 PCIe lanes (60+4), are there any limitations on any of the PCIe root complexes?
If 3.4G/3.5G are the base frequencies, what are the all-core turbo frequencies?
How many cores will TR sustain for the top turbo frequency? (e.g. 2 cores at 4 GHz, or 4 cores at 4 GHz?)
Some of our readers might argue that some of these answers have been exposed in leaks – from our perspective, getting confirmation from AMD (even on the minor points) is critical here. We're going to have to wait until nearer the launch to get the answers to these questions. AMD have reaffirmed they are aiming for an early August launch, with more info at SIGGRAPH in a couple of weeks.
Dell's Area 51 Threadripper
A side note: Dell's Area 51 Threadripper desktop will be available for pre-order on July 27th – it would appear that Dell has an OEM launch day exclusive at this time, so we might see some more details then. The Area 51 will ship after the 27th; that is just the pre-order date.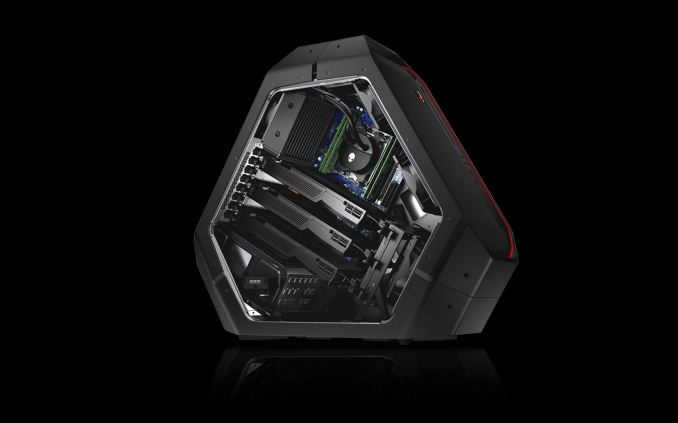 Alienware Area-51 Threadripper Edition
Processor
AMD Ryzen Threadripper (Up to 16C/32T)
Memory
Up To 64 GB 2933 MHz DDR4 (4x DIMM)
Graphics
Up to 2 x Nvidia GeForce GTX 1080 Ti in SLI or
Up to 3 x AMD Radeon RX 580 in Crossfire
Storage
HDD: Up to 2TB
SSD (M.2 PCIe): Up to 1TB
Wireless
Dell 1820 802.11ac 2x2 or
Killer 1535 802.11ac 2x2 Wi-Fi
Front
2x USB 3.1 Gen 1 Type-A
Optical Drive
Headphone Jack
Microphone Jack
Media Card Reader
Rear
10 USB ports (unspecified form-factors)
Includes 1 USB Type-C (w/ 15W Powershare)
Dual Killer Networks E2500 Gigabit NICs
SPDIF Port
5 1/8" Audio Jacks
Dimensions
569 x 638 x 272 mm
Weight
Starting at 28kg
Pricing
TBA
There's Some Ryzen 3 Too
Alongside the Threadripper news, AMD gave some small hints about Ryzen 3 as well. Ryzen 3 is the quad-core versions of Ryzen using the same silicon as Ryzen 5 and Ryzen 7, but with cores disabled and selling at lower price points. We got a sneaky peak at some of the Ryzen 3 specifications when a different AMD department announced the equivalent Ryzen 3 PRO processors, but AMD gave us the following to chew on:
AMD Ryzen SKUs
Cores/
Threads
Base/
Turbo
XFR
L3
TDP
Cost
Cooler
Ryzen 7 1800X
8/16
3.6/4.0
+100
16 MB
95 W
$499
-
Ryzen 7 1700X
8/16
3.4/3.8
+100
16 MB
95 W
$399
-
Ryzen 7 1700
8/16
3.0/3.7
+50
16 MB
65 W
$329
Spire
RGB
Ryzen 5 1600X
6/12
3.6/4.0
+100
16 MB
95 W
$249
-
Ryzen 5 1600
6/12
3.2/3.6
+100
16 MB
65 W
$219
Spire
Ryzen 5 1500X
4/8
3.5/3.7
+200
16 MB
65 W
$189
Spire
Ryzen 5 1400
4/8
3.2/3.4
+50
8 MB
65 W
$169
Stealth
Ryzen 3 1300X
4/4
3.5/3.7
?
8 MB ?
?
?
?
Ryzen 3 1200
4/4
3.1/3.4
?
8 MB
?
?
?
When we got our information from AMD, prices were still being decided, but the official launch day will be July 27th. One only one of the CPUs uses the full XFR, and AMD didn't provide TDP numbers but we suspect they will be listed as 65W parts. AMD did not comment if these CPUs would have coolers bundled with them or not. Again, we'll have to wait until closer to launch day/on launch day for this information.
For users keen on Bristol Ridge information, I am still poking AMD. I'm still being told that it will be launched into the retail channel for consumers, but not at this time.
Threadripper 2
The future....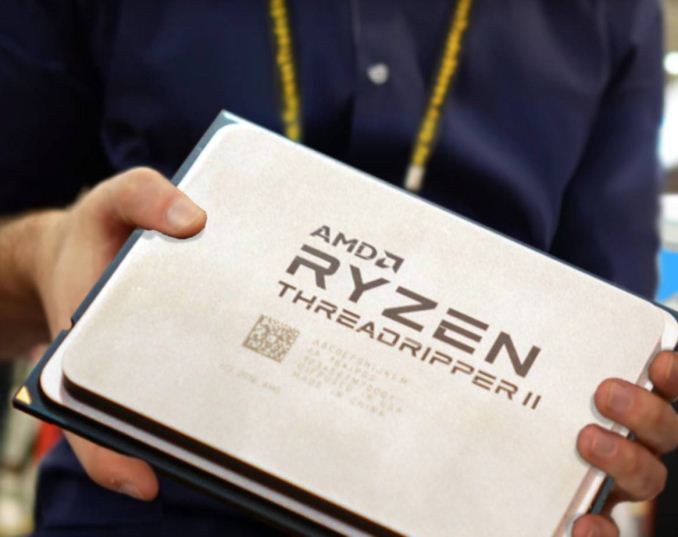 Perhaps not - just a clever photoshop. Source: Reddit
Related Reading
Update 2017-07-13 22:35 UK
So it looks like we can confirm that Threadripper will support up to 1TB of DRAM. This was actually confirmed back last month by Robert Hallock at E3, when discussing the Dell Area-51 Alienware. Video should start at 1m42:
In order to put 1TB of DRAM in the system, users will have to populate each of the eight slots with 128GB LRDIMM modules. These are 'relatively rare' - Crucial's 128GB LRDIMMs should be coming out in Q3, and will cost north of $2000 each, or we can find no-name brand modules for $4000+ today.